https://mauveandyellowarmy.net/
Throughout my City supporting life there have been many decades where you could count the number of home matches I've missed on the fingers of one hand. For example, I missed one in the noughties and two in the last decade – each time due to bad health.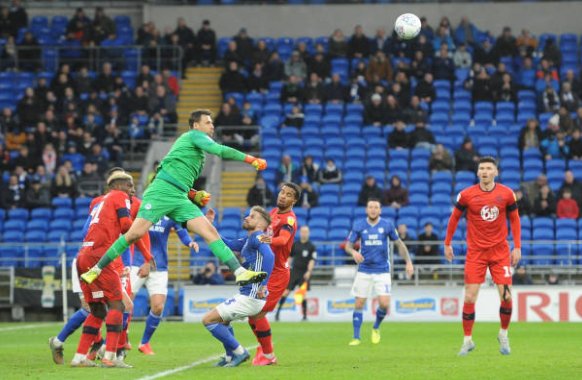 Well, it looks like I'm going to struggle to keep that proud record up in the twenties because today's match with Wigan was the second one I've missed already in this decade after not making it to the Reading cup match as well. Ill health was again the reason for me missing that game, but today it was a combination of more car problems and doubts about whether the train service from and to Treherbert would survive the horrendous weather that made me decide discretion was the better part of valour.
As it was, unlike the Reading match, I was able to watch what has to be seen as a disappointing 2-2 draw with a side in the relegation places via a stream – not quite as good as being there of course, but not a bad substitute.
I say I saw the game, but that's not wholly true. Virtually the first thing I saw was Wigan taking the lead in the fourth minute through Wales' Keifer Moore which means that I missed the first of several contentious decisions by refèree John Brooks and one of his assistants.
The game was barely fifteen seconds old when Welshman Lee Evans went ploughing into Will Vaulks with a tackle which the BBC's website describes as "dangerous" and Mr Brooks decided a yellow card for the former Newport player was sufficient punishment. As I say, I've not seen the incident yet so I cannot comment on the rights and wrongs of the decision, but Neil Harris talked after the match about four very big calls in the match that all went in favour of Wigan, this being the first of them.
The final one came right at the end of the added time after the ninety when former City goalkeeper David Marshall did not get much height or distance on his attempted clearance of a Marlon Pack corner delivered just under the crossbar into what former Sky summariser Andy Gray used to call a "crowd scene". There was much contesting for the ball as it slowly dropped and Sean Morrison appeared to be the one who diverted it into the net only for the celebrations to be stifled almost before they had begun by Mr Brooks blowing for a foul on the keeper.
Now, Wigan manager Paul Cook has said that City "may have felt aggrieved" by the decision to disallow the goal and I take this as a sign that he had some sympathy for that view, but, from the moment Marshall mispunched the ball, I was expecting that City would be penalised because that's what almost always happens when goalkeepers are the "injured party" in such incidents.
It's not so much that I believe that the referee got the decision right, more that he did what I firmly believe nine out of ten, at least, officials would do in such a situation and so, on that decision at least, I cannot join in with the criticism he has been attracting from City fans tonight.
That said, I thought the decision to award a penalty against Curtis Nelson for handball right at the end of the first half was on the harsh side, but it seemed to me to be similar to the one Morrison gave away in the home game against Newcastle last season where he was hit on the arm as he went to ground attempting a block. Self evidently, penalties are going to be given in such situations, but I would argue that they are just as likely not to be, thereby suggesting that Nelson was unlucky today.
I would also argue that when you consider Mr Brooks' decision not to award a penalty against Cedric Kipke when the ball hit his hand as he tried to block Albert Adomah's shot, there was an element of inconsistency in the referee's interpretation of what was and wasn't handall.
Mind you, I attach hardly any blame to Mr Brooks for his decision not to award City an early penalty against Moore for a blatant tug on Morrison as they contested a Vaulks long throw just before our first equaliser. No, that was almost entirely down to the laughably poor linesman on the Grandstand side of ground who had a perfect view of the whole thing.
The linesman's howler was not quite in the Eddie Smart against Chelsea class, but the sheer number of other dubious decisions he made (the worst being his failure to notice Lee Tomlin stood at least a yard offside in a City counter attack) put him on a par with Mr Smart, who is still, somehow, running the line in Premier League matches.
So, while I think City are entitled to feel hard by when it comes to the match officials, there were other reasons why they weren't able to make it three wins from three against struggling teams this week.
The first one of these is that I feel Wigan were better than what you'd expect from a bottom three team. They won at Leeds in their last away match and, although their away record doesn't reflect it, they are very competitive on the road – they just have an unfortunate habit of letting late goals in and losing matches in which they were level going into the closing minutes.
In saying that, City really should have won this game and so much of the reason why they didn't is that they were careless at the back and not incisive or good enough in front of goal.
An example of the carelessness I mention came when, having done well at the back at Luton and Huddersfield, they fell asleep defending a corner and allowed a short one to be played to unmarked captain Sam Morsy who crossed low to the near post where Moore casually flicked home to put his team 1-0 up.
To be caught out in such a manner was not impressive in a defence which has been proven to be fallible from set pieces this season. I thought we also had chances to get the ball away in the incident which led to their half time deficit and there was something of an early season reminder in how we were susceptible to counter attacks from our opponents following our attacking set piece.
Up the other end of the pitch, there was again a contrast between the nice, incisive, football we sometimes see in away matches these days and the mainly set piece based attacking play we are still seeing in home matches.
It's good to have Will Vaulks' long throws available to us because they have something to them that the ones hurled in by the likes of Callum Paterson, Morrison, Lee Peltier and one or two others in the last couple of seasons do not.
I'm not sure what that something is, but in the last month or so, Vaulks long throws have resulted in more goals than the combined total of those I just mentioned in the past two years.
Today, both of our goals came from throw ins by Vaulks. For the first, Morrison got a touch on to Murphy who hooked in a neat equaliser with the confidence of someone who was on something of a good run in front of goal himself, while it was Morrison again who contested for another Vaulks throw when the ball rolled free some fifteen yards or so from goal and found its way to Pack whose shot looked to be flying just wide until left back Kai Naismith diverted the ball past Marshall with his chest for a second equaliser.
When you have an attacking weapon that is working, like Vaulks' long throw is at the moment, it seems daft not to use it on the grounds that "it's not playing football the right way", but it does rather tend to highlight our lack of creativity in home matches where visiting sides sit deeper knowing that we're not great at opening up massed defences.
It's ironic how often you see a team struggling in away matches these days who a few weeks later are suddenly racking the wins when they have to travel. It's happened to us since we beat Nottingham Forest in November – we have won at Sheffield Wednesday, Huddersfield and Luton and yet while we have finally refound our away Mojo, we now can't win a home game!
Our home record since we beat Barnsley in early December reads played six, won one and drawn five (add the two FA Cup ties and it's only onehome win in eight). The Reading cup match apart, we're creating very little in open play at home lately and, with a series of games at Cardiff City Stadium coming up now against teams that are above us in the table, we are going to need to rediscover how to win at home pretty quickly.
Today was a disappointment, but, say, a draw at Luton and then a win over Wigan would definitely have supporters thinking a play off spot is on – seven points from nine is a good return in what was an important week, but I'm afraid the fine win over league leaders West Brom is proving to be nothing more than a blip in a long run of home one pointers.
Hardly surprisingly, there were no games at all played in either the Welsh League South or the Highadmit South Wales Alliance, so nothing to report when it comes to Blaenrhondda or Ton Pentre, but there was another game played at Leckwith this morning which also finished 2-2 as City's under 18s emerged with a creditable draw with highly placed Watford after they had gone a couple of goals down – Rubin Colwill and Ryan Pritchard got our goals.
Once again, can I make a request for support from readers by them becoming my Patrons through Patreon. Full details of this scheme and the reasons why I decided to introduce it can be found here, but I should say that the feedback I have got so far has indicated a reluctance from some to use Patreon as they prefer to opt for a direct payment to me. If you are interested in becoming a patron and would prefer to make a direct contribution, please contact me at paul.evans8153@hotmail.com or in the Feedback section of the blog and I will send you my bank/PayPal details.