At the start of Cardiff City's run of six fixtures against some of the Championship's best sides which began three weeks ago at Watford I felt that eight points would represent an acceptable return. In the end, we finished up with one more than that from three wins and three defeats, so, by the standards I set for them, that represents a satisfactory return – it's just that, with those three losses having come in our last four games, it feels like we've gone backwards in the last fortnight.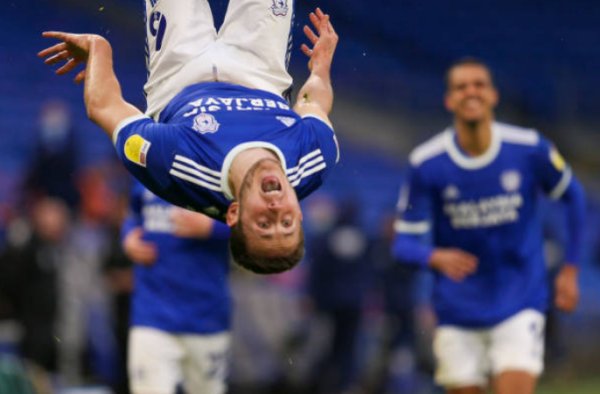 Will Vaulks somersaults after his 60 yard wonder strike
In our last match before we played Swansea, we had taken our winning run to four at Stoke while playing poorly for three quarters of the match, but I don't believe the team that were beaten 3-2 by Brentford today, in what was a fifth home loss with the season not half way over yet, would have won at Stoke.
Although a 2-0 score line doesn't sound like a thrashing, our defeats by Swansea and then Norwich last weekend were comprehensive ones of the type that knock confidence and, after a first half where we managed to edge in front just before the interval, we fell away badly today and could have few complaints about the eventual outcome. In fact, I'd say we were flattered by a one goal margin of defeat.
I have a fair bit to say about what I'll call the values, ambition and approach of the club later, but, for now, what of a game that was almost devoid of significant action for forty five minutes and then produced plenty of it, mainly at our end of the pitch I'm afraid, during the second period?
Because we're the kind of team we are, the early minutes of our games more often than not see the opposition having a lot more of the ball than us and that was the case here. Brentford were on the front foot territorially and in terms of possession, but, with the central midfield combination Neil Harris picks when we're not expected to have much of the ball in Joe Ralls and Will Vaulks doing a steady job when we weren't in possession, we had little to concern us defensively.
Indeed, with the free scoring Ivan Toney getting little change out of Sean Morrison and Curtis Nelson, all a Brentford side which were unbeaten in their last fourteen matches had to offer was a volley from their Spanish winger Sergi Canos from a well worked corner routine which flew a few yards wide – more on Canos later!
The commentators on what was called Bluebirds TV yet featured adverts all linked to the visitors and a director who must have been a Brentford fan given how many close ups and replays there were with a distinct Bees flavour, were very pleased with City's showing at that stage. Yet, when both teams goal attempts stats were displayed around the thirty five minute mark, they showed two by the visitors (neither of which were on target) and none by Cardiff.
There still hadn't been an effort at goal by City as the clock showed something like three of the four added minutes played, but when Junior Hoilett won a ball deep inside his own half and played a sideways pass to Vaulks, the midfielder laid the ball forward to Robert Glatzel a yard or two inside our half who then gave a good return pass to Vaulks and spun away, no doubt hoping for a ball into space behind what was a stretched visitors back line.
However, rather than doing that, Vaulks had spotted Brentford goalkeeper David Raya well off his line on the edge of his penalty area and floated a shot, it was definitely a shot, over a keeper who knew he had no chance of reaching it well before it plopped gently into the net.
Strangely enough there had been a message posted about a Mark Hudson podcast interview on the message board I use this week in which he talked about his amazing sixty eight yard goal against Derby back in 2012.
Now, I would rate Hudson's goal as better than Vaulks because, firstly
, it was a centre back who scored it and, second, because it was scored from about ten yards further away, but, this was still a superb effort from someone who had scored what I'd rate as our best goal of last season against Blackburn.
A repeat of the defensive showing of the first forty five minutes in the second forty five would probably see City to a notable win, especially if they could have taken advantage of a truly bizarre kick off routine by Brentford after half time where all of their outfield players lined up rugby style on the halfway line for the restart and then attempted to rush to their normal positions as soon as the ball was kicked.
The thing was though that the move seemed to confuse Brentford more than it did us and we soon won the ball and broke forward in menacing fashion against a seriously undermanned defence, only to waste the chance through our trademark poor passing.
In the event, that fleeting opportunity was the only time we looked remotely dangerous in the first half an hour of the second period. The visitors took complete control as our defensive play fell away alarmingly and Alex Smithies produced his worst half of football since he signed for us two and a half years ago.
Smithies had produced a routine tip over from one of a series of corners Brentford forced in the first few minutes after the restart, but it only delayed the equaliser for a few seconds as the resultant flag kick was half cleared to Canos who saw his first effort from twenty odd yards blocked. Luck played a bit of a part then as the ball broke straight back to him, but he capitalised on it brilliantly to volley home.
It was another marvellous goal, but, from a City perspective, the ball entered the net high up in the middle of the goal and so questions will be asked about the goalkeeping – for me, it was not a situation where a goalkeeper should be rooted to his line, so I wouldn't blame Smithies too much for it.
Brentford's domination was given substance by a second goal on sixty five minutes when shoddy defending saw an isolated Leandro Bacuna beaten easily by Canos who then cut infield unchallenged before beating Smithies on his near post from twelve yards.
After this, Canos simply shot every time he had the ball within sight of goal as he searched for his hat trick. It was all very predictable, but City either didn't realise this or, more likely, were powerless to stop him and the winger's treble duly arrived on seventy three minutes with a chipped effort from the corner of the penalty area which represented a test for Smithies, but one you would have expected him to pass. Instead, the ball burst through his outstretched hands and into the net.
City looked down and out at this stage, but when they gained what was probably their first corner of the second half three minutes later which Morrison nodded down to Vaulks whose well struck volley from fifteen yards was deflected wide of Raya and in.
It looked like we were set up for a grandstand finish, but, apart from a couple of moments where sub Josh Murphy showed the ability which made him a £10 million plus player, one of which produced a shout for a penalty for a foul on Glatzel that I thought erratic ref Dean Whitehouse, he was equally so for both sides in my view, was right to turn down, Brentford held on to their lead quite comfortably.
After the Swansea and Norwich matches, I despaired at the poor quality of our passing- it wasn't great today either, but it's the direction and thinking behind the scenes at the club I want to discuss this time.
Quite often after we've played Brentford in recent seasons, I've contrasted our recruitment with theirs and concluded that we come up way short of them on so many fronts, but having watched how we set up today and considered the type of players we tend to recruit, I do wonder if we're fishing in the same waters, so to speak, as clubs like Brentford?
Vincent Tan has been ploughing money into Cardiff City for more than a decade now, we're not right up there with the superrich, but we've had more spending power than most at this level and, as much as any team in that division can be called one, have not been among the paupers in the Premier League either when we've been there.
Certainly, there are clubs that have spent a lot less than us down the years which have put together successful teams that have played a much more attractive brand of football than us.
Let's be clear about this, those commentators on Cardiff City TV today were getting excited about us going out in a home game intent far more on stopping the other team, albeit one of the better ones in our division, playing than looking to dominate ourselves – it was a negative approach which didn't produce a goal scoring attempt in the first forty eight minutes of the game.
After the match, Neil Harris, who, once again, chose to only make two of his five permitted substitutions, said his team were "excellent" for forty nine minutes and talked about how good we had been without the ball. Now I'm not saying that this isn't an important aspect of the modern game, but I'm wondering if our recruitment and thinking down the years has been aimed more at what players do when they don't have the ball than what they do when they have it? Is it a club plan for the team to go out and play in the turgid manner that we so often have done in the past decade or does it "just happen" that way?
I suppose a partial answer to those questions can be found depending on how serious you believe Neil Harris was in his attempt to turn us into a different type of team. For myself, I'm still not sure about that because I can see evidence on either side of the argument. We did look less like a direct, long ball team earlier in the campaign, but our manager, seemingly, needed little persuasion in returning to what has been the norm at Cardiff since Russell Slade's tenure at least – certainly, if there was a genuine intention to change our style, what has happened since the Coventry loss about a month ago could be seen as an admission of defeat..
On the other hand, as I've mentioned before, you have to wonder about any manager's commitment to more of a passing game when he has a squad where the senior central midfielders are Marlon Pack, Ralls, Vaulks and Bacuna – it's a quartet hardly built to play like most of the sides at the top of this season's league do, yet it was a group our manager inherited over a year ago and he's done nothing to change things around in that area since then.
No, by accident or design, despite a wealthy owner who has, in the main, been generous to the managers he's hired over the past decade when it comes to a football budget, Cardiff City have played what I call underdog football whereby, as Steve Cooper heavily hinted after his team's ludicrously easy win here, we hit the ball into areas and hope for a good outcome, as opposed to trying to make things happen through our confidence and belief when we have the ball.
We play in "plucky little Cardiff" mode and today was a case in point as, despite all of the built in advantages that a club like us should have at this level given the amount of spending it's had on it in the twenty first century, we went out with the aim of being good when not in possession and, hopefully, nicking a goal by which we could win.
Other clubs with much less than us are far more ambitious, both in terms of playing style and philosophy, why do we continue, both on and off the pitch, with the inferiority complex that was completely appropriate in the latter years of the twentieth century, but shouldn't be now?