http://mauveandyellowarmy.net/
Cardiff City's second season in the Premier League is going to end in the same manner as their first one did with a relegation that was confirmed in their penultimate game of the campaign. Assuming City's twelfth, and final, joust with a top six club at Old Trafford next weekend goes the way of the other eleven, we will end up with one more point and one more win than we did in 13/14 and, with Fulham's 1-0 loss at Wolves this afternoon confirming that they cannot finish above us, we will, for what it's worth, finish a couple of places higher, in eighteenth position, than we did five years ago.

In succumbing to what was almost inevitable following last week's so disappointing loss at Fulham, Cardiff set a record which I'm sure they did not want. Tthey are now the only team in the Premier League era who, having had more than one season in the division, have a 100% relegation record – every other side that have spent a minimum of two years in the Premier League have had at least one season where they have survived.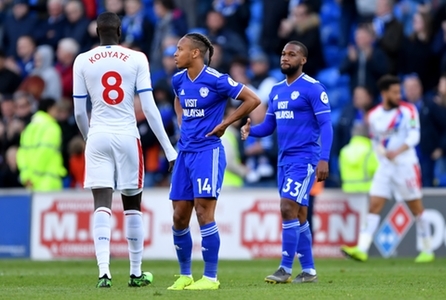 Supporters of sides such as Bradford, Huddersfield and Hull know what it feels like to come through a season with their Premier League position intact, so, if they can manage it, why can't we?

Although the outcome was the same and there is very little difference in terms of points gained between our two seasons in the Premier League, the contrast between them couldn't be greater in terms of how the club went about them.

Although not in the Fulham summer 2018 league when it came to transfer outlay, we were the seventh highest spenders in 13/14. Notably, this was substantially more than Crystal Palace and Hull, the two sides that accompanied us up following our Championship title win in 2012, spent and yet they were able to survive that year relatively comfortably.

Failure to spend our transfer money as effectively as the teams that finished some distance behind us in the Championship was a big reason why we went down, but our cause was not helped by a clear personality clash between promotion winning manager and club owner and the bad feeling engendered by the rebranding of the club kit.

Nevertheless, it was that feeling that tens of millions of pounds had been wasted which had the biggest impact when it came to how we, firstly, went about trying to get back into the Premier League after the miserable failure of season 14/15 following another summer of big spending and then went about trying to stay there.

This time, spending was more controlled in terms of transfer fees, but it was probably on the wages front that the biggest difference was seen – this had the effect of us being forever seen as underdogs, while, inevitably, we were most people's favourites to finish bottom of the table.

The fact that we came eighteenth out of twenty, rather than bottom of the pile has enabled some to portray our season as almost a triumph despite the fact that eighteenth or twentieth, it makes no difference – we are going down in 18/19, just like we did in 13/14.

As befits our media image this season, we went down "having a go" in a 3-2 defeat at Cardiff City Stadium by a Crystal Palace side that has had a superb away record over the second half of the season.

Having been put into a desperate situation by last week's wasted opportunity against Fulham, we had to set up in a manner which played right into Palace's counter attacking strengths and there were times in the first half in particular where we looked on the verge of a serious trouncing.

Perhaps it would have been different if Josh Murphy (in the starting eleven this time after his bewildering omission from the squad last week) had seen his deflected first minute shot bounce into the net off a post like Andros Townsend's did in the second half to put Palace 3-1 up, rather than hit the woodwork and fly out for a corner, but the writing had been on the wall for a while before Wilfried Zaha silenced the boos completely predictably by putting his side ahead on twenty eight minutes.

City responding by showing what crisp and accurate passing could achieve when Murphy and Leandro Bacuna (on for Victor Camarasa who was a very early injury withdrawal) combined as the former's crossfield ball and the latter's fine, early low cross forced Martin Kelly into putting through his own net for an equaliser inside three minutes.

However, such quality passing was like an oasis in a desert of mediocrity for the home side, who were light years away from the sort of thing we saw from Palace which led to Michy Batshuayi restoring the visitor's lead with a third goal in ten minutes – there may have been an element of luck in the way the ball found it's way to the Belgian striker, but the quality of what had gone on in the build up earned that slice of good fortune.

Just as it has been for all of the season, the difference in basic techniques such as ball control and the ability to give and receive simple passes between City and their opponents was embarrassing at times, but we got to half time still just the goal behind in the manner of a boxer hanging on for the bell in the face of big assault by their opponent.

It's true to say though City coped better after the break as they still lived dangerously at times, but also were able to create chances of the sort you would expect to be scored in the Premier League about 50 per cent of the time. For example, Murphy and subs Kenneth Zohore and Junior Hoilett all had very presentable opportunities, while Nathaniel Mendez-Laing was more unfortunate when his well struck effort was cleared off the line and the winger saw another effort turned on to a post by keeper Guaita.

In truth, Townsend's goal midway through the half signalled the end of any faint Cardiff hopes, but it was good to see Bobby Decordova-Reid crown a performance which made a mockery of the decision making which has kept him on the bench for long stretches of the campaign by scoring a fine goal just as three minutes added time was being signalled by the fourth official.

Given the number of times City were able to threaten the Palace goal, 3-2 was probably a fair scoreline, but the harsh truth is that, although this one was a lot more entertaining than most of our games this year, there was a Cup tie feel to so many of our matches with City cast in the role of doughty underdogs as they relied on effort and character to try and bridge the divide in class between the two sides.

Whereas Palace tended to be assured and confident in possession, the ball was forever getting away from City players as they gave away frequent free kicks in efforts to rectify basic mistakes. Too often this season there has been no need for opponents to "press" City in the manner favoured by so many sides at this level these days because they knew that, with our well below Premier League level ball retention skills, it would be coming back to them soon enough.

The popular perception of City as they got into a promotion position and then managed to hold on to it last season was that they were giving the Championship big boys a bloody nose – they bullied their way to promotion.

However the way we were seen in the top flight was different – our promotion is often seen now as something of a miracle with club employees seemingly happy to play along with this and the increasing notion that we are a team of plucky underdogs looking to slay a few giants,

The oft repeated early season phrase that supporters would "enjoy the ride" no matter what only added to the notion that we were on a season long loan from the Championship, as did pronouncements from our manager such as when he said he wouldn't put money on us staying up.

Although I'm not aware of these actual words being used to describe us, the term "plucky little Cardiff City" first came into my mind early in the season and it was never far away in my thinking after that. Anything we achieved was seen as a big shock – far more so than any one else in the division. we were a David tweaking the nose of Goliath.

This should be borne in mind when considering just who we were playing today – the aforementioned Crystal Palace who trailed in some seventeen points behind us I believe it was in 12/13. Since surviving while we dropped in 13/14, Palace have slowly consolidated – it has been hard work much of the time,but, without breaking the bank, they have recruited well both on the playing and managerial front and from initially being pretty direct in their play have evolved into the slick counter attacking outfit that has won at Manchester City and Arsenal this season as well as scoring three times in defeat at Anfield.

Now if you put what teams such as Palace, Watford, Bournemouth and Burnley have done since being promoted with the news that, yet again, there was a crowd of over 32,000 at Cardiff City Stadium today making it a season's average of 31,413 (the eleventh highest in the division), then why should we be seen as and, seemingly, be willing to accept the label "plucky little Cardiff City"?

I have to hold my hands up at this stage and acknowledge that I was wrong when I came to the conclusion, based on the sort of gates we got in my first fifty years or so supporting the club, that we would average something like 25,000 in the First division/Premier League. Such a figure would not be a bad one, but we are clearly well above that and I would now say that a few years of top flight football could result in it being considered at Board level whether a further, modest, increase in ground capacity would be required.

I always have to refer to the debt to equity commitments Vincent Tan has made in the last year or so when I try to analyse club policy on the non playing front, but, even so, I find myself wondering just what the plan is now as far as our owner is concerned.

Is he content with us continuing on as "plucky little Cardiff City" or does he feel a bit more is required in terms of us becoming another Palace or Watford?

A third possibility would be that Mr Tan would be happy to sell up, but, assuming he isn't, it seems to me that spending a relatively small sum to bring in someone with the experience and skills to put together some coherent planning at the club, particularly in terms of Academy/youth development and transfer policy/scouting network, would be a good first step in taking us beyond the "plucky little Cardiff City" stage.

We have a maximum of two years of substantial relegation parachute payments now along with a squad which is well equipped to cope in the Championship despite the need for an almost entirely new midfield. Five years ago, the parachute payments were largely wasted in putting together a squad that wasn't suited to the Championship – let's not waste things this time around, let's also behave like a club with a fan base of 30,000 plus should do and get the sort of infrastructure that a club the size of the modern day Cardiff City really merits.

One thing I must do before finishing with the first team is to thank Aron Gunnarsson for eight years splendid service to the club and wish him all of the best in the next stage of his career. At a time when many, myself included, are questioning whether this is a good time for a change of direction in terms of the manager and the way the first team plays its football, Gunnar is one of a few people that the adage "we didn't realise how important he was until he left" might apply to.

Finally, commiserations to the Under 18s who were beaten 3-2 at Hillsborough last night by Sheffield Wednesday in their Play Off Final. Dan Griffiths and Ben Margetson scored second half goals after we had trailed 2-0 at the break and their cause was not helped by the dismissals of Griffiths and Kieron Evans (who had hit the underside of the crossbar a few minutes earlier) late on for second yellow card offences.

This disappointment doesn't alter the fact that it has been an excellent season for the Under 18s and, with, virtually the whole of the squad still eligible to play at this level next season the chance is there to do even better next year. That said, my own wish would be to see many of the lads moving out on loan to get first team experience somewhere or being included in the Under 23 squad in a move designed to getting back to what it should be doing – that is acting as the final stepping stone in a procedure which turns good teenage and younger local footballers into first team players at Cardiff City.