In my piece on Saturday's very disappointing 3-2 loss at Queens Park Rangers, I said that Cardiff City never (very unusually for me, I put the word "never" in capital letters to emphasise my point) dominate opponents in the manner that Rangers dominated us in the first half at Loftus Road.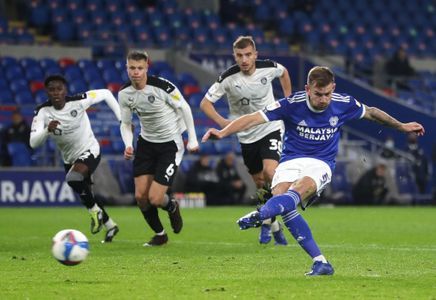 Well, although I don't feel it was as one sided tonight, I still must say that City were comfortably the better side in beating a Barnsley outfit that had been in good form in recent matches 3-0 to record their first home win of the season at the fifth attempt.
Last season we won a couple of games at Cardiff City Stadium by that score. There was the barmy match early in the campaign when QPR played us off the park at times and then the final game against a Hull team that was 99% relegated when we confirmed the Play Off place that was about 99% certain before kick off.
Tonight was definitely more Hull than QPR as City got an early goal to calm any nerves which may have been present following just two wins from our first nine games, then added a second just before half time to give the score a more realistic look before adding the goal of the match after the break to finally put a Barnsley side, which looked quite lightweight and brittle on the night, out of their misery.
Given the public dressing down Neil Harris delivered to his team after Saturday's game, there were always going to be changes in personnel for tonight, but what came as a surprise was the change of formation to 4-4-2.
Alex Smithies and the back four from Saturday retained their places, but, following his withdrawal at half time, it was no surprise to see Will Vaulks being left out as Joe Ralls dropped back to play alongside Marlon Pack, while Saturday's starting wingers Josh Murphy and Sheyi Ojo made way for Junior Hoilett and the fit again Harry Wilson. With Lee Tomlin missing from the eighteen tonight with another injury which looks set to keep him out for a few weeks, I assumed that Robert Glatzel, who had missed Saturday's match because of a stomach upset, was going to play in a somewhat withdrawn role behind Keiffer Moore, but not a bit of it, there was a Mike Bassett type straightforward 4-4-2 with Moore and Glatzel playing alongside each other with not a great deal of support for Pack and Ralls being offered by the wide men.
It's that lack of support for our central midfield two which always makes me anti 4-4-2, but tonight at least, it worked perfectly with Ralls and Pack more than holding their own against a visiting side playing a three at the back and one up front which should have given them a numerical advantage in the middle of the park.
What needs to be said is that City will face much sterner challenges if they decide to stick to their 4-4-2 system in the weeks ahead because Barnsley offered very little all night despite having comprehensively beaten QPR 3-0 before their excellent single goal win over Watford on Saturday.
It also helped the home cause when they managed to score so quickly. In fact, when Hoilett chased down a ball knocked into the wide open spaces with three minutes on the clock, visiting keeper Jack Walton came careering off his line and rather ploughed into the City player.
The view from the TV cameras had me thinking that we could well have a penalty as the ball went out for a throw in, but there was little in the way of a protest from City players and play continued with a quickly taken throw in with Joe Bennett receiving the ball and putting in the first in a series of fine crosses which tempted visiting centreback Michael Helik into a header he could not make. Hoilett had now made his way into the middle and an excellent first touch enabled him to shoot past Walton from ten yards with his left foot with his second for an efficiently taken goal.
Barnsley were unquestionably getting off to a slow start and the next ten minutes or so saw them turning over possession frequently as City maintained their early pressure with a more direct approach than seen lately which had a chance of succeeding because both Moore, playing against one of his former clubs, and Glatzel were able to get the better of their markers in the air on a fairly regular basis.
Glatzel glanced a Wilson cross not far wide and the way Barnsley defended the first corner they conceded must have made them grateful that there were so few of them in the first half as Curtis Nelson was allowed to meet Pack's cross and he should really have done better than head straight at Walton from about six yards out.
City's early domination faded somewhat as the half went on, but, with Barnsley unable to get anything going in attacking sense at all, it was City who were the ones to threaten a second goal despite more of a low key approach and both strikers could have found the net before the game reached the forty minute mark as Walton twice saved from Glatzel and then made a better stop to deny Moore after Morrison had guided a free kick into his path as City showed the superiority from dead ball situations that they were to enjoy all night.
My one complaint about what I had seen up until then was that, having worked so hard it seems to get Harry Wilson to the club, City seemed determined not to utilise him as he remained stuck out on the right wing waiting for passes which were just not coming his way.
To be fair, this had something to do with the fact that City were looking very dangerous down their left as man of the match Bennett and a rejuvenated Hoilett were so effective that new Barnsley manager Valerien Ismael was forced into a tactical substitution on forty minutes which involved bringing on a new right wing back for an attacking player.
For a short while, Ismael's alterations seemed to be working as the visitors offered more threat in the closing five minutes of the half than they had done in the time which preceded them – there was a half hearted shout for a penalty as striker Patrick Schmidt went to ground under a challenge from Morrison that referee Dean Whitehouse rightly ignored and then a well directed long ball had Conor Chaplin racing in on goal clear of the City centrebacks only for Alex Smithies to, first, deny him and then also keep out Schmidt's follow up effort.
However, just as Barnsley were taking encouragement from the way they were ending the half, City were again able to show their superior attacking incisiveness as Glatzel, Moore, Pack and Wilson combined effectively down the right and the latter went down under a challenge from Helik.
It looked like a penalty, but the initial impression given by the referee was that he wasn't going to give one as the Sky commentators criticised the "decision". However, when the replays of the incident had finished and the coverage returned to the live action, it was clear that City had been given their third penalty in their last two games.
Now, I'm being a little unfair to Joe Ralls here because he has scored plenty of penalties for us down the years, but I'm never that confident when he's lining up a spot kick and I do wonder why he's taking them when we have Moore and Glatzel (who I understand both have a good record from the spot) and Wilson available to take them. However, I was wrong to be concerned this time because Joe confidently sent Walton the wrong way to take us in at the interval with a lead which more accurately reflected our superiority over the first forty five minutes.
I mentioned earlier the similarity between this game and the one with Hull which ended our regular season in 19/20 and it continued when play resumed. Although it was disappointing that City did not show the same ambition as they had done earlier, I suppose it was understandable given their poor start to the season that they were more concerned with holding on to what they had than they were with chasing more goals.
Consequently, we saw plenty of Barnsley possession, but the team which had scored seven times in their last three visits to Cardiff City Stadium only ever threatened to get one here when Smithies was forced to tip over a header when making what was ,in truth, a pretty routine save.
City were able to show on occasions that they had it in them to open up the visitors again as Hoilett found Leandro Bacuna, who had a much more comfortable time of it at right back than he did on Saturday, who produced a lovely return ball which took out Walton and flew to the far post no more than three yards from goal – by and large, the two strikers move worked well for City and it, surely, deserves another airing on Friday against the wurzels, but one of Glatzel or Moore really should have got themselves on the end of Bacuna's pass to help themselves to a tap in.
Glatzel, who was replaced by Ojo midway through the half, also might have done better with a header which Walton was able to save easily, but any lingering doubts about the outcome were ended on seventy seven minutes when Wilson, now operating more through the middle, received a pass from Ralls and, in one stylish movement, controlled and then struck the ball past Walton with his left foot from twenty yards.
This was the prelude for the Liverpool loanee's withdrawal for the final ten minutes as Gavin Whyte saw his first Championship action of the season and Vaulks came on for the final five minutes or so for Ralls.
Moore had one last chance to get the goal his efforts deserved when he was put into the clear by Hoilett, but the tired striker was unable to direct his shot beyond the advancing keeper and so City had to accept a three goal winning margin when I'm sure they would have been perfectly satisfied with a scrappy 1-0 given the mood around the place before a ball was kicked.
Now the challenge is to prove that this was more an indication of what this squad is capable of than the mundane stuff we saw in the nine games before this one – it's in the nature of this league that virtually every side in it can serve up the occasional performance like we saw from City tonight, but it certainly needs to happen more than once every ten matches if they are to repeat last season's top six finish.
A quick mention of the Under 23s who dropped back into their losing habit on Sunday following their welcome win over Hull last week when they were beaten at Crewe where a solitary goal, scored from the penalty spot in the last ten minutes proved decisive.
Can I also remind you about my recently published book Real Madrid and all that which is available in e book and paperback formats and can only be purchased from Amazon.