On a night where the supporters of, I would guess, more than half of the teams in the Championship were put through the emotional wringer, it was all a bit boring at Cardiff City Stadium really as the home team made an unspectacular, but completely professional, job of seeing off a Hull City side that have, without doubt, been the poorest side in the division since the turn of the year.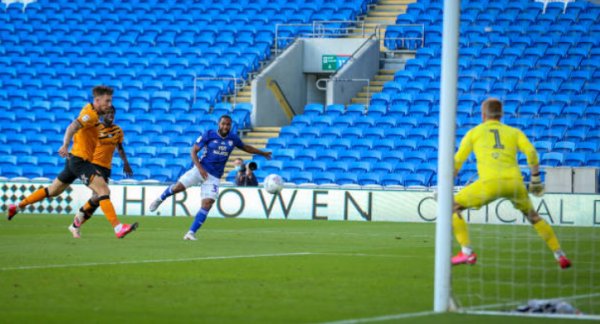 City's 3-0 triumph equalled their biggest winning margin of the campaign and rather like it was when they came out 3-0 winners over Queens Park Rangers nine months ago in what was definitely our weirdest game of 19/20, I find myself thinking we've played much better than that in the minutes straight after the final whistle.
What was different this time though is that City had a particular task in front of them tonight on which their whole season depended and the fact that, surely, everybody who had an opinion on the matter thought that they would manage it quite easily threatened to make it a potential recipe for disaster.
The fact that at no time would those pundits and experts brought in to discuss the various connotations that would affect this most capricious of divisions, where every one bar one of the twelve fixtures on the last day of the season had a promotion and/or relegation issue riding on it, have been able to even contemplate it all going wrong for Cardiff says it all really. Hull were ruthlessly dispatched to League One as we achieved our goal in a calm and methodical manner.
I mentioned earlier that it was all a bit boring. That's a harsh judgement on one level, but, strangely, it's also meant as a bit of a compliment. Try asking Nottingham Forest fans tonight how they would feel now if their team had "bored" them tonight in the manner Cardiff did with their supporters – I think they would gladly have taken that!
I'll go through who finished where later, but now I want to give some praise to a group of players I've been pretty critical of for the past eleven and a half months and a manager who I've also given some stick to since he took over in November.
Back on 25 February, City went down to a limp 1-0 home defeat by that same Nottingham Forest team and when four days later they found themselves 2-0 down on their own ground after just twenty one minutes to Brentford, another team above them in the table, the notion that this was a top six side would have been laughed out of court.
The matches against Forest and Brentford were held up beforehand as the sort that just had to be won. No one could doubt that Neil Harris had made us a tougher side to beat, but we were still not winning anywhere near enough home matches and, frankly, we had a one dimensional way of playing which opposing teams were finding easier to deal with in 19/20 than they had done two seasons earlier.
And yet it was the old high balls into the box approach which turned around that Brentford match as two headers had us level by half time proving that while we clearly were in need of a more rounded way of playing, we did have something that good sides in this division found hard to deal with at times – the challenge, that Neil Harris had failed to meet up until then, was to come up with that something extra while retaining the qualities we already had.
A win at Barnsley in the last match before lockdown was achieved despite a truly dismal first half showing and offered a slither of promise of better things to come with a spell during the game where we were truly dominant, but, to be blunt, the two point gap to sixth place may as well have been twenty given how poorly and unimaginatively we had played through the first eighty per cent of the season.
When football began again, City got going with a 2-0 win over Leeds which just got to look more and more impressive as the weeks went by.
The reason why it wasn't appreciated at first as much as it might have been were threefold I'd say – first, we always beat Leeds don't we and second, there were still many who expected them to blow up under Bielsa just as they had done last season. Finally, it was very much a backs to the wall struggle as we gave up possession and territory to the visitors and hit them on the break with two very good finishes.
Leeds were beaten by the"old" Cardiff doing what they could do well better than they had done for most of the campaign, but the template of the season so far had said that we needed more than that.
For me, it was the the following match at Preston that had a "Hang on, what's going on here?" feel to it because there was a control, poise and yes, a hint of style to our display.
Late goals were instrumental in winning at Preston and Bristol City and offered a clue that City might be that bit fitter than many of their divisional rivals, but I'd say that, more importantly, we were be a little more canny, sprightly and skilful than opponents thought we would be because they were expecting the old Warnockball style and not much else from Cardiff.
Two deserved defeats by an accomplished Blackburn team and a Fulham side finally beginning to play to something like their potential raised old doubts again. However, City were impressive in coming out on top in what had the feeling of a shoot out with Derby and the easy victories which followed against Middlesbrough and now Hull took it to nineteen points from the nine post lockdown matches with the Play Offs reached in fifth position with a comfortable looking three point cushion – that's automatic promotion form and it would be churlish not to accept the manager and team have produced when it was most needed.
Turning to tonight's match, I think one of the more relevant things about it was that I spent much of the time whinging to myself about our ball retention just as I have done throughout most of the season, but then it struck me that I wasn't having a moan about our passing for the reasons I used to from August until March. Then, it would be all about our almost total inability to play the ball from point A to point B no matter what the distance was between them. No, my displeasure this time was about how we were not as sharp and accurate with our passing as we had been in the eight post lockdown games before tonight – I was being unhappy with our failure to match the standards we'd set for ourselves in our previous eight matches,
A couple of early opportunities to Robert Glatzel, the second one of which he probably should have scored from, rather told the story of what was to come in that, although Hull would sometimes play pretty well between the penalty areas, they were substandard in both of them.
Hull struggled every time we upped the attacking tempo and so there was always the feeling that, although the visitors were competitive in many areas, City would be able to up their game if they did produce a surprise or two.
Glatzel also troubled keeper George Long with a looping header which threatened to fly over him and into the far corner of the net, but City's pressure paid off in the eighteenth minute when Junior Hoilett was left all alone to cut in from the left and fire in a shot from around twelve yards which, at first, appeared to go through Long on his near post, but, in truth, Hoilett's shot was a good one and the Hull keeper had no reason to chastise himself.
The goal did little to shake City out of what I would say was a let's just do enough attitude, but they needed help from the officials when Malik Wilks went down in the penalty area under a challenge by Joe Bennett. It looked like a penalty on first viewing and was shown to be one on second and third viewings, but referee James Linnington and the linesman on the Ninian stand side of the ground saw nothing to convince them that a foul had been committed.
City's response to their escape was to put together a lightning fast counter attack which ended up with Glatzel again coming close as midfielder Daniel Batty did excellently to block the striker's shot at the expense of a corner.
Batty's good work was all for nothing though as Sean Morrison nodded in Joe Ralls' corner from about eight yards out. City's skipper will seldom have scored an easier goal as he was completely unmarked and he barely had to jump as he placed his header beyond Long. Such a goal tends to produce lots of inquests in the defence of the team that has just conceded, but this time, it was easy to see who was responsible for the concession, it was striker Tom Eaves who completely lost his man and allowed Morrison to score so easily.
City were playing with some of that fluency which has come as such a pleasant surprise lately now and a lovely pass by Marlon Pack set up Nathaniel Mendez-Laing, but after neatly turning inside his marker, the winger, who went from inspirational at Middlesbrough to just plain frustrating here, put his shot straight at Long.
Perhaps understandably when you're forty five minutes ter from the Play Offs against a team that hadn't scored in five matches, City made a bit of a dozy start to the second half and both centrebacks had to made desperate last ditch challenges and Smithies produce the save of the game to deny the busy Wilks again.
Hull didn't threaten much after that and it was only in the dying minutes that City upped their attacking game a bit to force a couple of free kicks in dangerous areas. The first of these came to nothing, but when Long fisted out Bennett's twenty yard effort from the second one into the path of sub Danny Ward, he responded with an example of the calm and efficient finishing which marks him out as a real asset coming off the bench late in games by sidestepping a defender with his first touch and then dispatching the ball past a keeper who must have been wishing he had made a better job of dealing with the original effort with his second.
That was the end of the action really and the few minutes remaining minutes saw me considering the carnage taking place at other grounds as we were easing into the Play Offs.
The battle for the second automatic promotion spot boiled down to West Brom knowing that their one point lead over Brentford meant that they would be promoted if they beat a QPR side that appeared to be ideal opposition for such an occasion at the Hawthorns. A failure to win by the Baggies would leave Brentford only needing to overcome a Barnsley team that was surely bound for League One to secure second for themselves and they had a bonus of knowing that their superior goal difference meant that a draw would be enough for them in the event of West Brom losing and Fulham failing to get the three points at Wigan.
Fulham in fourth were lurking two points behind West Brom knowing a win by neighbours QPR and a failure to win by Brentford would see them take second spot if they could come out on top in their awkward visit to a Wigan side needing to win to gain sufficient points to ensure their proposed twelve point penalty for going into Administration did not relegate them.
In the event, in an outcome which it could be argued confirmed the widely held belief that it's been a low quality Championship this season, none of the three contenders managed to win!
Fulham trailed for a long time to a Keiffer Moore goal at Wigan before recovering to take a point in a 1-1 draw which, seemingly, has relegated Wigan. That was a reasonable result for the London club, but set against West Brom's 2-2 draw and Brentford's 2-1 loss, even Fulham fans will be wondering about what might have been now.
Therefore, West Brom stumbled over the line in a match where they, first, trailed, then fought back to level and then led, only for their opponents to come back and leave a very anxious last half an hour for the Midland team and their supporters. Apart from when West Brom were losing, Brentford were never in a position where they were going up as they fell behind just before half time, eventually managed an equaliser before dropping the points late on courtesy of a goal which meant far more to their opponents than it did to them.
So, Wigan, despite some great results in the final third of the campaign, go down, Hull knowing they would almost certainly be relegated even if they had won at City, ended up bottom and, with Luton beating Blackburn, Middlesbrough winning at Sheffield Wednesday and other results meaning that Birmingham and Huddersfield were safe despite being beaten by Derby and Millwall respectively, it was Charlton, beaten 4-0 at Champions Leeds, who were relegated by Barnsley's late winner.
Before leaving the situation at the bottom, I must record my sympathy for Wigan because, for me the Football League authorities are as much to blame for what happened there as their pointless and feeble fit and proper person test allowed that club to be taken over by someone who, allegedly, put them into Administration to help him win a bet that they would be relegated.
It just seems wrong that a club can be relegated in such circumstances and by leaving the whole thing up in the air by not making a definite decision yet as to when any penalty is to be applied, the authorities have created a situation whereby those Barnsley players who were celebrating wildly after a couple of remarkable wins in their last two games could still see themselves playing in League One depending on what is decided in an appeal tribunal or a Football League committee room.
The waters are further muddied by the ongoing investigation into the sale of Derby and Sheffield Wednesday's grounds to companies associated with those clubs' owners in a bid to avoid what I still call Financial Fair Play penalties. If found guilty, these two clubs could be hit with points penalties so stringent that even Hull and Charlton are clinging to the very slight hope that they could still be playing Championship football next season – it really is an absurd situation which reflects no credit on either some of the clubs involved and those who are supposed to be in charge of the competition.
If anything though, the drama at the bottom was trumped by what was happening with the other Play Off place up for grabs while City were calmly going about securing theirs.
Swansea knew that they needed to win at Reading and rely on either us or a Forest side that were being talked of as possible automatic promotion contenders only a fortnight or so ago getting beat. Although their goal difference was slightly worse than ours the jacks knew the combination of three points for them and none for us would naturally turn that around, but they also needed a five goal swing towards them in the event of Forest losing at home to a Stoke team with nothing to play for.
For more than half of both matches, it seemed like Forest had little to be concerned about, Yes, they were trailing 1-0 and Swansea had scored early on at Reading, but there was still that favourable goal difference for them. The dismissal of Reading's leading scorer Yakou Meite just before half time threatened to make things interesting, but the home side then equalised almost immediately from the penalty spot and when Forest then levelled things up, everything appeared to be very straightforward in what was looking like becoming a fight for sixth place.
Suddenly though in the last third of both matches, the away team started scoring on a regular basis – 2-1 to Swansea and Stoke then became 3-1 and when Wayne Routledge headed a fourth for the jacks in injury time, it was they who found themselves in sixth place.
Forest desperately needed to score and their forward Nino Da Costa came up with that goal six minutes into added time, but the problem was the ball was put into his own net to make the score 4-1 in both matches! In truth, that final goal changed nothing, Swansea had achieved their five goal swing and also scored enough times to ensure their goals scored figure was comfortably higher than Forest's in the event of the sides finishing level on points with the same goal difference.
Ironically, City's unexpected fifth place finish means that they will now be facing a Fulham team who are probably the most in form of the four sides contesting the Play Offs – a Fulham team which, it has to be said, beat us comfortably by 2-0 at Craven Cottage less than a fortnight ago. After spending the last month or so hoping that Brentford would finish second because it would mean we wouldn't have to face them in a Play Off Semi Final, their last two results have me thinking that maybe we would have been better off playing them now!
It's Fulham at home next Monday followed by another visit to London three days later though and, to repeat what I said in the Feeback section on here this week, I feel much the same now as I did the last time we reached this stage eight years ago – for me, the achievement was getting to the Play Offs in 11/12, I had no expectation that we would win them at all and I think the same applies now.
Neil Harris took an aggressive line in his post match interview though as he claimed the pressure was all on Fulham when you consider the size of their budget and how much they had spent this season on assembling their team and he has a point there – he also managed to get in a dig at Forest about how they recalled Albert Adomah from his loan spell with us!
Apologies to Sky if I've got this wrong, but I watched most of their general post game discussion about how the night had gone in the Championship and the only reference I heard to Cardiff was when our former player Jobi McAnuff said we were a "dangerous" team who are in good form. I've under estimated the City squad and their manager for the majority of this season and I think that, generally speaking, football has done that as well. Neil Harris and his team won't mind that at all. I'm not expecting much from us, but Jobi McAnuff is right about us being "dangerous" – especially if our opponents start to believe that all we'll have to offer is stale Warnockball.