https://mauveandyellowarmy.net/
I'd like to beg your indulgence for a short while please – although it might not seem like it at first, I have not taken leave of my senses and, hopefully, you will see that there is a point to what I'm about to say.
On 25 November 1989, I was one of just 3,270 at Ninian Park to watch City take on Preston North End. That crowd figure should tell you that we weren't very good that season, in fact we got relegated to the old Fourth Division at the end of it. Preston weren't very good either, they ended the season safe in nineteenth position having accumulated two more points than our fifty.
Preston may not have been up to much, but they played us off the park that afternoon – they pushed us back continuously with attack after attack, kept the ball for long periods and had City just about hanging on on so many occasions and yet they ended up getting beat 3-0.
Ian Rodgerson, Chris Pike and Cohen Griffith got the goals on a lovely, bright and clear early winter's afternoon as City followed up a 5-2 victory against Fulham at Craven Cottage with another big win which lifted them to what was a season's high position of seventeenth.
The facts and figures indicated we were on an upward trajectory, but those few who had seen the game must have known that the truth was somewhat different – we'd played like what we were (a relegation side), but it just so happened to be one of those days when virtually every shot we tried ended up in the back of our opponent's net.
That's the reason this game has stuck in my head when so many others that have seen far better City performances have virtually faded from the memory.
I thought I'd never ever see its like again, but, in many ways, City's win over Queens Park Rangers tonight was its equal. For a start, the score was the same, City were on the back foot for large periods and they often found simple ball retention beyond them.
I'm sure, that like Preston 30 years ago, the QPR team and management must have left Cardiff wondering how on earth they had lost the game, but it's when you examine things from that angle that differences emerge between the two matches – in 1989, Preston were just very unlucky, but there was more to it this time around.
For a start, QPR were the victims of a spectacular Warnocking. A normal Warnocking comprises ninety minutes of frustration against opponents who just will not let you play the way you want to or the way you know you can play. Not only that, although your defence looks generally in charge and your mind is more on how you'll score rather than making sure you don't concede, you still find yourself undone by a solitary goal, usually conceded from a dead ball situation.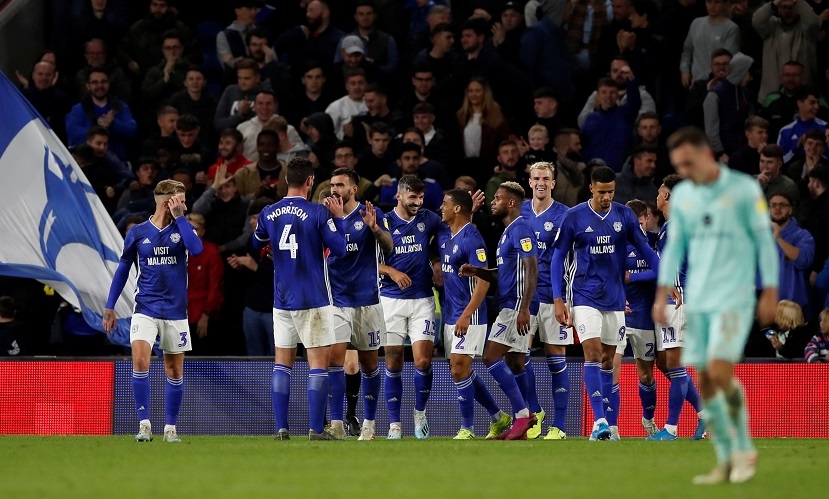 This time it was almost a case of three Warnockings for the price of one as there were two, not one, set piece goals and a bonus of one from open play thrown in as well.
To be fair to City, those half serious references do not do some aspects of their performance credit. Alex Smithies will have been pleased with his clean sheet against a former club – like his team, there was an element of luck involved in what he achieved as a couple of shots came back off the woodwork, but there were also two or three good saves from a man who has done very well for us in recent weeks.
Neil Etheridge must now know that he faces a fight to regain his first team spot from someone who is playing well and getting to know his defenders better.
Of those defenders, the twin centrebacks Flint and Morrison continue to improve from an uncomfortable beginning which saw them struggling against quick, mobile forwards in exactly the manner critics like myself predicted they would. Tonight, Jordan Hugill apart, they were up against similar type players and with our full backs on man marking duties that sometimes saw them dragged from their normal positions, the centrebacks, in particular Morrison, found themselves having to go into the sort of wide positions in which, I would guess, they feel least comfortable – they came through their test though, even if it was a bit desperate at times, and are becoming a surprisingly compatible pairing.
With Joe Ralls not even in the eighteen (presumably this was a little bit of squad rotation with the injury he has been carrying recently in mind), I found the decision to play Leandro Bacuna in front of Marlon Pack, but behind Ralls' replacement, Lee Tomlin, a little odd. It gave Pack a lot to do defensively against opponents who pushed a lot of numbers into that area in front of our back four and there were definitely times when I thought he needed more help from Bacuna, but, whatever the merits of that argument, Bacuna had another in what is now a series of good games.
Finally, having been critical of Gavin Whyte's crossing in the past, I thought this was his best game for us in that regard with an assist and a couple of other crosses which could have brought goals to his name.
No, unlike their counterparts from 1989, City did not look like a relegation side when winning 3-0, but, by the same token, they did, for me anyway, look like a side that might not rise much above their current position of tenth.
When we went up two seasons ago, much was made of our poor possession figures. I'm not going to rehash old arguments here about how much of a part good or bad possession figures can play in how a team's season goes, but what I would say is that, although I've not checked this, it seems to me that while we seldom had more than fifty per cent of the ball in 17/18, it was more of a 60/40 type split, whereas this season we've had a few already in the 70/30 range.
Even with Pack, who was supposed to improve our passing, in the side, we could only manage twenty eight per cent possession tonight. While I'm not as wedded to the notion that dominating the ball is a must if you want to be successful as I once was, my conversion has not gone as far as to agree that having between a third and a quarter of possession over a ninety minute period in a significant proportion of your matches can be a recipe for success.
For what must be two years now, I've been talking about spells in games where we are totally incapable of keeping hold of the ball. In the minutes before Harry Arter was sent off down here a month or so ago, it seemed that we just could not get the ball off Fulham and, on the rare occasions that we did, we wasted no time in giving it back to them.
This period of play went on for something like a quarter of an hour and while I don't think we had anything to match that tonight, there were long parts of the game where we just were chasing around after the ball with no likelihood of regaining possession and not showing the technique required to keep it if we, somehow, won it back.
Of course, some of the credit for that has to go to our opponents who, in contrast to the aforementioned Fulham, were looking to do something positive with all of the ball they had rather than just operating under a possession for possession's sake mantra.
Rangers were at times bright, purposeful and creative and while Hugill, who has caused us a lot of problems in the past, was something of a blunt instrument up front for them, Eberechi Eze and Bright Osayi-Samuel looked like a couple of young attacking players with bright futures, probably at a higher level than the Championship, in front of them.
The former was unlucky to see his fine shot from just outside the penalty area come back off an upright with Smithies a spectator, while the latter forced our keeper into early action after turning Joe Bennett inside out near the corner flag on our left. Eze joined Ryan Manning in hitting the woodwork for QPR and there was much to admire in the visitor's outlook, bravery on the ball and skill.
On this evidence, you could see why Rangers had recently won four consecutive league games and already had three away victories to their name.
Yet, there was also an innocence of youth, some carelessness and quite a bit of rank bad defending to them as well which fully contributed to their Warnocking.
The first two goals show what I mean. Rangers were poor all night in dealing with crosses into their box (pity there were so few of them) and when Tomlin knocked an eleventh minute free kick deep to the far post, Flint won an easy header which guided the ball on to the head of Morrison, stood some eight yards out, from where it looped beyond debutante keeper Liam Kelly and into the net for our captain's first goal at Cardiff City Stadium since we beat Nottingham Forest in the penultimate home match of our promotion season.
1-0 down to a typical Warnock style dead ball situation,QPR conceded another one a minute or two before the half time whistle blew and this one came from another method beloved by our manager – a corner.
However, this was no ordinary corner as Tomlin dummied to take a short one to Whyte and then, seemingly, thought better of it. However, it would appear that this was all part of an act which the Rangers defence fell for hook, line and sinker because Tomlin did then roll the ball short to the completely unmarked winger who took his time before firing over a low cross cum shot to the far post where Pack prodded in from about four yards out.
Both were very poor goals to concede and you just could not imagine a Neil Warnock Cardiff team being caught out in the same way. In a second half where City generally were either content to sit on their lead or were being forced back by the weight of opposition pressure, it was only the vulnerability of the visitor's defence when dealing with crosses into their penalty area which offered City hope of a third goal.
One duly came on seventy two minutes when Bacuna was played into space down City's right and and his cross was volleyed into the ground then into the corner of the net by substitute Callum Paterson from the edge of the penalty area for his first goal of the season.
Headers over the top and inches wide from Robert Glatzel and Paterson respectively offered more proof that QPR were ill equipped to cope defensively with our aerial power and so, in the end, I was left with a feeling that for all of their youthful promise, vigour and intelligent movement, the visitors will probably finish below us in the table because they possess a fragility that we don't.
Nevertheless, for all of that, I cannot help but think that this QPR side will have already had a game or two where their fans came out of the ground proud of their team after they had been royally entertained and I'm sure they will do it a few more times as well if they keep on playing the progressive football that they did tonight.
Unfortunately, I cannot feel the same about this current City team. After the game, Neil Warnock countered questions about our poor possession figures by saying "I think fans want to see goalkeepers making saves, crosses coming in, oohs and aahs,". He may be right in thinking that, but he's not right if he thinks that's what his team have been providing plenty of this season.
I appreciate this is a bit rich coming from someone whose team has just won 3-0, but there are 3-0s and 3-0s and, as I have done after every one of our wins this season, I came out feeling of the ground pretty flat – there's the three points to enjoy, but not a lot apart from that.
Contrast what our manager says about what he thinks fans want with an attitude of mind which sees Josh Murphy and sub Junior Hoilett trying to eat up the seconds with a short corner routine designed solely to run down the clock in the first minute of added time when their side was 3-0 up. With the game won, why couldn't we have had one more of those balls into the box Neil Warnock talked about or were we worried about the possibility of three quick breakaway goals by Rangers in the couple of minutes that remained to snatch them a draw?
Whatever the answer, it was pretty symptomatic of how we play under this manager – we're seven unbeaten now and only five points off the top of the league, but coming out of a game proud of my team and having been thoroughly entertained seems as far away as ever.