1-1 against Sheffield Wednesday and 0-0 against both Derby and Millwall. Cardiff City's last three home matches played on a Saturday have, largely, been as uninspiring as those scorelines suggest they were – on second thoughts, I'm wrong there, they were more uninspiring than the scorelines suggest!
By contrast, our evening kick off home league matches before last night had seen leaders going into this round of matches, Sheffield United seen off fairly comfortably by 2-0 and a Leeds side that were top of the league when they came here in September easily beaten 3-1 with a City performance that is a genuine contender for our best display of the season.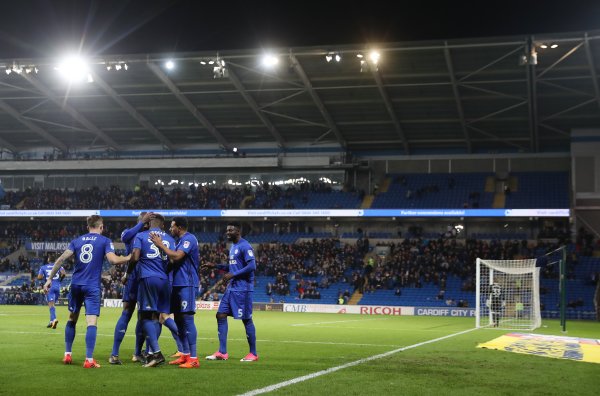 So, the question was, would City be able to rediscover their scoring mojo under the lights that have inspired us in the past, or was the attacking torpor that has afflicted us since Kenneth Zohore's superb team goal put us 3-0 up under those lights against Leeds now so powerful that it would negate the "floodlight factor"?
My own view was that, on the night which those with evil in their heart are supposed to like over all others, the portents weren't good – especially when I heard the team Neil Warnock had selected.
It was no great shock to learn that Aron Gunnarson and Kenneth Zohore were still missing with their ankle injuries, nor that Joe Bennett is unlikely to play again this side of the upcoming international break after his injury enforced early withdrawal against Millwall. So, given our manager's reluctance to make changes this season, it was something of a surprise to learn Craig Bryson and Danny Ward had both been relegated to the substitute's bench as well.
Predictably, there was a first City start for Callum Paterson, not so predictably, the same applied to Omar Bogle, while Lee Tomlin was given an overdue first league start in almost three months and, with Joe Ralls the only specialist central midfielder in the starting eleven, the assumption had to be that the three centreback system had been abandoned (I can see it making a comeback at Ashton Gate on Saturday mind) and Sol Bamba would be back in his deep lying midfield role.
That was the theory and that's how things worked in practice, but the thought that we would be relying very heavily on two players so lacking in match sharpness at first team level for much of our attacking threat did not fill me with confidence.
In the event, I needn't have worried at all, the Cardiff City Stadium floodlights worked their magic (maybe the contributions of some of those in blue out on the pitch helped a bit as well!) and last night was very much more Leeds than Derby and Millwall, with the similarities stretching to an identical 3-1 winning scoreline.
Just as there was with Leeds, I must admit to a lingering feeling that the winning margin could have been greater if City had really gone for it, but I suppose in this division where three games in eight days is such a common occurrence, energy conservation can be seen as more important than going flat out to improve your goal difference.
I have occasionally compared this season to 2006/07 when we made an even better start than we have done this time around and there has also been some reference to it in the Feedback section on here. Well, last night that similarity was as strong as at any time during this season so far for me.
I say that because I've always felt that, when they were really flying in the autumn of 2006, the 06/07 team had the capacity to up the pace for periods of five to ten minutes when they played with a pace, intensity and no little skill that our opponents found almost impossible to live with – they used to play in bursts and, to a large extent, that's what we did last night.
Unlike too many recent games, City were "at it" from the first whistle against Ipswich. Oddly, starting games well is something that we've tended to do better in our away games this season as I can remember us imposing ourselves on sides such as Wolves, Fulham and Middlesbrough in the opening twenty minutes when we played there – apart, perhaps, from Sheffield United, I cannot remember us starting as well as that in home games.
It was different last night though, Junior Hoilett had already gone close with a shot from the same sort of position that he found himself in after twelve minutes when he volleyed Nathaniel Mendez-Laing's cross towards goal and the shot flew across Bartosz Bialkowski and into the corner of the net. Watching all of this from the other end of the ground, I couldn't understand why some Ipswich players were appealing for a possible offside, but a look at these highlights shows you that Bogle may have got the final touch on the ball – I'd say his reaction to the ball hitting the net is indicative of someone who thinks he's scored as well.
With his pace, and general ability to make the ball "stick" when it was played to him (I should qualify this by saying I'm talking about when the ball is played to him on the ground – like the other two specialist strikers who have played a target man type role this season, Bogle doesn't get the better of his marker too often when City try an aerial, rather than a ground, route), Bogle was doing a decent Zohore impression in those early stages and he was very close to making it 2-0 shortly afterwards when he got a foot to Hoilett's perceptive low cross from six yards out only for Bialkowski to rescue his team with a fine save.
That incident signalled the end of City's first spell of domination. Although there were still occasions when we came close to doubling our lead, the rest of the first half was a more even affair as Ipswich, who had looked in danger of being blown away such was City's early superiority in terms of pace, physique and ability, began to show that although they would never look too sound defensively, they did have it in them to cause us problems at the back.
City had cause to be thankful to Ralls just before the break as he blocked a close range Flynn Downes effort and centreback Tommy Smith should probably have done better when Joe Garner flicked a corner on to him, so, although another poor home crowd of 15,951 (after our previous two home games and with the counter attraction of "Halloweening" I'm more reluctant to criticise the stayaways last night than I've have been at other times this season – e.g. Derby) would have been content with their team's situation at the break, there were signs that Ipswich were growing into the game and the three points were far from Cardiff's yet.
What happened next rather depends on which manager you want to believe because there views were totally different and yet, such is the nature of football and sport in general, I find myself agreeing with both of them!
In the blue corner, we have Neil Warnock who will have looked at the slick interchange of passes which led to Bogle being put through on goal within thirty seconds of the restart and purred. Bogle duly put away his chance and City could now start thinking that those points were theirs.
Now, obviously, I'm going to say that Bogle's first Cardiff goal was a beauty with approach play which rivaled that we saw in the Zohore goal against Leeds I mentioned earlier and, unlike that goal, this one needed some finishing which our signing from Wigan duly provided with a calmly side footed finish from seventeen yards as Bialkowski advanced.
However, if you are Mick McCarthy in the red corner, you going to rage about how, after telling your team to be vigilant in the opening stages of the second half and despite Ipswich kicking off the half, the ball ends up in their net within half a minute of the match restarting.
McCarthy was able to recognise that it was a fine goal from a Cardiff perspective, but I could understand his view that those thirty seconds were probably game defining and that at the precise time City were scoring, they should have been in a defensive area of the field for them with something like a throw in after Ipswich had played for territory from the kick off.
What needs to be said though is that if City have tended to be slow first half starters at home, their best performances at Cardiff City Stadium have had the common thread of blistering second half starts running through them and so it was last night with us in the second of those 06/07 type periods of domination I referred to earlier.
If anything, City's superiority was even more marked than it had been in the opening quarter of an hour of the game and, if that period had been characterised by the play of Bogle and the wingers, this time it was Lee Tomlin who was at the heart of most of what was good about us during this spell.
Tomlin had started quietly, but had gradually become more influential and I think it's fair to say that, in the half hour either side of half time, Ipswich found him so hard to deal with. While Tomlin had played well in his only other start at the ground (against Sheffield United) and had been instrumental in forcing a late, late equaliser against Sheffield Wednesday, I believe this was the first time that City fans had really seen what he can bring to the team.
Our purple periods in the opening minutes of second halves back in August were built around rampaging wingers and centre forwards and they were all there again to some degree against Ipswich, but there was also the additional element this time that someone was tearing our opponents apart through the middle as well as on the flanks.
The rat tat tat exchange of passes between Mendez-Lange and Tomlin was a delight, but what really opened Ipswich up was the backheel by the latter into the path of the former to create the man over situation which made a goal likely – Tomlin gave us an extra dimension and, while I can understand that it can be hard to accommodate his style of play within a team framework, he surely has to feature more than he has done so far from now on.
Ipswich were able to get through our second good spell without further damage and the final quarter of the game was threatening to be it's least interesting as City let Ipswich come on to them and looked, without the same vigour and style shown earlier, to hit their opponents on the break.
It was pretty obvious that the thinking was 2-0 is good enough, let's hold on to what we've got, rather than let's go looking for a third, fourth and fifth goal. While I as a fan pure and simple hopes my team would try the latter, the sensible call is also the more boring one, but, in saying that, in matches where you have been so much the better team, the whole atmosphere on the pitch and in the stands is transformed if and when your outplayed opponents halve their deficit.
That's precisely what Ipswich did when Bersant Celina netted as the match went into added time at the end. Within seconds, the fourth official showed that a minimum of four minutes additional time was to be played.
As the home fans who had not left already started coming to terms with the idea that they would soon be imploring the ref (he wasn't perfect, but Oliver Langford was a big, big improvement on Saturday's comedian) to end a game that their team had been so comfortable in for so long, City promptly went and put everyone, apart from those in one corner of the ground, out of their misery by scoring a third goal.
Nathaniel Mendez-Lange had already played his best match since August when he fastened on to a Sean Morrison header fifteen yards inside his own half. He has shown before that he is capable of carrying the ball from a position like that into the opposing penalty area, but could he do it with ninety one minutes on the clock? Not half he could!
Within seconds, Mendez-Lange had left two opponents trailing in his wake and was closing in goal. Bialkowski was able to block the shot which followed, but the ball found it's way to sub Danny Ward (who had earlier shot against a post) and he easily dispatched his opportunity to record his first home goal for the club.
City's win, achieved with a degree of style I'd began to feel had deserted them when summer turned into autumn, moves them into second place and leaves them very grateful to Queens Park Rangers who have played the league leaders twice in four days and beaten them both times. Saturday's victims of Ian Holloway's team, Wolves, go back to the top of the table after their 2-0 win at Norwich, while Sheffield United fall to third after their 1-0 loss at Loftus Road.