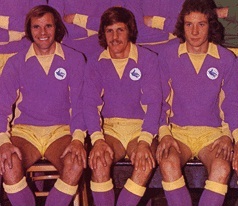 In his pre match press conference on Friday, Neil Warnock revealed that his Cardiff City team were three points short of reaching their pre season target which had been considered to be enough to achieve a top six finish.
Well, after City racked up a sixth successive win yesterday by dispatching Birmingham City 3-2 at home, that target has, amazingly, been achieved with a full ten matches to go. Whether seventy three points will turn out be be enough to get a Play Off place has to be arguable, but the fact of that matter is that the sides from seventh downwards now have to get fifteen points, at least, to catch us – that's five wins and, in many cases, they only have nine matches left to get them.
So, by any standards, getting to seventy three points from thirty six games has to be seen as an outstanding achievement that everyone involved should be justifiably proud of. City's results over the final three quarters of last season, combined with them being tipped by quite a few pundits as being dark horses for a Play Off position back in early August offered hope that 2017/18 could turn out to be be our best season since relegation four years ago with the belief that any promotion challenge would have a much more realistic feel to it than the one which almost went under the radar with even Cardiff fans back in 15/16.
However, right from the start, there was something about the season which offered the hope we could do more than that and the truth is that for around a month now, there has been an acknowledgment that, even after that miserable Christmas holiday period which most thought signaled the end of any serious top two challenge (I certainly did!), Cardiff City are not going to go away this season – they have as good a chance of a top two finish as anyone, in fact a look at the table tells you that, Wolves apart, they have a better chance of automatic promotion than anyone.
Most City supporters only have the one reference point to access when it comes to analysing what it is that gets you out of Division Two/the Championship as Champions or runners up and it seems to me that there are definite similarities between this team and the one that went up in 2012/13.
For example, although both turned in some very good, and entertaining, early season performances, generally speaking, the football is/was functional and effective as opposed to expansive and eye catching – I think it's fair to say that there have been a few exceptions to this rule since we returned to this level in 2003, but, more often than not, the same could be applied to other teams who have finished in the top two.
I've mentioned it on here plenty of times before, but if I was asked to come up with the one quality which most summed up our Championship winning side it would be the feeling that, certainly from about November onwards anyway, the game was as good as won once we went 1-0 up – there were exceptions to this rule along the way of course, but that team was very good at "seeing games out".
This season's side are definitely good in that department as well – I make it that the only matches where we have dropped points after scoring first are the defeat at QPR and the draw at Millwall. I was certainly getting that same feeling about the current team as I did with the one from five years ago as we went into Christmas and it was there again when we comfortably saw off top six challengers Middlesbrough and Bristol City in recent weeks.
Now, I didn't get many supporters when I said "Not playing like that we won't" after yesterday's match on a messageboard in reply to the statement "We will pick up 22 points from the remaining games" – in fact my sanity was questioned by some and I was accused of partaking of the "wacky baccy" by one contributor!
However, having had a few hours to sleep on what I said, I stick by it – the aura we had that made me feel pretty relaxed when defending narrow leads against much better sides (if the league table is to be believed) than Barnsley and Birmingham was not there in our two most recent matches. I can't help thinking that we will need to up our concentration and application levels quite a bit if we are to come out of what looks to be a very testing next six matches with our automatic promotion credentials looking as strong as they have done recently.
On Tuesday, we performed pretty well in getting into a 2-0 lead very early in the second half, but then stopped playing for more than forty minutes as things became distinctly uncomfortable. Yesterday, we didn't have that many dangerous looking attacks in the first half, but showed a ruthlessness in front of goal which had us 3-0 up at the break and, seemingly, on target to greatly improve our goal difference, but we ended up letting a team with a dreadful goalscoring record back into the game to the extent that home supporters were desperately calling for the final whistle by the end.
The Birmingham game was different to the Barnsley one in that there were quite a few chances for us to get that one more goal which would have killed our opponents off and it has to be said that a referee who was anything but a homer didn't help matters either.
I've read recently that Peter Bankes is considered as something of a rising star in the refereeing community, but I wasn't impressed at all by him. Although it's a fair point to say that defenders are allowed to foul with impunity when defending dead ball situations in their own penalty area these days, I could see from the other end of the stadium that a Birmingham shirt had been pulled when Bankes awarded the visitors a penalty, so, by the laws of the game, the decision was a correct one. However, I will watch the club website highlights with a great deal of interest later today because, on the one viewing I've had of it so far, it looked one of the most obvious penalties I've seen in ages when Junior Hoilett went down in the area shortly afterwards and yet Bankes waved play on.
That was the stand out incident which annoyed home fans most, but it was far from the only questionable decision by the official and, this time at least, the chant "why do we always get shit refs?", which has been heard at every game since Keith Stroud's baffling refusal to allow Sol Bamba's "goal" at Millwall, seemed justified to me.
However, our laxness and the disappearance of the killer instinct which was there in our finishing in the first half cannot all be explained away by a bad ref and I think at this stage it's worth having a look at our opponents and the frame of mind they must be in.
I must admit to being quite fascinated by Birmingham since they, for reasons I cannot begin to fathom, sacked Gary Rowett last season at a time when they were genuine top six challengers. They have spent a lot of money in putting together a squad which, on paper, has a look of a top ten side to me, yet their results have been awful for a about a season and a half now.
Around the time, we were losing four successive matches, Birmingham were suggesting that they were, finally, getting things right as they only lost twice in eight league games, but, after being beaten in their derby game at Villa early last month, they have fallen off a cliff and came into yesterday's match on the back of six consecutive Championship defeats.
Yet, when I heard their team being read out before the game, I found myself thinking again "why is this side where they are in the table?" – it didn't take too long to start getting the first clues as to why they are.
Whereas Barnsley offered City a strong, physical challenge all over the pitch, it soon became clear that Birmingham would not do so – I wouldn't say that were beaten before the game started, but their lack of confidence at both ends of the pitch was plain to see.
As mentioned before, it was hardly as if City were carving their opponents apart at will and it has to be said that when we got it right, we attacked well in the opening forty five minutes, but the visitors did have a tendency, which was also evident after the break at times, to cave in individually and collectively when put under any sort of pressure.
When it came to attacking, Birmingham looked neat and tidy up to a point, but there was a lack of belief in the areas that count which gave the clue as to why, despite a group of forwards that I'm sure some other Championship clubs wouldn't mind having, their goalscoring record is so woeful (they've scored twenty five times in their thirty seven matches) – they would work themselves promising positions, but would find a way to make things just fizzle out from there.
In my messageboard conversation last night I said that Birmingham could have scored seven or eight times. On further reflection, that was an exaggeration, but the point I was trying to make was that they were able to get themselves into more dangerous positions than Middlesbrough or Bristol managed and it was their own failings, in terms of belief as well as ability, that was stopping them from being exploited rather than any good defending by City.
Although I don't think any of our back four were at their best defensively, it seems to me that, as is often the case when we struggle in matches, the main problem lie with our midfield. Craig Bryson scored his second goal for City to put us 2-0 up and was having one of his better games in my opinion when he had to go off with about thirty minutes played and, after an uncomfortable showing when he came on as a sub against Barnsley, his replacement, Loic Damour, again struggled.
Damour has played his part in our fine season and, overall, it seems to me that he has been a good signing, but he gave the ball away consistently yesterday and as Greg Halford stood on the touchline ready to come on as our third replacement, I mentioned the possibility of us seeing that rare event – a sub being subbed. That did not happen and a beautifully struck volley from out wide that looked like it would have beaten Birmingham keeper David Stockdale if it had been on target, seemed to lead to a slight improvement in the Frenchman's play, but he's not had a good week and looks like he's feeling the effects of a long season to me – in fact, after suggesting tiredness might have been a reason for the team's fade out against Barnsley, I saw nothing yesterday which would disprove that theory.
It says something that the player who looked most likely to bring such much needed poise and control to our play in the middle of the park was the youngest member of the team – Marko Grujic still shows occasional signs of the affliction which dictates that all City players must make a mess of even the most simple pass from time to time, but he is growing into the team and stood out for me in the closing stages both in terms of his defensive anticipation and the way he was able to bring some order to what too often looked like chaos.
Yet, what I couldn't argue against with those who didn't like what I said on the messageboard is that we keep on winning. Fulham (2-1 winners at Preston) and Villa, with a 4-1 trouncing of Wolves (their 3-0 win at the Championship's soft touch, Leeds, in midweek was not the statement of intent it appeared to be at the time then) may have won more impressively than us this week, but they do not get the extra points which would close the gap on us by doing that.
Wolves' wobble means that it's almost certainly two from four for automatic promotion now. Fulham, who have come through a run which saw them face six genuine promotion challengers in consecutive matches and end up of with five wins and a draw, are going like a train at the moment and, if any run in can look easy at this stage of the season, then they would appear to have it, while Villa will take great heart in not just the win over Wolves, but also the manner in which it was achieved.
However, while we seem to find taking on the poorer sides in this league to be more problematical than a team with our record should do, it also needs to be said that our record against the top sides is as good as any and better than most.
Also, of course, any discussion on our season so far and what the next ten matches may hold also needs to mention injuries. There was a story in the local media this week about the ten missing outfield players we had and, although Lee Peltier and Callum Paterson (another goal for him with a header from a lovely Joe Bennett cross for one of the full back's two assists) played, Sean Morrison came on as a sub and Gary Madine was also on the bench, it looks like Bryson will be missing until after the international break in a fortnight's time.
So, any criticism of yesterday's performance needs to be tempered by an acknowledgement as to the number of players we have missing – the midfield, which hasn't been perfect with one or both of Aron Gunnarsson and Joe Ralls in there would, nevertheless, be greatly strengthened if we could get them back for the Burton match on Good Friday.
There are conflicting messages coming out of so many of our matches this season – I keep on saying that a side which passes the ball as poorly as us cannot expect to finish in the top two, but they've been proving me wrong for thirty six games, so maybe they can continue to do so for ten more?
Finally, there was also something of a conflicting message about our finances this week as the 2016/17 Accounts were made public. Supporters' Trust Chairman Keith Morgan (who knows far, far more than I will ever do when it comes to matters like these) has provided a commentary on the figures and there seems to be an acceptance that they are not a matter for concern, but the headline figure from them is that we lost £21 million over the period and I cannot help thinking that, with the figure for attracting Financial Fair Play sanctions being a cumulative £38 million loss over a three year period that there would be much more reaction to this news if we were struggling on the pitch, but then what do I know!