Birmingham at home was meant to be the easy game in Cardiff City's oh so testing run of matches in December. Watford and Stoke away from home followed by Swansea, then a week later a trip to Norwich before a rare week without a midweek match and then Brentford at home on Boxing Day.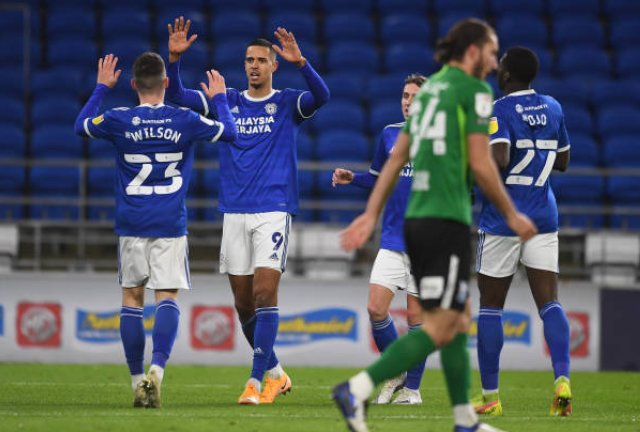 Sandwiched in between the jacks and the table toppling Canaries was Birmingham at home – Birmingham firmly ensconced in the lower half of the table and a side for which winning had been a pleasant surprise throughout much of 2020 were clearly the three points we could rely on among all of those top six teams except…….
Even before Saturday's meek and abject surrender to the jacks (who promptly went and lost 2-0 at struggling Derby this evening), Birmingham at home was never going to be as easy as the league table suggested it would be because the bluenoses were one of what seems to be a multitude of teams these days that are a much tougher proposition away than they are at home.
Before tonight, Birmingham had won three (including their last two at Bristol City and Reading) and drawn five of their nine away games and had only conceded five goals in the process.
All of this suggested that even if the Swansea game had gone very, very differently and we'd made it five wins in a row last Saturday, tonight's match would have been a real test for us – little wonder that I sagely predicted that if either side won it would be by a lone goal in a tight, dour contest.
It almost goes without saying that following a lifetime of having football prove me wrong, it turned out to be nothing of the sort!
This really was a Curate's egg of a game – mistakes and rank bad play aplenty, but when it was good, it was very good and in terms of goal mouth incident, I would say that, although our draw with Bournemouth was a better game of football, this was probably as exciting a match as City have been involved in this season.
Birmingham's last two visits to Cardiff City Stadium had resulted in 3-2 and 4-2 defeats and tonight they're returning home with nothing having scored twice here again, beaten 3-2 in a match where they led going into the final thirteen minutes.
With Keiffer Moore having been ruled out until at least early in the New Year and Joe Ralls suspended, there was never any chance of Neil Harris selecting an unchanged team for a sixth consecutive match. Of course, it would have been amazing if our manager would not have been minded to make changes after the Swansea debacle even if Moore and Ralls had been available because cases could be made for about eight of the starters to be dropped.
As it was, Alex Smithies was always going to start in goal despite being one of a few who were at fault with the first goal on Saturday, Leandro Bacuna was a cert to start because we have no one else to play at right back, but it was a bit of a surprise to see all of the other three members of the back four retained. Marlon Pack for Ralls was a very predictable change, as was Robert Glatzel for Moore, while Mark Harris was the other starter against the jacks who missed out as Gavin Whyte came in for his first league start of the season, thereby allowing Harry Wilson to move into a more central position behind Glatzel.
Whyte's presence in the side offered the clue that Junior Hoilett was not risked despite being close to having got over the injury which kept him out on the weekend, while the reason for Josh Murphy's absence from the squad had not been explained at the time of me writing, but the player who cost us £11 million two and a half years ago does seem to have become less of a factor in our season in recent weeks and I can't help thinking that maybe a departure, probably on loan, is on the cards next month if Neil Harris wants to add to his squad in the transfer window (Neil Harris confirmed that Murphy was absent with a non Covid related illness in his post game media briefing, but I still feel he could be one to move in January)..
As someone who has championed the cause of our young players on here during the years when none of them were getting anywhere near the first team squad, it was great to see that, besides Harris and Joel Bagan the two who have become regulars in and around the team this season, there were a couple more Academy products on the bench tonight in attacker Keiron Evans, who can play through the middle and on either wing, and midfielder Keenan Patten, while striker Chanda Zimba who arrived from Blackburn's Academy this summer was another youngster on stand by as a substitute.
As it was, Harris (who made a big difference to a flagging attack when he appeared) was the only one who came on and, although there was certainly a case to be made for Evans coming on for the very disappointing Sheyi Ojo, I wonder if it was ever in the mind of our manager to use any of them?
Birmingham had a suspension as well – their regular left back Kristian Pedersen had been sent off in Saturday's 1-0 home loss to Watford, so centreback Jake Clarke-Salter was delegated to replace him and thereby ensured that he had a large target on his back as far as City were concerned because so much of our play went towards Whyte out on the right in the early stages as we made a far better start to proceedings than we did on Saturday.
With City pressing aggressively to win possession frequently, Whyte was given plenty of chances to improve on last season's disappointing attacking end product and he did come up with as good a cross as I've seen from him in a City shirt in the eighth minute which Harry Wilson (who never touched the ball in the Swansea penalty area on Saturday) nodded not too far wide of Neil Etheridge's far post.
A minute later, the struggling Clarke-Salter presented City with an opening goal as he played a pass infield straight to Wilson who drew the one remaining defender, Marc Roberts and unselfishly played in Glatzel who scored calmly from eight yards.
Scoring in the first ten minutes in home matches had led to big wins over Barnsley and Luton and, of course, there was that very impressive record of not having conceded in a match where we had scored first this season, so it should have all been plain sailing after that and, indeed, it was for another quarter of an hour or so, but, somewhere along the line, that pressing game faded, Clarke-Salter began to get his bearings and his team started to suggest that they were capable of showing why their away record was so good.
Even so, their equaliser just after the half hour mark when it arrived was a shock which owed much to weak City defending as the sort of long, high ball that our central defenders are supposed to thrive on was controlled by Lukas Jutkiewicz who fed Roberts, who was able to take a couple of touches before finishing well with a low drive from the edge of the penalty area.
Birmingham finished the half the stronger, but the whistle for the interval allowed City to regroup and there was a feeling they were edging things until Ivan Sanchez scored a tremendous goal on fifty six minutes as he burst past three City defenders in a run from the halfway line before blasting a left footed shot from eighteen yards past Smithies. Birmingham fans would have been purring about the goal, but City supporters couldn't help but notice the half hearted and/or non existent tackling by three of their side as Sanchez sped past them.
For a while, it looked like City had nothing to offer in reply, but the introduction of the busy Harris for Whyte and the switch of Wilson out to the right revitalised our attack.
Etheridge had been a spectator since Glatzel's goal, but what was to be a very hectic last quarter of the game for him began when he tipped aside Wilson's shot from the edge of the penalty area to give away a corner which produced an extraordinary incident – Morrison's header was going wide until Jutkiewicz touched the ball onto the post from where it made its way to Glatzel whose shot would have gone in but for a block on the line, through no fault of his own, by his team mate Harris.
There was more drama from City's next corner as Clarke-Salter handled under pressure from Curtis Nelson only for Etheridge to add to his impressive record of penalty saves by getting down low to his left to keep out his former team mate Glatzel's spot kick – the penalty wasn't great in terms of placement, but it was well struck and I thought it should be seen as a penalty failure more down to a good save than poor play from the taker.
Now all of the action was at one end of the field, but the already booked Ojo was lucky when he carelessly lost possession, committed a foul in trying to make up for his error and, apparently, only missed out on a second yellow because referee Michael Salisbury had played an advantage – if City were unlucky when Ryan Bennett of Swansea wasn't dismissed on Saturday, fortune smiled on them here.
That said, they were not being smiled upon when it came to the action in and around the visitors' goalmouth, but they kept plugging away and eventually it all came good for them.
Instrumental in City's improvement were the midfield pair of Vaulks and Pack – now I've, justifiably I feel, been critical of our central midfield for some time and the pair of them weren't perfect here, but Vaulks stood up to be counted when things were going against us and Pack came up with our pass of the season so far to set Wilson free and, cutting in from the wing, he shot left footed past Etheridge to level things on seventy seven minutes.
With the visitors struggling to deal with our corners and free kicks, the game seemed there for the taking by City, but then they started getting very careless and it was Birmingham that were knocking on the door as a series of shots missed the target by varying degrees and Smithies got down well to deal with a Sanchez shot following another error by Ojo who, ironically, had been one of very few in a blue shirt to have put in any sort of performance on Saturday.
City still had their old faithful of set pieces to rely on though and Harris was inches away from connecting with a Morrison induced headed flick from a defender from the one Vaulks long throw that caused the visitors problems, before Wilson made it a goal and two assists on the night when he swung in a beautiful corner which the unmarked Morrison headed in from close range in the eighty ninth minute. The skipper would no doubt have been grateful for the help he got from Glatzel who managed to take two defenders out of the game (it was a foul, but in the free for all that is corners and attacking free kicks these days, it is the norm for things like this to go unpunished}.
There was still time for some more unconvincing defending from City as Sol Bamba and Greg Cunningham were brought on to shore things up, but they held on to make it five wins out of six and three points off the Play Offs. As a way of taking minds off Saturday, it was pretty effective, but this wasn't the sort of game to gauge whether any lessons had been learned from that woeful Swansea showing – Norwich this Saturday is though.
https://mauveandyellowarmy.net/