I think I'm right in saying it's taken them until March 2, but Cardiff City have finally reached the stage where their number of home defeats is not greater than their number of wins on their own pitch this season – having rechecked, this is not correct, our win against Birmingham on 16 December took us to four wins and four defeats, but the point remains, it's taken a long time to reach parity in terms of wins and losses at home and as we go into the last two months of the campaign, we've still not reached a stage where we can say we had more home victories than defeats.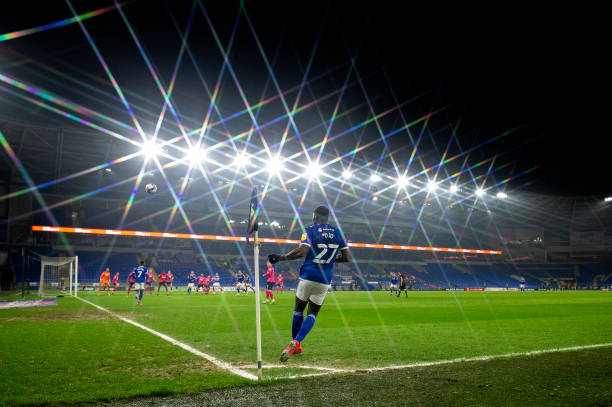 Perhaps the greatest on field change seen in Covid football is the erosion of the old certainty that sides do better at home than they do away. While it is still probably true that there have been more home than away wins throughout the four divisions this season, the gap between the two is a lot smaller this time around.
Therefore, City are by no means alone in having problems at their own ground that they do not normally face. Indeed, when QPR won here in January in Neil Harris' last game in charge, they became the seventh visiting side to win in Cardiff, against the four wins we had at that stage. Since then though, three wins and a draw have taken us to a stage where our home record is moving from a ranking of poor to one of just about okay.
An examination of our results at Cardiff City Stadium reveals that we have a very strange record there in that we have to score at least three times to win a game – the scores in the matches where we have taken the three points have been three 4-0s, two 3-0s, a 3-1 and a 3-2.
Those numbers indicate that we're a very good watch if we can get our noses in front and if, as I claimed in my reaction piece on Saturday's 1-1 draw at Middlesbrough, we were a horrible watch that day, it's only fair to record we were the complete opposite tonight in beating Derby 4-0.
Perhaps we were helped on our way by Derby boss Wayne Rooney making six changes to his starting line up compared to the eleven which faced Forest in their local derby on Friday.
Certainly, for much of the time, our opponents had a lightweight look to them which made them quite easy meat for our big beasts, but the fact is that Derby have a pretty impressive away record which has seen them win at Norwich and Millwall, and draw at Bournemouth and Brentford and they had only conceded sixteen goals in sixteen away games before tonight.
Therefore, I'd rather praise City for what I'd say was the most convincing home performance in a season where if we are good, we tend to be very good on our own patch – Derby will be heading home tonight grateful that it was only 4-0, because it could, and probably should, have been more.
With a style of play that is very taxing physically and the same starting eleven in their previous four games, there was every chance that tiredness was a factor in what was a sloppy and sluggish display by the standards of Mick McCarthy's City side at Middlesbrough, so, if there was a surprise in the team selected tonight, it was that there were just two changes made as Sheyi Ojo and Leandro Bacuna returned in place of Harry Wilson and Josh Murphy.
Ojo and Bacuna were the support for Keiffer Moore in the side which played at Barnsley in Mick McCarthy's first game in charge and I can remember wondering at that time where the goals were going to come from if the home defence could keep Moore quiet.
While agreeing with the need for changes, I had the same misgivings on learning of the side Mick McCarthy had selected with chief among my gripes being that we were relying on Bacuna, scorer of just one goal and provider of not many assists in the two years plus he's been with us, to be one of our goal scoring threats.
I've been made a fool of so many times in my fifty eight years supporting the club, that I really should have had more faith! It's not really surprising to be recording now that I was proved hopelessly wrong about Bacuna because as the match reached its final moments, the conversations about him were as to whether he would be able to complete his hat trick or not!
The match started in a misleading manner as Derby began looking comfortable in possession while City again appeared to be a little short on energy. However, once City began to warm to their task, Derby's early poise started to waver and Moore had already fired over from close range before Ojo was set free by a lovely pass from Perry Ng.
Ojo took the ball on and when Nat Clark went to ground and appeared to handle in the penalty area, it looked like City had a good claim for a spot kick, but play went on and when the cross came in, Moore, free beyond the far post, would have been disappointed not to have done better than head up across the face of goal and wide.
It felt like a goal was coming, and when it did, it was a simple affair really, as Joe Bennett pushed forward and released Bacuna who had no trouble beating keeper Kelle Roos with an angled shot from twelve yards for his first goal of the season.
It was all so easy that I was waiting for an offside decision as the ball hit the net, but there were no Derby protests and City had scored the first goal which has proved to be very important in our home games this season – apart from the Boxing Day loss to Brentford, City have won every time they've gone 1-0 up at home..
City, sensing they could put the game to bed early on, pressed for a second, and an increasingly busy Roos had to look lively as he palmed away a lovely curling effort by Moore and then he made a fine double save to deny Moore again and then Bacuna.
Apart from an uncomfortable five minutes or so where the visitors began to look like they could create something, City were cruising until they lost Bennett to a serious looking knee injury which, ominously occurred as he closed in on a tackle he never got to make.
Joel Bagan came on as a replacement and the youngster can expect to see plenty of first team action in the coming weeks as, while not wishing the worst on Bennett, it looks like he's going to be out for some while at a time when his contract situation is unclear given that his current deal runs out in the summer.
Bennett's injury meant that there were six minutes added time at the end of the first half, but City had lost their momentum when play restarted and Derby got to the break only a goal down and hoping that Cardiff were going to be made to pay for not taking their chances earlier in the game.
However, a feature of the recent home wins over Coventry and Preston was how City managed to score within a minute of the second half restarting – they didn't quite manage to repeat that achievement this time, but they had scored well before the half had been going for three minutes as Moore got free of his marker to glance in a Will Vaulks corner for his sixteenth goal of the season.
A confident City side looked for more goals, Roos turned aside a Bacuna free kick, but it was only a rehearsal for the Curaçao international who curled in a left foot shot from the edge of the penalty after being set up by Ojo.
3-0 up with thirty five minutes to play, City looked on course for a really big win, but the game looked like petering out after that as interest switched to how Rubin Colwill and Johnny Williams fared as they were introduced for Moore and Marlon Pack.
However, there was a sting in the tail as Ng, very good again, gained possession some thirty yards from goal and he set up Vaulks who fired home a shot of tremendous power that dipped and swerved past Roos to seal a win that as comfortable as any this season for City.
Many of City's problems at Middlesbrough stemmed from our midfield two of Vaulks and Pack struggling to impose any sort of authority in their encounter with the three Middlesbrough tended to have in central midfield, but here they were the bedrock on which our win was established.
While an overall possession figure of 27 per cent hardly suggests this, that stat only offers more proof that having more of the ball does not automatically equal success on the pitch and, although I've not seen the second half figure yet, I would suggest that an above average for City passing accuracy figure of 71 per cent in the opening forty five minutes points to why we were able to win so well – the horrific figures, especially in the first half, from Middlesbrough were not typical of us, even if we're far from the best passers in this league, and, hopefully, their like won't be seen again in our remaining games.
Besides the Bennett injury, the only bad news of the night came in the results elsewhere – Reading beat ailing Blackburn 1-0 at home and Middlesbrough had a good 2-1 win at Coventry, while Millwall (another side who have struggled at home) will feel they're still in there fighting following a 2-1 victory over Preston at the New Den.
City move back into sixth, but the likelihood is that it will only be for twenty four hours, because the other sides at the top are all in action, with the top two, Norwich and Brentford, meeting at Carrow Road, Swansea going to a Stoke side who could do with a win to keep their Play Off hopes on track, Watford are at home to bottom club Wycombe, Bournemouth's trip to Bristol City looks a tougher proposition than it did ten days ago and Barnsley, five straight wins and with a couple of games in hand on us, travel to London to face a QPR side that had been in fine form before their surprising loss at Birmingham on the weekend.
Following the match at Middlesbrough, Mick McCarthy explained the absence of Max Watters and Ciaron Brown from the squad by saying that both players needed game time and that the two of them had stayed in south Wales to undergo an intense days training and then play ninety minutes in the upcoming Development team match with Charlton.
That game took place at Leckwith yesterday afternoon and proved to be a madcap affair which saw City beaten by the odd goal in nine.
As far as the two men mentioned above were concerned, I'd say Watters came out of it with more kudos than Brown – the latter proved our manager right to some extent as he looked pretty rusty in a defence that struggled against a good visiting attack after a run of matches where their goals against record had been very good. As for Watters, he had a difficult first half which mirrored his one start for the senior team against QPR in that he saw very little of the ball and looked a bit of a stranger to the rest of the team. However, things improved greatly for the striker after the break, not just because he scored a couple of goals, but also because he played a full part in what was a thrilling fightback by his side which saw them robbed of a draw, which I thought was the least they deserved, in added time.
I say "robbed" because, although I've not read similar opinions from others who saw the game, I thought we were beaten more by an inept referee than we were by the opposition. Two of Charlton's goals were as a result of a free kick and a penalty dubiously given to the visitors because of alleged fouls, he showed a yellow card to Owen Pritchard for what I can only assume was dissent and then the versatile youngster, who was playing at right wing back in this game, was shown a second yellow for what did not look too bad a foul with twenty minutes to go. That decision offered Charlton a way back into the game at a time when they were being over run by a dominant home team. Even when he was showing a Charlton a yellow card, the ref was, effectively, penalising City because he refused to play an advantage and so a promising looking counter attack was stopped almost before it had started.
For me, there was distinct lack of consistency in his decision making when it came to interpreting what was a foul challenge by either side, with Charlton persistently being given a benefit of the doubt Cardiff never received. I've written stacks of pieces like this about age group games down the years and although it has happened sometimes, it's very rare for me to comment on a match official in any detail in them, but, whoever he was, yesterday's ref was one of the worst I've seen at this level.
That said, it would be wrong to put Charlton's win down entirely to the referee. They were dominant in the first half and in Charles Clayden and Junior Quitirna, they had two attacking players who led the City back line a merry dance in the first half in particular.
Charlton were much the better side in the opening forty five minutes and were ahead when Aaron Henry's low free kick from twenty yards beat George Ratcliffe. The visitor's second goal saw them exploit a big gap in on the left of City's defence as a fine crossfield pass from the back by Henry put Clayden in on goal and the winger took his chance well, although, just as with the first goal, there was a suspicion that Ratcliffe could have done more to keep it out.
City's goalkeeper had no chance though as Charlton took what looked to be a vice like grip on proceedings as Quitirna scored twice just before the interval – the first being a penalty and the second a slick finish into the bottom corner after a miscued clearance from Keiron Evans.
All City could offer in response was a well taken goal from Sam Bowen, who drove in from about fifteen yards after being set up by the persistent Isaak Davies – Bowen's goal had, briefly, levelled things up at 1-1.
It looked like City would just be playing for pride in the second half and that feeling seemed even more pertinent when Davies, who played well overall but will have been disappointed to have not taken at least one of three good second half chances he had, missed from close in. However, Watters soon glanced in a near post header to reduce the gap to two.
City, with Roland Idowu an impressive substitute, now had a phase of about fifteen minutes where they were totally on top as attack after attack rained down on the Charlton goal. Idowu's cross led to Pritchard heading home beyond the far post just before the hour mark, shortly after Davies had headed just wide from a similar position and the fightback was complete five minutes later when Evans' lovely cross was nodded in by Watters.
The chances continued to come City's way as Davies was foiled as visiting keeper Osaghae was quickly off his line to smother an attempted lob and it was looking as if there could only be one winner, but everything then changed with Pritchard's sending off.
Despite their one man disadvantage, City still chased the win and looked the more likely scorers for the next ten minutes with Idowu coming close with an angled shot which flew narrowly over.
However, a combination of all of the effort they had put in to get back on terms and the disparity in numbers between the teams caught up with City around the eighty minute mark and from then on it looked like any further scoring would be from Charlton.
City lived dangerously especially when a cross from the left flew across the face of their goal with no one able to get a touch, but, just as it was beginning to look like they would hold on to their draw, captain Jack Bodenham couldn't get enough power on what should have been a clearing header and the visitors broke to present Clayden with a chance which he impressively finished low into the opposite side of the goal from the corner of the penalty area.