One of the main reasons why Cardiff City's season has been such a dismal one so far and why manager Neil Harris went into today's home game with Luton under such pressure is that they keep on conceding the first goal in matches.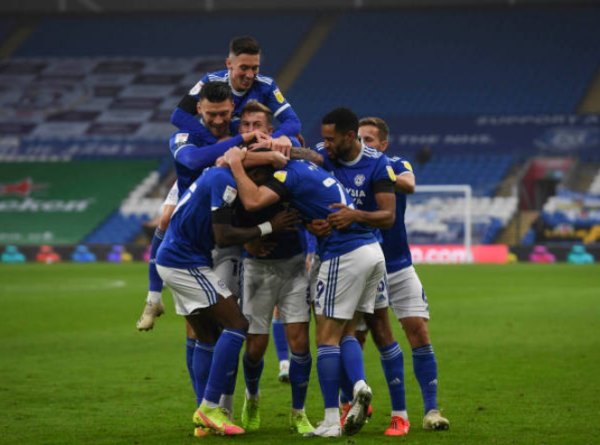 In my piece on the Coventry defeat on Wednesday, I pointed out that we had gone 1-0 down in ten of our fourteen matches in all competitions in 20/21. On four of those occasions we've come back to draw 1-1, but all of the others have been lost and while there was some sort of response when it happened against Bristol City and QPR, on neither occasion did it get us any points .
That first goal is too important with this season's City team and I don't mean that just because of what happens when we concede first – the difference that scoring first has on the team is marked.
Before today it had happened just the three times, away at Forest and Preston and at home to Barnsley, in the first of those matches we were totally dominant in the first half and it didn't take us too long to add a second. It had been so easy for forty five minutes and this may explain why we got a little sloppy after the break, but we were able to ride out Forest's pressure and ended up pretty comfortable 2-0 winners.
At Preston, there was nothing in the game for almost an hour, but then we broke with devastating effect from a home corner to score the decisive goal and, after that, we did a very good job of keeping our opponents at arm's length as we ran down the clock.
Against Barnsley, the pressure we were under came from the fact that we had not won any of our first four home matches, but once we went an early goal in front, the result was never in doubt. The only real criticism that could be aimed at us for our first half display that night was that we had not put the game beyond Barnsley's reach, but a penalty in added time enabled us to go in with the buffer of a second goal and the second period was plain sailing with the win capped off by a third to give a score line which reflected the difference between the two sides on the night.
That for me is one of the most frustrating things about a very frustrating season – it may sound odd if you're happen to be a poor unfortunate who has seen all of our matches apart from Forest, Preston and Barnsley, but we look a good, strong side at this level on those too rare occasions where we score first – we've not conceded yet when we score first (okay, I know this is not as impressive a stat as it could be because we aren't exactly talking about stacks of games!) and we've also suggested in two of those games that we had the ability to add to our lead.
Well, after today, we have a fourth example of this trait which marks us out as a truly schizophrenic side over the first third or so of the 20/21 season.
With many supporters calling for our manager's head, I had today down as a tight, edgy affair where we would be more concerned about a Luton side that had scored less goals than us, but owed their amazingly good away record mostly to a very mean defence.
I'm grateful to the BBC Sport website for pointing out that, going into today's match, Luton had only lost two out of their last sixteen Championship away matches and had won ten of them while keeping nine clean sheets, I knew Luton were good away from home, but I didn't realise they were that good!
If I'd been aware of that record of Luton's, there would certainly have been no way I would have stuck with my pre game feeling that we might just sneak a 1-0 win with a following wind and supportive officials!
We might have been able to cling on to the record of always winning when we scored first, but this would have been back to the wall ground out stuff and the record of looking impressive while winning would have gone, but, for the umpteenth time, football made me look a mug as City scored twice in the first ten minutes, survived a few dangerous Luton attacks and then took complete command and cantered to a 4-0 victory which, if they were being honest, would have left our opponents thinking they had got off quite lightly.
In the aftermath of the awful performance at Coventry, an angry City manager had talked about how he had been too loyal to some players and hinted at plenty of changes for Saturday. By the time his pre game media meeting came around yesterday a calmer Neil Harris refused to give any hint as to his selection, but talked of his disappointment at how things got worse when he bought subs on against Coventry, so, if anything, it sounded as if he may be minded to keep the changes at a minimum.
As it was, three of those subs found themselves in the starting line up – Will Vaulks replaced Marlon Pack and Sheyi Ojo came in for Junior Hoilett, but the really interesting one was that he abandoned his one game experiment of using Josh Murphy as a central striker. However, our manager did not turn to Robert Glatzel as expected, preferring to give Mark Harris a second league start for City, some three and a half years after his first one in 0-0 draw at Wigan in April 2017.
After the Coventry game, I had written about how Mark Harris' role in the first team squad seemed to be confined to coming on in matches where we are a goal behind to play the final minute or two – well, with no disrespect at all to Joe Ralls and Joel Bagan, a "proper" home grown Academy product was finally given his chance today and he took it superbly.
I shall return to Harris soon, but, for now, I want to talk about our first goal which arrived in just four minutes. There had already been attacks from both sides which suggested that this might be a more open and entertaining game than I feared when Harry Wilson fired over City's first corner of the match which dropped beyond the first post to Sean Morrison who responded with what I can only describe as a very good striker's goal. I say that because, first, he managed to steal a few yards on his marker and, second, steer in quite an awkward leftr footed volley from about five yards out with a degree of assurance you don't usually associate with centre backs.
It was an impressive piece of forward play by our captain, but you just know that the Luton view of what happened would be completely different – after all, Matt Pearson allowed his man to get a run on him and was in no sort of position to affect play when Morrison put the ball in the net.
Pearson's error was a sign of things to come for Luton – their defending in general was very poor, but from set pieces it was dreadful. I've, somewhat snobbishly, almost devalued set piece attacking in the past because we've been so reliant on it, but, when, you're as dominant as we were today (three of our goals came from corners), you'd be daft not to try to exploit it to the full.
It was Morrison's first goal of the season, but his celebration was more marked five minutes later when he congratulated Mark Harris for his first goal for the club.
He's twenty one now, so Harris must have been something like fifteen when I first saw him play for the Academy, he was an impressive player then with a bit of "devil" in him for one so young and certainly looked one of the better prospects in his group of scholars. However, to be frank, I've been half expecting to read about his departure from City for about a year or so following loan spells with Port Vale, Newport and Wrexham that had hardly been headline grabbing.
To counter that, it's been noticeable how he has always been a first choice once he broke into the Wales Under 21 team despite having some players with big reputations as competition with him for a starting place and his clever recent goal in Germany at that level must have done him a lot of good.
"Clever" is a word which could be applied to Harris' goal and his performance today, "composed" is another one (arguably, he was the most composed City player on the pitch today) and "effective" definitely another.
For me, Harris' goal was easily the best of the four we scored. Firstly, Ojo deserved credit for his run down the left and accurate, low cross which picked out Harris who had kept his position some twelve yards out when others would have gone chasing in towards goal and lost the opportunity. From here, there was a very good first touch and then a shot which I thought at first had got a slight deflection, but the replays showed that, in fact, just as he had done in Germany, the scorer had kidded the goalkeeper – this time, Luton's Simon Sluga was surprised by both the fact that Harris took his shot early and its direction, it was another fine piece of finishing by the Swansea born youngster.
Although it was a very impressive fast start by City, they had to rely on Alex Smithies as he denied the visitors a quick route back into the match when he turned a shot from Pelly Ruddick Mpenza away for a corner, but Sluga was much the busier of the two keepers, notably when he atoned for a slip which let in Harris by blocking his shot when the youngster probably should have teed up Keiffer Moore, then by turning aside Moore's well struck low drive after he had got free down Luton's right.
The room Moore was given on that occasion summed up Luton's defending and there were further examples of their discomfort when Joe Ralls was presented with a headed chance from a Vaulks long throw – the City man seemed surprised that the ball had reached him and couldn't direct his header on target as Morrison turned the ball into the side netting as it was drifting wide.
The commentary team on City's website expressed surprise that Luton manager Nathan Jones had made changes to his central defence and the Rhondda born former City apprentice decided he had to change things again when he took the unusual step of making two tactical switches before half time – Jones was scathing about his team's inability to be able to turn in three effective performances in a week after the game.
The changes did not have the desired effect for Luton, whereas they had carried some threat earlier, City's rearguard had a pretty easy time of it until the dying moments when carelessness with the game long since over as a contest presented one of their subs, Welsh international Joe Morrell, with the chance to smack a twenty five yard shot past Smithies and onto the inside of a post.
Apart from that, there was only ever going to be one side scoring in the second half, Glatzel appealed strongly for a penalty for handball as a defender slid in to block his cross within seconds of the German coming on (replays showed that it was clearly an offence which would have resulted in a spot kick under VAR), Ralls nodded wide again and Moore wasn't too far off target as Luton set piece woes continued, but their luck couldn't hold and from another pin point Wilson delivery Moore capitalised on further slipshod marking and Sluga's reluctance to come off his line to head home from inside the six yard box for the goal his hard working performance deserved.
While it was clear that set pieces were playing a big part in City's dominance, it wasn't all just the high stuff into the box- I mentioned Harris' cleverness earlier and there was also intelligence in how Wilson played a low ball from a free kick down the line to Vaulks whose cross was nodded over from no more than three yards out by the unmarked Ojo.
However, the on loan Liverpool man did better when Luton finally got the first touch on a City corner, only for it go straight to Ojo who took a touch and then hit a fierce low drive past the helpless Sluga from fifteen yards.
There could have been further goals, but City's manager and his players had long since partially answered their critics. I say partially because the performance a few weeks ago against Barnsley was only a little less impressive than this one, but the next three matches only yielded a single point from a game where we didn't start playing until the final quarter of an hour – there has to be a positive follow up to what happened today for it to mean more than another isolated example of what this team is capable of.
Today was unusual in that both the Under 23 and Academy sides were also in action. Unfortunately, the challenge in terms of league position for the Development team appears to be whether they can avoid finishing bottom of their league – Steve Morrison's youngsters came up against a Colchester team that included some first team players today and so a 2-0 loss wasn't totally unexpected, but there was better news from the Under 18s as James Crole and Siyabonga Ligendza (who also had a penalty saved) added to an early QPR own goal to help their team to a 3-2 away win.
The two local sides I've supported since moving up to Tynewydd almost three years ago have not played a competitive match since before March's first lockdown, but they have both been playing friendlies recently in the hope that there will be a restart to league games soon. Yesterday, Blaenrhondda FC and Ton Pentre played each other in the first of two matches between the sides in a week – the first one ended goalless at Blaenrhondda Park and the sides will face each other again at Ynys Park, Ton Pentre on Wednesday.
Given the, hopefully, unique circumstances of this Christmas, it seems to me that we may see a much increased number of gift tokens/cards given as presents. Therefore if you're a City supporting receiver of such a gift why not take a look at my new book "Real Madrid and all that" when cashing in your present? In fact, if you're buying for a City supporter or are one yourself, you could do a lot worse than buying a book which has received excellent reviews (with one exception!) – here are details of what the book is about, what formats it can be bought in and where it can be bought, you can also read its mixed reviews!
Once again, can I finish by making a request for support from readers by them becoming my Patrons through Patreon. Full details of this scheme and the reasons why I decided to introduce it can be found here, but I should say that the feedback I have got in the past couple of years has indicated a reluctance from some to use Patreon as they prefer to opt for a direct payment to me. If you are interested in becoming a patron and would prefer to make a direct contribution, please contact me at paul.evans8153@hotmail.com or in the Feedback section of the blog and I will send you my bank/PayPal details.