I daresay there's been times in the last few years where City fans have started "oleing" their side in the final stages of matches where they were comfortably ahead, but, being honest, it would have been with a degree of irony most of the time because we just aren't that sort of team.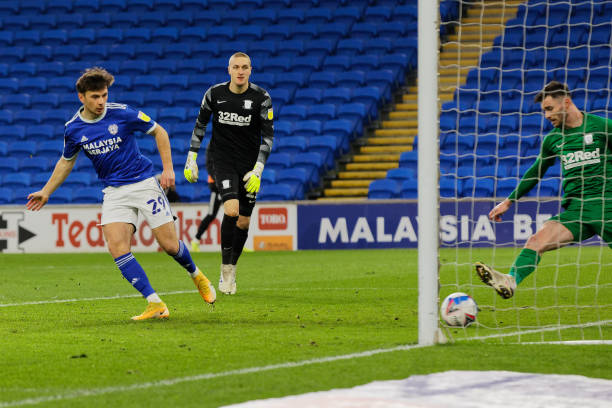 Indeed, there have been times, when I would have suggested that we were incapable of doing the sort of thing that traditionally earns the oles even if we tried. However, there was a time in the last ten minutes of today's 4-0 win over Preston at Cardiff City Stadium as we stroked the ball about through what seemed like twenty passes when, if there had been a crowd there, they would have oleing for all of the right reasons.
A recurring theme about commentaries on City matches since we beat Coventry a week ago is that we are now a team that other Championship sides do not want to play. I must admit to thinking that this was a bit of a lazy cliche along the lines of "………….is a difficult place to come to" that is trotted out by away side managers and players just after they've won there.
https://mauveandyellowarmy.net/
Today however, it was even obvious to me, with my supporter's perspective, that we were clearly a hard team to play. Preston must have hated being put on the back foot so consistently by a combination of aggressive, but mostly legal, defending, a hard working and, for me, surprisingly effective central midfield two, a relentless pair of wing backs (there was one move which began by Joe Bennett driving into the Preston penalty area in the second half and ended with Perry Ng flashing a shot into the side netting from the other side of the box which would have been unheard of under at least the last two City managers) and a front three that never stopped pressing their opposite numbers – add to that a goalkeeper who was a serious candidate for man of the match and it's a pretty potent mix.
It is a very energy intensive way of going about your business mind and the obvious question that occurs is can we sustain it over the next fifteen games? There's no way of knowing at the moment, but it seems to me that our chances of doing so have to be greater if we can keep on showing the combination of confidence and enjoyment which shone through so clearly today.
In saying that, I wasn't sure that I'd be writing in such a manner at half time today. A phone call that I could not cut short meant that I missed the first thirteen minutes of the game and so, when I was finally able to watch the stream, it was a pleasure to see that, first, we were 1-0 up and, second, the commentary team were talking about us bossing the game and looking like adding to our lead.
Within a minute or two, Keiffer Moore couldn't direct an inviting Harry Wilson cross on target and I was thinking that this was a sign of things to come in the next half an hour. It never did though, in fact, I'm struggling now to think of a single goal attempt we had or a situation where we put Preston into a position of danger, but, the thing was that, if anything, this period was more frustrating for our opponents attacking players than it was for ours because we did not allow Preston even a sniff of a chance.
So, despite the almost complete lack of goalmouth action during the last two thirds of the first half, there was still a degree of pleasure to be had at how good we were when not in possession.
Half time brought the chance to see what I'd missed in those first thirteen minutes. City's goal came from a penalty awarded after just fifty six seconds when Sean Morrison went down under a challenge from Jordan Storey as they contested a second ball following Will Vaulks' long throw. Having bemoaned our lack of penalties for what look clear fouls on Morrison on the Feedback section yesterday, I'm not going to be too sympathetic to Preston here for what looked a harsh decision by referee Jeremy Simpson (a habit he continued in the second half!). In the injured Joe Ralls' absence, Moore took on the responsibility of converting the spot kick and it was here that we saw the first example of the confidence I mentioned earlier.
Looking at how Moore lined up to take the penalty, it struck me that he could only put it to Daniel Iversen's left. Iversen clearly felt the same way and duly dived left. The keeper was right in his decision, but Moore had the belief to aim for the potentially risky roof of the net and so the visiting keeper saw the pall pass a couple of yards above him.
Iversen was again in action shortly afterwards as he produced a smart save to keep out a Morrison header from a Harry Wilson free klck, while former Wales international Ched Evans saw a header comfortably saved by Dillon Phillips for the only time he was called into semi serious action in the opening half.
Last weekend, Josh Murphy had come up with a goal in the first minute of the second half and here, he did it again as City mirrored their fast start to the game. Maybe more than any other player, Murphy encapsulates that current feeling of confidence and enjoyment – gone is the diffident performer that often gave the impression he didn't want to be out there that we saw so often under Neil Harris, now he is looking like a very talented and exciting player, which he certainly is at this level.
A feature of Mick McCarthy's time here so far has been our speed on the counter attack and here it was seen to good effect as Wilson picked up a misplaced Preston pass around the half way line, drove forward about thirty yards and passed left to Murphy. For a while, it looked like Murphy's first touch had left him with an awkward angle to shoot from – it would have been for the old Murphy, but, when the shot came it was aimed unerringly across Iversen and into the far corner of the net.
As Preston had offered nothing going forward, that looked to be enough to clinch a routine win, but the visitors stirred themselves and a good header from fifteen yards by captain Allan Browne forced Phillips into his first meaningful save of the game, but that was just a warm up act by the increasingly impressive young keeper.
Midway through the second half, referee Simpson pointed to the spot again after Preston sub Anthony Gordon fell under a challenge from Wilson and, while questions could be asked about the wisdom of the City player committing himself to that challenge, the fact that it was clearly shoulder to shoulder left questions as to whether any foul had taken place.
The experienced Paul Gallagher's strange penalty taking routine didn't work this time though as Phillips dived to his right to knock the ball away only for the ref to blow for another penalty as Aden Flint challenged Gallagher for the follow up. This time, there appeared to be some doubt as to whether Flint made contact with the Scottish international, but maybe justice was done because City's keeper looked to be off his line at the point the kick was taken.
With Gallagher in need of treatment, Evans took on the responsibility of the second penalty, but Phillips this time dived left to keep out a poorly struck shot as he joined an exclusive club, which consists only of Phillips and Chris Sander as far as I'm aware, as City goalkeepers who have saved two penalties in a match (not including penalty shoot outs).
The goalkeeper also distinguished himself with a good late save to keep out a close range shot from another substitute, Tom Barkhuizen, but, that apart, City were comfortable for the rest of the game and cashed in on a couple of defensive blunders to double their tally.
An awful lot of credit for the third goal should go to the fit again Sheyi Ojo who capped an impressive last thirty minutes as a replacement for Murphy by cashing in on a misunderstanding between Iversen and central defender Liam Lindsay to cross from the bye line to Moore who should really have scored, but, having done well to keep out the striker's header, the goalkeeper was helpless as the ball dropped to the on rushing Marlon Pack who was left with a tap in. Again, you have to ask whether Pack would have been in such an advanced position, especially so late in the game, under our last two managers – another example of confidence and enjoyment perhaps?
Moore was taken off soon after this to give Mark Harris what was his first taste of action under Mick McCarthy and in no time at all, he had his second first team goal when a poor back pass from Lindsay left the youngster in on goal and he calmly rounded Iversen and a covering defender to walk the ball in.
So, a fifth straight win for City before a testing week with trips to Bournemouth and Middlesbrough following a day which did not go too well for the top teams. Norwich squeaked past Rotherham 1-0 and seem to be over their stumble of a few weeks ago, while Watford were able to enjoy a free Saturday which went pretty well for them following a 2-1 win over Derby last night.
For the rest of the top six it was defeats all the way – Brentford were lifeless in slumping to a third straight loss when they went down 2-0 at impressive Coventry, while Swansea, who appeared to be the ones at the top least affected by the pressure, came a real cropper as they went down 4-1 at out of form Huddersfield. Reading lost their second home match of the week as Middlesbrough kept themselves right in the running for a top six finish, while Bournemouth were 2-1 losers at QPR and so are now just three points above us in sixth place.
Watching us today, I felt for probably the first time this season that we could be a top six team. Neil Harris more or less gave up on trying to change the way we played as we stuttered through the first half of the season and went back to our usual style, but, while we are still quite like a Warnock or Harris team, McCarthy has found a way of doing what Harris couldn't. Of course, football always becomes more entertaining when your team is winning, but by getting our attacking match winners to play more centrally, McCarthy is getting results and the football is better to watch. At the moment, City have scored more goals in the Championship than any team apart from Brentford and the sixteen we've scored in seven matches under Mick McCarthy is what has provided the impetus to get us to such a position.
It's not just in attack that there has been a transition, five goals conceded in seven games is impressive, but it's only more so when you consider that we'd conceded two in our manager's first game at Barnsley before he switched to the current three at the back formation – it's three goals leaked in almost six and half matches when playing with three centre backs. Again, therefore, where Harris, and Warnock, couldn't really get three at the back to work, McCarthy has, for now, found a way to do so.
I've not checked this, but I'm fairly sure that we're also unbeaten at Under 23 and Under 18 level since Mick McCarthy came in. Today, the Academy team maintained that record with a 2-1 win at Leckwith over Swansea, so, despite what at times has looked like total dominance over us by the jacks at all sorts of levels, the fact is that when it comes to Development and Academy team meetings, it's been one league win apiece. Today, City were dominant in the early stages and had established a two goal lead in the first quarter – captain Taz Mayembe scored the first and Frazer Thomas added a second not too long afterwards. Swansea scored within two minutes of the start of the second period to ensure a nervy end to the game, but we held on to record a third straight win.