http://mauveandyellowarmy.net/
I daresay every club has them, but I've noticed that some Cardiff City's fans' default reaction to any win by their side is to comment on how poor the opposition was. You would have thought that when your side has lost their last four league matches there would be some delight at stopping the rot so to speak, but, no, first things first, lets get the obligatory dig at the other team out of the way before we consider anything like that.
Now, to try to be even handed about this, I need to record that I can't help thinking that Sunderland are doomed to relegation if they play to the standard they showed in yesterday lunchtime's televised 4-0 defeat.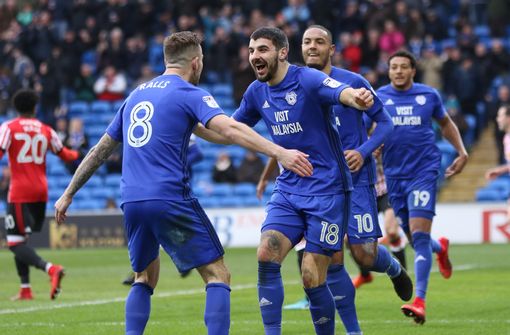 In some ways, they reminded me of a worse version of the Norwich side we beat at Cardiff City Stadium early last month. Whereas Norwich carried something of a forward threat and could be said to have deserved their 1-0 interval lead, there was a brittleness about them even when they were enjoying their best periods in the match which suggested that City could blow them away if they could just up their game a little and, once our performance went up a little bit, we duly blew the Canaries away after the break,
For their part, Sunderland threatened a few times on the counter attack in the first half, but promising situations tended to come to nothing because of wayward shooting (the BBC stats show that none of their three goal attempts were on target) and it's revealing that when they did hit the frame of our goal midway through the second period, it was courtesy of a sliced clearance by Bruno Manga who, that moment apart, looked a lot more like his usual self.
The visitors offered some stubborn defence up to half time, but, even when we were toiling somewhat and there was a bit of understandable tension around given recent results and performances, it seemed to me that, rather like against Norwich, if we could get one, then other goals could soon follow.
So, yes, Sunderland were one of the poorer teams to have played down here this season, but let's remember that just over a month ago they were drawing 0-0 at Molineux against "the Manchester City of the Championship". They also inflicted the only defeat suffered in their past seven Championship matches by a Fulham team which continued their ominous climb up the league with a 1-0 win at Middlesbrough yesterday.
Therefore, like every team in the Championship, Sunderland have it in them to surprise sides that are thinking in far more ambitious terms than merely avoiding relegation like they are. We were very much having a wobble going into yesterday's match and I foresaw a grim struggle which would be decided by a single goal either way if it didn't end 0-0. However, the fact that we were able to not only get the win, but to also scores four times without reply in doing so, deserves more praise from the curmudgeons than "yes, but Sunderland were shite".
Neil Warnock had remarked in his pre game press conference on Friday that training had been a lot better during the week than it had been over our dreadful holiday period. My reaction on hearing that was to think that it was exactly the sort of thing a manager of a team which had struggled as much as we had done in our previous five games would say, but, in fairness to our manager, I would add that there was evidence, even in an opening half that wasn't easy on the eye, of a renewed purpose and drive from City.
In the minutes leading up to half time, we stepped up the pressure and Sunderland were beginning to buckle in the face of a series of corners and free kicks, but, with some good saves from Robbin Ruiter, notably from Joe Ralls and Junior Hoilett, they were able to reach the interval at 0-0.
I must admit that I thought the half time whistle couldn't have come at a worse time for a City team that had been building up a head of steam. As our manager said after the game, we just needed a scruffy, lucky, goal from somewhere to kick start us on the road to victory and, hopefully, recovery from the nosedive which began at Bolton two days before Christmas, but I felt much the same after forty five minutes of last week's Cup tie with Mansfield and the second period then saw our opponents enjoy the better of things as what little attacking purpose we had shown faded away.
Yes, those heady days of early season when we would come out for the second forty five minutes of most of our home games really fired up and put our opponents to the sword seemed a long way away, but, not a bit of it as it turned out – within ten minutes, we were 2-0 up against opponents that had been reduced to ten men.
As you would expect, Sunderland manager Chris Coleman put his team's horror start to the second period down to their own failings and you could see his point as they allowed Callum Paterson to get away a shot from the edge of the penalty area which Ruiter was forced to turn aside.
The Sunderland keeper had been doing well up until then, but he then got caught in no mans land from the resultant corner as an unmarked Paterson nodded down into the ground and then into the net via the underside of the crossbar.
It was only when I saw the highlights of the game that I realised that the keeper was claiming that his weak effort in dealing with Ralls' corner was down him to being blocked off by Nathaniel Mendez-Laing as he came out to gather. As is mentioned in the video linked to above, there wasn't enough in the incident to merit penalising us in my book, but, with referee Andy Madley far more disposed to award free kicks against us for fouls than he was Sunderland (as evidenced by a foul count of 23-14 against us), it would have been typical of how things had been going for us if a free kick had been given to our opponents.
So, we'd had that little bit of luck that our manager had talked about. Whether we needed the other one which followed so quickly afterwards is debatable, but, what was a difficult task for Sunderland was then made that much harder as they were reduced to ten men.
I don't like seeing players trying to get a member of an opposing team sent off, but the reaction of the City players to Didier Ndong's tackle on Junior Hoilett was a telling one. From where I was sat some fifty yards away, it was hard to tell how bad a challenge it was, but that reaction meant that I was not surprised to see Madley show the midfielder a red card.
Once again, the highlights tend to clear things up. It looks to me as if the decision was a slightly harsh one under the terms of how the foul law is interpreted these days, but I can understand why the ref would react like he did. What I would say though is that the current interpretation of what constitutes a red card offence should really be reassessed if challenges like Ndong's are thought to be malicious and dangerous enough to warrant dismissal. It was a slightly mistimed tackle of a type which wouldn't have warranted a second thought when I were a lad – if the sixties and seventies were a time when the pendulum had swung too much to one side in deciding what did or didn't merit a sending off, then I must say that it's gone too much in the other direction now.
Sunderland's implosion was complete when City then doubled their lead with one of their best goals of the season. It all stemmed from a Manga clearance which Hoilett (sharper yesterday than he has been for a while) took down well and then delivered a ball which, unlike virtually every one that he has been given since returning from his injury, was designed to exploit the strongest parts of Kenneth Zohore's game.
Finally given the sort of pass he thrives on, Zohore burnt off Jake Clarke-Salter's challenge and squared the ball into the path of a colleague who stroked it home first time with a beautifully struck left footed effort from twenty yards.
It was counter attacking football at it's best and reminiscent of so much of the stuff we were playing when the Hoilett, Zohore and Mendez-Laing attacking trio were as potent as any in the division, but it wasn't one of those three who made the fifty or sixty yards up field so quickly to be able to apply the coup de grace, it was someone who is putting in an increasingly compelling case to be our Player of the season.
Besides providing the first half's best goal attempt and coming up with an assist for the opening goal, Joe Ralls was generally the most influential player on the pitch up to then and he continued that standard right through to the last minute – he was a clear man of the match.
There's one of those typically daft messageboard rows occurring on the one I use whereby grown men seem to be arguing not whether Ralls is better than Wolves' Ruben Neves, but whether someone made such a claim in the first place!
I'm going to steer clear of that and stick to what Ralls means currently to Cardiff City. Although I think Loic Damour was doing well until our recent poor spell, the truth is that, with Aron Gunnarsson a virtual spectator for the past four months, our central midfield has tended to be a one man operation for much of this season – I dread to think how we would have fared without Ralls.
Because of the way we play and our manager's apparent preference for workhorse type players in that area of the pitch, there is a perception among some supporters that Ralls is a limited type of player – I beg to differ.
No names, no pack drill, but we have some players who would struggle to get into the side at some of the clubs in the Championship who place far more store by possession of the football than we do. However, I would argue that Joe Ralls would be just as effective in a side using that approach as he is in ours with its more direct methods – for me, Ralls is good enough to go into a midfield like, say, Fulham's and improve it.
2-0 up against struggling opponents who were a man light, it was now that Neil Warnock decided to unleash his team's newest recruit. While he was still some way short of his early season form, Mendez-Laing, possibly boosted by a change to the asthma medication he has been using, had performed better than in recent weeks, but winger cum striker Yanic Wildschut, who has signed on loan from Norwich for the rest of the season, couldn't have chosen a better set of circumstances in which to make his Cardiff bow as he replaced the former Rochdale man.
Wildschut didn't disappoint as, operating in a more central position than expected, his speed and directness caused Sunderland problems – so many of City attacks in the closing half an hour carried the threat of further goals and, invariably, the Dutchman was at the heart of them.
When the third goal came though with ten minutes left to play, it did so without Wildschut's help as Zohore's shot from a free kick deflected off the wall into the path of Paterson who dispatched a low foot shot from ten yards past Ruiter and into the corner of the net with a minimum of fuss. Used in central midfield yesterday, it's still not clear in which position the Scottish international will fare best for us, but, wherever he plays, he seems to have a habit of finding space for himself in the penalty area and, with four goals for us already, it's easy to see why he scored so many times for Hearts.
City were able to clinch their biggest win of the season so far in the closing seconds as Sunderland gave the ball away deep in their own half and Manga slid a pass through to Wildschut who crossed for fellow sub Anthony Pilkington to tap in from close range.
There's one other factor I'd like to mention about yesterday's heartening win before I finish with it – I'm still not sure what formation we played!
I changed my mind about four times regarding what sort of system we were playing as I alternated between three centrebacks, five at the back or five in midfield before switching back again. In the end, I settled for a 4-4-2 with Manga at right back and Jazz Richards playing in a sort of left back role which saw him doing a man marking job on USA international Lyndon Gooch. Joe Bennett was pushed forward into a left midfield role thus freeing Hoilett to play in the more advanced central role he had filled at times last season.
However, I see Wales Online are saying that Richards played in central midfield and, thinking about it again, they might be right, so my 4-4-2 might actually have been 3-5-2 – suffice it to say, I can't remember another occasion whereby I'm still not clear what formation I saw us use nearly twenty four hours after the event!
Finally, there was good news yesterday lunchtime from the Vale training centre as well as our Under 18s achieved what I would regard as their best result of the season up to now as Trystan Jones' second goal in two games proved to be enough to beat top of the table Crystal Palace. Also, the Under 16s were able to follow this up with a 3-2 win over their Palace counterparts with Williams, Evans and Knott getting the goals,