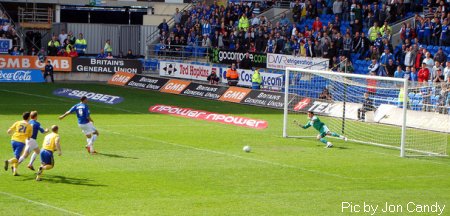 Cardiff led at half time through Jay Bothroyd's 7th minute penalty. Bellamy won the spot kick after being brought down. Bothroyd grabbed the ball and made no mistake. I'm sure he wanted to answer those who've been slating him this week.

Craig Bellamy later burst through one on one and rounded the keeper, he took it a bit wide and a defender cleared brilliantly off the line. Derby lost one of their players through injury in the first half and as expected Robbie Savage was boo'd every time he touched the ball.

Bellamy was excellent all game as he hussled, harried and chased down everything. He and Kevin McNaughton were my men of the match. Bothroyd put himself about in the first half and Cardiff were worthy of their lead. One goal though is never enough and thankfully Dave Jones' half time team talk fired them up.

Despite Derby attacking right from the restart it was City who were clinical. A Chris Burke corner two mins after the break was met by a Dekel Keinan header and it was 2 nil. A Whittingham cross was poked home by the sliding Paul Quinn and then Whittingham volleyed the 4th into the roof of the net. Derby during that time missed two sitters, the first was unbelievable, an effort over the bar with the whole goal gaping, the second was a poorly placed header.

Off went Bothroyd, Samuel and Bellamy - on came Parkin, Blake and JET. The game by that stage was over. The last 20 mins were poor fayre and by the time the referee awarded Derby a penalty deep in into the 6 mins of injury time there was less than half the crowd remaining to see Robbie Savage score.

Derby fans partied and conga'd despite the scoreline and several were ejected for going too far. My one criticism of the game was the switch off at 70 mins. Norwich won 6 - 0 today, they didn't let up - they pushed on and have now built up a goal difference over us. We need the same instinct. Preston beating Swansea was an immense result.

Bottom line though an excellent win. Well done everyone.