https://mauveandyellowarmy.net/
I've not got a clue where it came from and it needed a bit of luck, plus a little help from the ref along the way, but Cardiff City at last looked like the team many pundits expected them to be this season as they claimed an against the odds 4-2 win over Birmingham City today at a rain sodden, windswept Cardiff City Stadium.
Today was City's fifteenth league game of the season and having, in my view, not come up with anything to suggest they were top six material in their previous fourteen, today they showed some of the qualities that mark a team out as play off, or better, material – for the first time they looked something like the team they were last time they were in this division.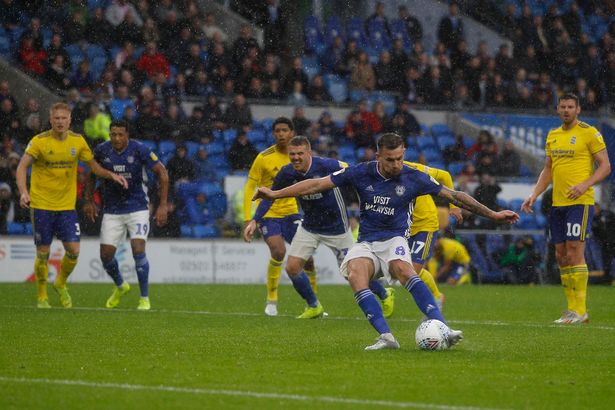 Joe Ralls hammers in his first penalty
The fact I can write something like that after a first quarter to the match in which they were played off the park and were so grateful to be just the one goal down offers a clue to the sort of thing I'm talking about.
To be able to find a way to transform something which was going so horrendously wrong into what I would rate as their best result and performance of the season is a source of great encouragement for me. However, this was a very strange game and, until the team get the chance to back it up in next weekend's derby with Bristol City, I'm not going to be talking about corners turned or anything like that.
Although it all worked out well in the end, I must say that the opening to the game was a very concerning one and I don't think I'm being over dramatic here when I say that I think today could have been Neil Warnock's last game as City manager if the last hour or more of the match had matched the opening twenty five minutes or so.
Given all of the fallout from last week's no show in the game at Swansea, I'd be surprised if I was the only City fan present today who expected some sort of reaction right from the first whistle today. After all, I believe it's fair to say that Neil Warnock is, first and foremost, a motivator – if we were all asked to name the qualities which have enabled our manager to remain in constant demand over such a long career, then the ability to motivate would, surely, be near the top on most people's lists.
Similarly, you would have thought that there would have been a week long inquest going on among manager, coaching staff and players as to why we were bullied by Swansea City (no one gets bullied by them!) last week – in fact, the opportunity was there to have a detailed inquest into why our season had been such a damp squib up to then.
Instead of coming roaring out of the traps, City were as meek as lambs in the opening exchanges and it took only three minutes for them to give away another horrendous goal. This one came after Birmingham ominously passed through a three man central midfield, which included Leandro Bacuna returning in place of the injured Robert Glatzel after last week's experiment with 4-4-2 was abandoned.
The only way City could stop the visitors was by conceding a free kick and when that was lofted towards the far post an isolated Lee Peltier put in a very un Peltier like challenge as Birmingham captain Harley Dean nodded towards goal where Neil Etheridge parried and the ball was eventually bundled in by left back Kristian Pedersen from point blank range.
According to the BBC's match report, Birmingham had nine goal attempts in the first half an hour as City were forced to hang on and hope. City struck lucky when a shot from Danny Crowley came back off a post hit Etheridge and rebounded just wide of the goal and Lucas Jutkiewicz, who also had an effort well saved by Etheridge, should have done better from close in with a shot which I was convinced had gone in, but had in fact hit one of the poles planted close to the net at the Canton End.
There were numerous other nervous moments for a City side which were being cut open far too easily. Of course, when your team is as much under the cosh as City were in those early minutes, it's easy not to appreciate good play by your opponents but, to be fair to Birmingham, they did play some very nice stuff at times amid the intermittent choruses of "Warnock, Warnock sort 'em out",
However, if our opponents had been as good as they looked in the that first quarter throughout the season, they would be quite some distance in front of what is shaping up to be a very competitive league (we stayed in fourteenth position after today's win, bur we are only four points off sixth place and seven off the top of the division).
Therefore, it was likely that Birmingham couldn't keep on playing with such style and penetration and City would need to be able to strike when their opponents' standards dropped.
In the event, it was referee Andrew Madley who set up the chance for City's wholly undeserved equaliser on the half hour when he pointed to the penalty spot as a group of four players contested a Joe Ralls corner. With the driving rain being blown a long way into the Ninian Stand, I had vacated my normal seat for the second consecutive home game to sit even further away from the action at the opposite end of the pitch than I normally am so had no idea as to why the penalty was given and, having seen it four or five times on video now, I'm still none the wiser.
According to match reports I've read, the penalty was given for a shirt pull by Dean on Aden Flint and, given how often such offences are allowed to go unpunished by match officials, it must be said that City and Neil Warnock's luck was in on two counts.
Ralls sent former Cardiff keeper Lee Camp the wrong way with his penalty to level things at 1-1 and, from that moment on, City began to impose themselves on proceedings.
One of the reasons why the opening to the game was so concerning was that, by going with Ralls, Bacuna and Pack in central midfield with no natural number ten type player, it looked like City had forsaken some attacking punch for more solidity in the middle of the park, but it was making no difference, City were as ineffective in that area of the pitch as they had been at Swansea when they were using one man fewer there.
It really was a case of chasing shadows for the City midfield trio until Mr Madley's intervention, but, having got level, they now were able to get some possession for themselves and make pretty decent use of it.
City now began to force corners and it was through this route that they were able to score a second goal in the first half of home league game for only the second game this season.
QPR had gone off 2-0 down at the break here at the beginning of last month feeling completely bemused at the scoreline and the same must have applied to Birmingham – although this time there might also have been an appreciation that their opponents were improving and causing them increasing problems.
The sort of problem Birmingham were having at corners was illustrated when Pack swung in one from the left which was met firmly by Flint who must have been sure he would score when he made such good contact with his head. However, his effort flew straight at Camp who was able to stop the header from going in, but was then out of the game as Curtis Nelson, making a sound league debut for City instead of Sean Morrison who has broken bones in both of his arms, Flint and Nathaniel Mendez- Laing tried to get the decisive touch in a battle with a couple of visiting defenders. Nelson was the one who finally ended the scramble with a firm shot into the roof of the net from about four yards out and Camp had to move smartly within minutes to tip over a Junior Hoilett shot from twenty five yards.
Hoilett, in for Gavin Whyte who was, presumably, injured because he didn't make the subs bench, was becoming increasingly influential as he again showed that for all of the disappointment with his form of last season in the Premier League, he remains a creative and dangerous player at this level.
Quite where the belief, cussedness and fighting spirit which had seen City turn things round came from I do not know, but it's hard to see how it had come from Neil Warnock – if there had been a powerful pep talk to the team beforehand, they did not gain any inspiration from it given the way they played in the first twenty minutes or so.
No, it seems to me that there was little or no effect to how the team performed. Warnock pep talk or not!
To keep a balance, it's only fair to say that City kicked off the second half looking sharp and up for the challenge ahead and, by far, the most likely person to be responsible for that has to be Neil Warnock.
When Nelson headed in another Ralls corner, I cheered as though it was the goal that would take the game beyond Birmingham. but an offside flag cut off the cheering.
Next Ward was inches away from making it 3-1 as he flung himself at a Ralls cross and although the consensus I've seen among the media was that our comeback was based on Warnock like traits of grit, spirit and power, I thought there was also some good football played by us at this time.
The nature of the game changed on fifty minutes though when Ward, who'd generally made as little impression as he done at Swansea, went into a studs up challenge on Mrbati which I thought gave Mr Madley no option but to show him a red card.
Now City had to dig deep as they faced forty minutes with a man short, but before the expected siege on their goal, Hoilett was worked into space and cracked a shot from distance that a worried Camp was happy to see fly narrowly over.
In some ways what followed was like the game at Cardiff City Stadium against Leicester back in 2010 when an injury hit City squad overcame both Gabor Gypes' dismissal and having so many players playing out of possession to hang on for a 2-1 win, but this was fora longer period and yet it may not get remembered as much as the Leicester game because, in truth, they were able ti hang on to their lead quite comfortably.
Etheridge did make some good saves when Birmingham did work some threatening positions for themselves, but, in truth, they had long since shot their bolt and much of the time was spent with them playing in front of well organised defence.
City coped wit the loss of their striker by moving Nathaniel Mendez-Lange, who I thought had been having a poor game, into a more central position and I felt he came alive in his new role as he troubled the Birmingham centrebacks with his powerful and pacy running.
Ironically, it was when Mendez-Lange moved out to the wing again that he made his most notable contribution as he moved on to a cute Peltier free kick, saw off Pedersen and pulled back a cross to Ralls, who took a touch and then curled his shot beyond Camp for a similar goal to the one he scored against Huddersfield at the start of the season.
In truth, a two goal cushion looked a comfortable one for City even if they were defending for much of the time and, by the standards of this barmy game, things were fairly quiet until a suitably madcap four minutes of added time.
It started when Ivan Sunjic was not closed down quickly enough by Ralls and with me saying "shoot" because I thought he would never score from such distance (turns out he wasn't as far out as I thought he was),, the Croatian international struck a fine shot like an arrow into the top corner with Etheridge motionless – I have seen our keeper blamed for both goals he conceded today in some quarters, but I'm not sure about that.
With Birmingham now fancying their chances of grabbing a late point, things turned against them very quickly when, firstly, their captain Dean's elbow made contact with Ralls' face and he was shown a red card as players from both sides got themselves involved in a brawl which soon calmed down.
I don't believe Dean meant to foul or hurt Ralls, but it was an elbow to the face and so I suppose he had to go and, to make matters worse, two substitutes combined to finally kill off Brummy hopes of a point . From the free kick for the offence which saw Dean dismissed, Callum Paterson nodded inside to Omar Bogle, who tried to wriggle clear of Marc Roberts only to be bought down for an obvious foul and Ralls stepped up to again send Camp the wrong way and, in doing so complete his first and probably only hat trick in senior football.
Incredibly, City had gone from bering ultra boring at home to a game that almost had too many talking points. Having had to watch so much poor stuff this season, I'm going to enjoy this win while I can – in the end City played well today and it's great to say that about them for the first time in six months!
Apologies to any one who was hoping for a more detailed report on this morning's Academy match with Bristol City at Leckwith, but pressure of time means that this will only be a very brief precis of what happened.
Bristol were a goal ahead when I arrived, but spent most of what I saw of the first half defending against some well put together passing movements by City who played a passing game which is so out of sync with the sort of game the first team played. One lovely passing movement which saw Issak Davies worked into a promising position, but the angle was always against him and visiting keeper Sainsbury was able to make a comfortable save.
Bristol were bigger and more powerful than us and played a direct game which was at odds with what you would see from most sides in this age group, but they didn't enjoy a great deal of success with it as they went in at half time with a barely deserved 1-0 lead based on what I saw.
The second half began brightly for a City side trying to avoid a run of four straight defeats when a neat pass by Ntazana Mayembe opened up a gap in this visitor's well drilled defence and Harry Pinchard strode into it to score confidently.
At 1-1 and dominant, it was there for the Under 18s to go on and win, but, for some reason, they virtually stopped playing after that and from being distinctly dominant, they fell away to the extent that the goal scored by Max Williams as he exploited a goalkeeper who was seemingly,glued to his goal line to take down a cross and score from close range.
City had little to offer after that until the eighty ninth minute when Eli King let fly from twenty odd yards and the ball went in with the help of a big deflection to give his side a deserved point in a game where they played the better football throughout. However, the weird thing is that the City team played in a manner whereby they are very unlikely to produce a first team player. whereas the bigger, stronger and, on this showing less talented wurzels side may have a few who would have taken our manager's eye if he had been watching the match.
Blaenrhondda FC, taking advantage of the awful weather on recent Saturdays by playing their home matches on the artificial pitch at Cambrian and Clydach FC were beaten 4-2 by Merthyr Saints to end the nice little winning run they had been going on, but Ton Pentre have not played for weeks as they stand becalmed in a league where barely any fixtures have escaped the bad weather in recent weeks..
Once again, can I make a request for support from readers by them becoming my Patrons through Patreon. Full details of this scheme and the reasons why I decided to introduce it can be found here, but I should say that the feedback I have got so far has indicated a reluctance from some to use Patreon as they prefer to opt for a direct payment to me. If you are interested in becoming a patron and would prefer to make a direct contribution, please contact me at paul.evans8153@hotmail.com or in the Feedback section of the blog and I will send you my bank/PayPal details