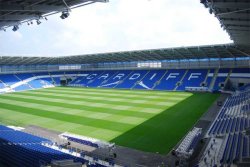 Last Friday The Blues beat Connacht in front of 8,000 people. Just a few days earlier in their last game at CCS just 2,093 people turned up to see them beat Harlequins.
"We have arranged a board meeting for Friday to discuss the rest of the season," said Blues chief executive Richard Holland.
"The supporters seemed to enjoy being back there and, following negotiations with Cardiff City Council, I am delighted to announce that we have raised capacity for this Friday's match at the Arms Park to 9,000.
"As I said on Friday night, there are no long-term plans in place to move back to the Arms Park permanently.
"We still have a 20-year lease in place at the Cardiff City Stadium and playing these two fixtures at the Arms Park has no impact on this agreement.
"However, some games are more suited than others to be played away from the Cardiff City Stadium and this is something we will be looking at going forward. We will be reviewing the situation for the 2012-13 season also."
I hope they still pay their rent even if they are not playing!