Also appears at:
www.nigelblues.blogspot.com
Pictures can be found at:
http://tinyurl.com/yopk3t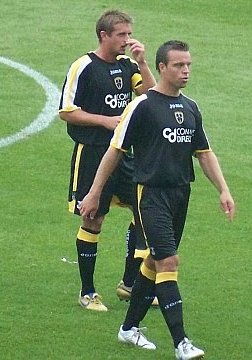 Gavin Rae and Steve McPhail wearing the new away kit
Cardiff won 1-0, deservedly so, and that's a credible result against the Dutchmen of Enschede who finished 4th in the top division last season just behind the big two of Eindhoven and Ajax.
However, as always during friendlies, anticipation is quickly replaced by boredom and a realisation that you haven't really learned that much from a game lacking the sparkle, pace, intensity and competitiveness of a League or Cup game. .But a win's a win and the workout was worthwhile I'm sure.
In town early for a drink, you couldn't help but notice the large police presence. Some were due to a carnival and the Big Weekend but police told us privately they were ensuring there were no problem with upto 300 FC Twente fans in town and some with a reputation. Football is truly back.
The pubs didn't seem too busy either in town or Canton though and the crowd of 8,649 on a warm clammy overcast day - including about 200 visitors - was in line with predictions and a couple of thousand more than usual for these games. Of course, the newly laid excellent looking pitch was the pulling factor ... or was it Robbie Fowler? If it was, a lot of people made the effort in vain.
City came out in their new away kit - broadly similar to the home shirts but with black instead of blue and the yellow/white stripes on sleeves and shoulders instead of chest and side - to a huge reception. The side were new keeper Turnbull with a defence of McNaughton-Johnson-Loovens-Capaldi (Purse was surprisingly absent whilst McNaughton looked splendidly grey again and his hair dye experiment at Merthyr), midfield were Sinclair-McPhail-Rae-Ledley (with McPhail skipper for the day) and Fowler8 and MacLean in attack.
FC Twente, in red, looked a big side and none more than their Captain at 10 who must have been 6'4" at least and, by some distance, looked the best player on the park.. Cardiff started well though with Robbie Fowler twice showing breathtaking dummies and touches, Joe Ledley looking sharp too. Fowler's dummies and first touches earned rapturous applause but his best movement was a flicked header just outside the box that MacLean couldn't quite take advantage of. There were a couple of moments when Robbie's thinking seemed to be a couple of seconds faster than team-mates but before we really got to judge him, he was off little more than 20 minutes into the game ... and with that, a few of the crowd only there to see Robbie were off too! He apparently signaled a tight hamstring but he isn't match fit yet, he noticeably had stumpier legs and is about 3 to 4 behind others in pre-season training, I think it told.
WARREN FEENEY replaced him and within moments scored the only goal of the game to clinch the match. A McPhail free-kick, missed by a defender, left Feeney with time to chest down, turn and shoot home with ease around the 6 yard box.
City had their best spell of the game to half-time and put Twente under the cosh but Feeney and MacLean looked lightweight as a partnership and confirmed why the club simply have to bring in a target man and fast. If we're struggling, then maybe we should look at the woman who almost got knocked out in the Lower Grandstand with an inadvertent but blinding header that put Thommo to shame! With with the excellent Trevor Sinclair producing runs and crosses that they were unable to take advantage of. MacLean really should have doubled the lead before the interval and he did the hard work in holding off and getting away from a defender but left his shot too late and was blocked by the visiting keeper. As for FC Twente, anonymous would be the most apt description. Good touch, movement and passing, especially in midfield but no end product at all. Ross Turnbull's only 1st half action was getting down to a low, slow shot.
KISS FM took over the tannoy for half-time, a masterstroke as it sent it getting away from the stands to the bars!
Half-time: CITY 1 FC TWENTE 0
If the first period was average, the second was instantly forgettable. FC Twente managed a couple of late efforts, a shot and header giving easy work to Turnbull, another went wide but City didn't show a great deal either. Players came and went but the most serious departure was Glenn Loovens who was reckless flying into a challenge on halfway and hurting himself in the process. Chris Gunter replaced him but slotted in at right-back with McNaughton going central. Before the game was over, Parry, Green and Ramsey also appeared for City. There really isn't much else to tell you about a half lacked pace, invention and intensity, both sides happy just to have a run out.
It really is hard to make any judgements in a game like this and we can only wait to see what the real stuff brings us when the Championship starts next week. For what it's worth however, we looked strong defensively and were not in trouble for a single moment against an apparently good side. City have more presence with a big keeper and big centre-halves but Tony Capaldi was quiet and didn't offer much coming forward. Hard to see what he offers more than, say, Chris Barker on this evidence.
Midfield were tidy and well organised, Trevor Sinclair looks certain to be a huge hit on this showing with exemplary skill, commitment and quality but there is a lack of pace and, arguably, dynamic quality in the centre. In attack, Fowler showed he can contribute in his cameo display while MacLean offers more than any striker we had last season - Chops apart - and Feeney put on his best display but I would question whether his best is really good enough for what City need.
In one week's time, we'll have a far better idea. That's for sure.

External Reports

Wales On Sunday
Cardiff City Official website
FC Twente Official website
South Wales Echo