Bluebirds end pre-season with a home defeat after taking an early lead.
Comments below from Paul Evans
Cardiff City brought the curtain down on their pre season programme by playing for the first time on home soil as a clever and classy Real Betis side left with a 2-1 win in front of a crowd of just under 10,000.

City only lost two league matches after scoring first last season (at QPR and Derby), but it's happened twice already to them in their warm up matches – Rotherham, like Betis, were able to come back from conceding early on as new signing Josh Murply found the net for us, but the Yorkshire side, hammered 5-1 yesterday by Brentford on the opening day of the Football League competitions, were also able to turn things around to win by the odd goal in three.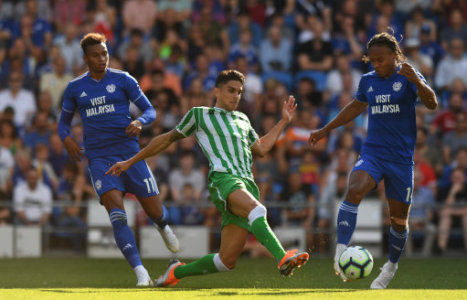 It was my first chance to watch City in the flesh this season, but, with the match being televised live on S4C, my guess is that most people reading this will have also seen the game in one way or another. So, this will be no blow by blow account of proceedings, more a set of reflections on an encounter which I felt was both interesting, in terms of the complete contrast between the way the teams went about their business, and entertaining when judged by the normal standards of these pre season affairs.

Before doing so though, I'm going to lay a bit of background to things by commenting on what seems like the ending of our summer long pursuit of Marko Grujic, Liverpool's Serbian international central midfielder.

At various times during the last few months, it seemed like a formality that Grujic would be returning here for another loan spell. Indeed, I think it was in my piece last week that I confidently predicted that he would be here with us come the start of the season.

However, I began to change that opinion when I read an interview with Grujic early last week that included comments about how he would wait and see what happens before making a final decision on where he will play his football in the coming season – he also claimed that there was plenty of time yet for things to be sorted out. I've just been looking for the interview but can't find it at the moment – suffice it to say, it hardly read like the views of someone who was committed to coming to Cardiff for the season.

Word is that the deal fell through because the new contract Liverpool wanted Grujic to commit to before letting him go out on loan (Harry Wilson was only allowed to make his temporary move to Derby after signing a new contract) remains unsigned and Neil Warnock mentioned that, with Liverpool in three competitions where the Premier League's twenty five man squad rules would not apply, there may be first team opportunities for the Serb, even if he cannot play in the Premier League.

Whichever way you look at it though, its been a bit of a mess and, although I accept that I could be accused of being wise after the event here, I think questions need to be asked about why City were so keen on holding on for Grujic as long as they did (Neil Warnock spoke of possible transfers City didn't follow through on because they were so confident Grujic was coming here).

After all, it's hardly as if Grujic did anything last season to suggest he would be an indispensable performer for us in the Premier League is it. If we were talking about, say, Ruben Loftus-Cheek, then waiting for months on the understanding that we were likely to get him while we allowed other possible targets to come and go would make complete sense, but we aren't – Grujic did a pretty good job for us last season in the Championship and an argument could be made for saying that he may be one of those players who are more suited to the Premiership, but I think there are plenty of City fans (including this one) around now wishing that we had moved on from the whole thing weeks ago.

So, with just days left to do something about it, that's how we find ourselves in a position whereby our central midfield options are considerably fewer than they were last season with Greg Halford, Craig Bryson (who played ninety minutes for Derby in their win at Reading on Friday night) and Marko Grujic all having left the club since May with no one brought in to replace them.

The real extent of our problems in this area were emphasised when Aron Gunnarsson's name was missing (presumably because of injury) from the team sheet for the Betis match. Did the use of a three centreback formation, with Sol Bamba often pushing forward into a deep midfield position, with wing backs and a very flexible front three come about because of a lack of central midfielders?

So it was that we went with Lee Peltier and the excellent Joe Bennett as wing backs and Junior Hoilett, Bobby Reid and Murphy in forward positions. In the middle, Joe Ralls was supported by Callum Paterson who would move forward to become the target for Neil Etheridge's long clearances and, occasionally by either Bamba moving forward or Reid moving backwards. It all looked a bit England in the World Cup to me where for Ralls, read Jordan Henderson – England, essentially, played with a one man central midfield in Russia because Gareth Southgate didn't think the others within his squad in that area were good enough to start in games, whereas City went with a central midfield of Ralls and, er, no one else because they didn't have any one else!

Yes, I know Loic Damour came on for the last half an hour or so, but the point is that it only took an injury to one of Ralls and Gunnarsson for us to look totally threadbare in the middle of the park.

I suppose the one consolation is that we are probably better placed to cope with a situation where we only have a couple of fit central midfielders because, if you judge the need for them in terms of time spent in possession, we don't need many – if any!

This was really brought home because of the total contrast in philosophy between the two sides. Where Betis keeper Pau Lopez would venture thirty yards from goal to join in when his central defensive team mates passed it around until they spotted a colleague in a good position further forward, our goalkeeper would always look to bypass the middle of the pitch as he aimed long kicks towards Paterson.

There was a period between Betis' goals when they seemed to have possession continuously for about ten minutes – in truth, it wasn't really like that of course, but what touches City did have in this spell tended to be tackles which would present the ball back to Betis or misplaced passes which, again, ensured that the visitors never had to wait long before they got their ball back.

What yesterday's match emphasised most to me was just how little possession of the ball is valued at Cardiff compared to virtually any other side in the Premier League or Championship.

I should emphasise here that I found yesterday useful because it really brought this attitude towards the issue of ball retention at Cardiff to the fore when you contrasted it to Betis' way of playing the game. However, it should be said that quite often the ball wasn't surrendered by City because of poor control or shoddy passing, it was given away because City were always looking to use their pace to counter attack and so were constantly looking to play early, high risk, passes to the trio up front.

When you do that all of the time, you will invariably hand over possession more than you'd want to. Even so, I dread to think what the possession stats were looking like at half time (something like 85/15 against us would be my guess), but that disparity cannot all be put down to Betis' talent and our lack of talent or the fact we were playing in a way that was never designed to keep possession of the ball for long periods (we often "gifted" Betis possession because we were always looking to open them up in as few a number of touches as possible). Athough Burnley beat Liverpool a couple of years back with just 20 per cent possession, that game is remembered because it was exceptional – most times when you only have the ball for a fifth of the game, you end up getting beat.

What was encouraging though was that the combination play between Reid, Murphy and Hoilett was quite often causing the Betis defence serious problems.

If City were emulating England when it came to the centre of midfield, then I would say we were mimicking Spain circa 2012 with our lack of anyone who could be described as a centre forward. However, even when those possession stats must have been so much against us in the first half, the pace and movement of Reid, Murphy and Hoilett, along with our threat from dead balls, ensured that Betis had quite a few narrow squeaks before being able to go in at the break 2-1 up.

Now, although there was promise in the way the front three combined, it should also be noted that Betis are such an attacking side that it would often only take one pass to get City players running at an undermanned defence – I'll be surprised if we are going to see a side which looked as open as Betis did at times playing us at Cardiff City Stadium, or anywhere else in the Premier League for that matter, in the coming months.

This trend continued in a second half which saw City, if not dominant, have the better of things. We were grateful at times for some good last ditch defending by Bruno Manga especially, but we were often able to build promising situations for ourselves by looking slightly more assured in possession.

However, City were unable to get the draw they probably deserved after their spirited second half showing and you couldn't help but think it wasn't going to be our day when Murphy shot wide when one on one with Lopez.

This was the only blemish in a man of the match display by our new signing from Norwich whose evening began with a beautifully struck shot inside five minutes, after being neatly put through by Sean Morrison, which beat Lopez all ends up on his near post.

Betis' reaction to going a goal down was impressive and for a fifteen minute spell around the half hour mark they threatened to run away with the game – Etheridge saved well from Lorenzo Moron, only to be beaten by him within a minute and then the visitors took the lead when Cristian Tello's shot was diverted in by Bamba. The veteran Joaquín then smashed a shot against the crossbar and great covering by Bennett I think it was, denied Takashi Inui what seemed a certain goal.

At this stage, you could be forgiven for despairing of our Premier League chances, because we just couldn't get the ball off our opponents and were being opened up seemingly at will, but, by the end, our ability to fashion chances out of very little possession suggested we have a chance if we can defend better than we did at times today.

Our fluid play at times in the final third offered hope that we aren't going to be just a one trick pony in the Premier League, but, despite the four new signings, I must admit that we still look like a side that has a Plan A and not much else.

Most, if not all, of our Premier League opponents could start their campaign with a certain playing philosophy (e.g. a patient passing approach) and switch quite comfortably to something more direct if it was failing, but I don't think we are able to be as flexible as that, because our squad has been put together to play and behave in a certain way and I doubt we would succeed if we attempted to pass the ball more with our current squad, so, although I cannot see it happening, I would argue that, if we are to make a couple of midfield signings in the coming week, they should be players who are also comfortable at playing a more possession based game.

Just a couple of quick news updates to end things. City's Development team were able to beat Armiens in a practice match on Friday by 3-1 with Anthony Pilkington and Gary Madine adding to a first half own goal which had got us level again after falling behind early on.

Finally, Mark Harris joined Newport County on loan until January during the week and he was an unused sub as they opened their league season with a disappointing 3-0 defeat at Mansfield, while there are also reports linking Omar Bogle and Lee Camp with similar such moves to Ipswich and Bolton respectively.
Cardiff City: Etheridge; Manga, Morrison, Bamba; Peltier, Ralls, Paterson, Bennett (Cunningham 70); Hoilett (Damour 63), Murphy (Mendez-Laing 70), Reid (Zohore 63).

Subs not used: Murphy, Connolly, K. Harris, Madine.

Goal: Murphy 5

Real Betis: Lopez, Francis (Barragan 72), Mandi (Tosca 72), Bartra (Feddal 46), Garcia (Gonzalez 83), Carvalho (Brasanac 66), Canales (Leon 46), Joaquin (Boudebouz 72), Moron (Sanabria 72) Inui (Guardado 46), Tello (Junior 72).

Subs not used: Robles, Camarasa.

Goals: Moron 23, Tello 30

Attendance: 9,567.

Referee: Mr L. Evans