https://mauveandyellowarmy.net/
Two years ago, a Cardiff City side on their way to promotion to the Premier League played out a turgid 0-0 home draw with League Two side Mansfield Town in the Third Round of the FA Cup. This was all very much par for the course for City when it comes to cup ties since their run to the League Cup Final in 2012, but what was unusual about it in the modern day context of Cardiff in knock out football was that they survived to make it into the hat for the draw for the next round.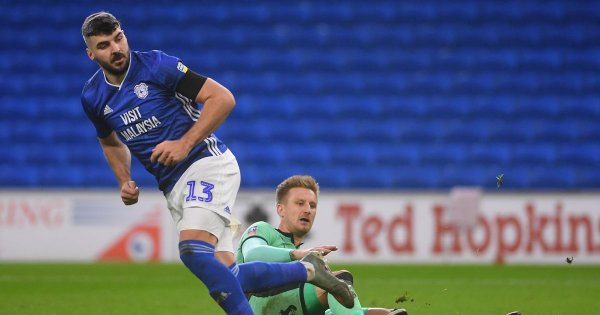 When that draw gave the winners of the replay a home tie with Manchester City, it was as if the light that switched on in 2008 and 2012 in runs to Wembley Cup Finals was flicked on for a few weeks as cup football was something that mattered again at Cardiff.
Mansfield were on a run which had seen them beaten just once in fourteen league matches as well as the three FA Cup matches they had come through to earn their chance to bring Pep Guardiola's team to Field Mill and were considered as favourites to do so by many.
However, Mansfield's chance had gone because Neil Warnock and his team were now in cup mode and the big crowd that turned out hoping to see a "giant killing" saw their team well beaten to the tune of 4-1.
So, Cardiff got their chance against Manchester City and, in a repeat of what we were to see in too many of our home games against the bigger Premier League clubs at Cardiff City Stadium last season, went out and played as if it was an honour to be on the same pitch as the side who were on their way to the league title – it may only have been 2-0, but Man City barely had to break sweat.
Today, Cardiff made their entry into the 2019/20 FA Cup by entertaining League Two strugglers Carlisle United in front of a crowd of a little over five thousand that was boosted by an impressive contingent of around nine hundred away fans who were loud and proud as they demonstrated what this tournament should still be all about.
City managed to repeat their achievement (and it is an achievement given we're talking about Cardiff City and cup competitions here) of two years ago as they ensured that their name will be read out when the draw for the Fourth Round is made on Monday evening by managing to draw with a team that was fifty seven places below them in the Football League.
Therefore, there is the possibility that history might repeat itself and we might see a potential tie arise that will persuade Cardiff to make their supposed superiority count – anyone below Premier League level and Carlisle can probably start preparing for Round Four, but they may have to prepare themselves for a disappointment if it is one of the "big boys".
That's probably doing Carlisle a disservice mind, because they were well worth their 2-2 draw today in what was, by Cardiff cup tie standards, quite an entertaining game.
The fact that the visitors led 2-0 at half time means that a City squad coming off their 6-1 mauling on Wednesday could even claim some positives from drawing at home to a team that were 4-0 down at half time themselves on New Year's Day at Crewe Alexandra – Carlisle won the second half 1-0, but with just one win in nine league matches, they really should have been the sort of opposition City would see off with a minimum of fuss.
Neil Harris made eight changes from the team hammered by QPR with only Sol Bamba, Leandro Bacuna (both of whom were withdrawn at half time on Wednesday) and Will Vaulks retaining their places. However, with Alex Smithies, Sean Morrison, Joe Bennett, Gavin Whyte, Josh Murphy, Callum Paterson and Danny Ward among the players coming in, this was hardly the "give youth a chance" philosophy we heard a lot about when Harris was appointed.
Cameron Coxe was given another chance in a Cup match at right back in what was the only concession to youth in the starting line up. There were places on the bench for ex Manchester United youngster Tom Sang and last season's Academy team captain Sam Bowen, but, surprise, surprise, they were not used – although it would have been interesting to see how the stylish and composed Bowen might have fared in a misfiring midfield if he had been given the chance.
I've seen all of the home cup embarrassments in the past seven years as well as some of the away ones and it has seemed to me that the team were hardly busting a gut in some of them. Others who were there today may disagree with me here, but I never got that feeling today – I thought the side were trying throughout the ninety minutes, but the concerning thing about that is that, in the first half in particular, we looked so devoid of quality and confidence.
I've mentioned before on here this season that Neil Warnock made it sound like he thought his powers of motivation were, perhaps, his biggest asset in football management and yet, consistently through the three months he was in charge this season, those powers were unable to elicit strong first half performances from his team – in fact, it was the complete opposite.
Yet, there were times when City would sometimes give the impression in the early stages of second halves that Warnock's motivational powers were still intact.
Apart from that two goal blitz in the first eight minutes of the win at Sheffield Wednesday six days ago, Neil Harris has not been able to persuade hos new team to come out firing straight from the first whistle either – that was certainly the case today despite the strong words from the manager straight after Wednesday's match and his talk of how his sides do not defend like we did at QPR.
Sadly, the defending for both of Carlisle's goals was very reminiscent of the Loftus Road nightmare. While the decision by referee Geoff Eltringham to award a penalty for a foul by Bamba on Jack Bridge looked a soft one, it was hard to feel much sympathy for City, because they had three opportunities to clear the ball and failed each time before the offence occured.
There had to be sympathy for Smithies though as he saved Bridge's weak spot kick, but could only look on as the Carlisle player followed up to head in the rebound with many City players seemingly back on their heels rather than looking to react in the event of a save.
After that, Carlisle had plenty of defending to do, but, generally it was all very comfortable for them because City were so slow in moving the ball around. There wasn't a great deal of long ball stuff from them today, but as has happened previously when they've tried more of a passing approach, all that tends to do is show the players we have here now are generally unsuited to such a mode of playing.
On the occasions when they did get into threatening positions, the final ball was not good enough and on one occasion, Josh Murphy, who had a wretched first forty five minutes, found himself in a great position, free on the corner of the six yard box and it looked like he managed to beat himself, before knocking over something that I'm still not certain was a shot or a cross – suffice it to say, the ball ended up rolling out for a throw in.
Apart from a good shot by Whyte which flew not too far over, it was all plodding huff, puff and no inspiration from City in the first half, but, at least, it looked like they would only be going in at the break a goal down.
Even this was beyond City though as another example of really poor defending allowed the visitors to go two goals ahead in time added on at the end of the half. While it was good play from the visitors as Hallam Hope chased a ball down Carlisle's right and knocked over a fine cross which Harry McKirdy nodded back across Smithies and into the corner of the net, you had to question why Morrison was unable to prevent the cross in the first place and then Coxe was not as tight to McKirdy as he should have been.
City left the field to boos from the home fans, but, having been so flat from the kick off in the opening forty five minutes, it seemed Harris had managed to get the response from his team for the second period that he couldn't at the start of the game – City were far more positive right from the whistle to restart the match.
Murphy offered the best example of the change in City's mentality and tempo as he offered reminders of the player who was causing Premier League full backs to be substituted at half time a little over a year ago. The £11 million winger soon forced the first of three good saves visiting keeper Adam Collin had to pull out after the break and his second save from Murphy's first time shot from about twenty five yards was perhaps his best – he also did well to turn aside a shot from Vaulks, who I thought was probably City's best player.
Vaulks also showed some very welcome spontaneity by taking a quick free kick which Murphy volleyed home only for the goal to be ruled out for what looked a very tight offside decision to me. However, with their substitutions not really working, City's storm rather blew itself out in the last quarter of the game when Carlisle were able to hang on for their replay with few alarms and in fact threatened on the break once or twice, with Coxe denying one chance with an excellent block and Hope firing over from what was a decent opportunity.
City did at least get the two goals to force the draw while they were playing well. The first came when Ward made one of his few significant contributions as he headed a Bennett cross into the path of Bamba who hit the crossbar from close range. It looked like the visitors had escaped as the ball bounced down and one of their defenders attempted to clear it, but Paterson slid in and diverted the ball into the net.
The Scot, who was another who did a lot better in the second half, played a big part in the equaliser as well as he kept a Whyte cross in play despite Carlisle protests that it had gone out for a goal kick, worked a one two with Bennett and then put over a lovely cross which Whyte headed home via a post for his first goal for the club.
Coxe, who I thought was playing well at the time, was substituted for Lee Tomlin as Bacuna moved to right back and Ward made way for Robert Glatzel, but, as I mentioned earlier, the substitutions seemed to stall our momentum and neither newcomer made much of a contribution in the time that remained.
So, City's ignominious cup form continues and the post match phone in was full of pessimistic supporters fearing the worst for next weekend's derby with Swansea. There was also a caller who insisted that we had the players to be doing much better than we are, but do we really?
For example, we had a very experienced Championship goalkeeper playing behind a back four which contained three members of the promotion winning defence that only conceded thirty nine goals in 17/18, but, just because the likes of Bamba, Morrison and Bennett were good two years ago, it doesn't automatically follow that they are still good Championship performers now.
Similarly, I was surprised to hear Neil Harris say we have a lot of flair in the squad, but, on second thoughts, he is probably right when you compare us to, say, the Millwall squad he managed. However, our flair is too often poorly applied and we lack the continuity players who can play at a tempo that helps ensure that these flair players are best able to demonstrate their qualities in dangerous areas .
With very poor losses to Swansea and Bristol City already this season under Neil Warnock's management which asked questions of the squad's collective temperament, there has been little evidence of this being likely to change under Harris. While two defeats in his first eleven matches looks impressive, the truth for me is that, just like under Warnock, Cardiff's results under their new manager have been a lot better than their level of performance.
I genuinely expected a big reaction from the team today following what happened on Wednesday. Supporters were embarrassed by what their side produced at QPR, but, given the way we started the game, you have to wonder if the players were – there were places up for grabs for one of the biggest occasions of the season today, but you would never have guessed it before half time.
In local football, it's been a good couple of weeks for Ton Pentre who followed up an encouraging 2-2 home draw with third placed Port Talbot Town last weekend with a 3-0 win at Abergavenny Town in a bottom of the league clash today, while Blaenrhondda FC returned to action after their Christmas/New Year break with a 1-1 draw at Grange Albion.
Cardiff CIty: Smithies; Coxe (Tomlin 78), Morrison, Bamba, Bennett; Bacuna, Vaulks; Murphy, Paterson, Whyte; Ward (Glatzel 80)
Subs: Day, Peltier, Nelson, Sang, Bowen
Carlisle: Collin; Jones, Webster, Mellish, Hayden; Jones, Bridge (Scougall 56), Watt; McKirdy (Charters 90), Thomas (Loft 80), Hope
Subs: Gray, Iredale, Olomola, Birch
Referee: Geoff Eltringham
Attendance: 5,828