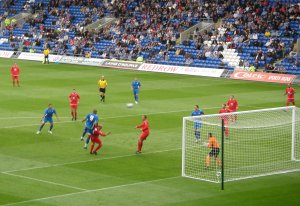 Goal: Bothroyd heads home the opening goal
He leapt like a salmon to head home Mark Kennedy's first half cross. Michael Chopra made it 2 - 0 before the break when another Kennedy cross fell at his feet.
Chopra also hit the post and had a goal disallowed in the first 45 mins.
Chasetown had a goal disallowed and early on made Cardiff work but as the game progressed it was all one way traffic. The Chasetown keeper was Man of the Match for a string of fine saves.
City played virtually two teams. They started with: Marshall, McNaughton, Kennedy, Klimpl, Hudson, Gyepes, Burke, McPhail, Bothroyd, Chopra, McCormack.
The second half saw two more goals from Josh Magennis and Adam Matthews.
Only Ross McCormack came back out for the second half. He was then subbed by Josh Magennis. The youngster was the youth team keeper before being put up front. He scored after good work from Joe Ledley laid it on a plate for him.
The last strike was a cracker from young Adam Matthews. The right back overlapped into the box and fired an unstoppable drive past the then substitute Chasetown keeper.
Disappointingly only 5,200 saw the game. Great at any other time for a pre season friendly but this was the first time the side had played in the stadium. Another low key approach from the club to publicising the game contributed as well. For most of the week they have been promoting the Celtic and Valencia games.
City's second half side was: Enckelman, Capaldi, Gerrard, Quinn, Blake, Whittingham, Matthews, Rae, Parry, McGennis, Ledley.
The respect from he Chasetown and City fans was excellent. The visitors brough a couple of hundred fans. The noise from just 5,000 was good. With 20,000+ the ground will have one hell of an atmosphere.
Each Chasetown substitution was given warm applause from all fans. And at the final whistle the visiting players were given a great reception with both Cardiff and Chasetown fans coming together in the Ninian / Away Stand corner.
Pics of this eveing can be found here.

Chasetown line up: Price (Bryan, 87), John Branch (Adie Smith, 45), Mark Branch (Craig Milligan, 70), Slater (Clancy, 81), Teesdale (c) (Marshall, 60), Thomas, Steane (Harris, 60), Bragoli (Famer, 87), Birch, Perrow (Ricketts, 81), Batchelor (Miller, 76)