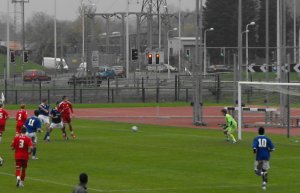 When City's development team went in at half time in this afternoon's game with Swindon with the score 0-0 after a largely even forty five minutes, I doubt if there were many in the small crowd at Leckwith Athletics Stadium that could have foreseen that the game would end up in a 5-0 home win. A young Swindon team competed well in the opening stages against a City side including Paul Quinn, Lee Naylor, Dekel Keinan, Soloman Taiwo, Joe Ralls and Jon Parkin, but, even then there was little sign that they would be a threat going forward, it was just that they were able to keep out City with few alarms as much of the first half passed with football that was as dismal and dreary as the weather.
The fifteen minutes prior to the break suggested that City were warming to their task though with three presentable chances falling Parkin's way. For the first, he met a fine, driven cross by Quinn and, although his side footed effort beat the keeper, it also beat the crossbar by about a foot, shortly after that a defensive mistake left the Beast through on goal, but his first touch wasn't good and, after taking the ball past the keeper, he could only roll it across an empty goal as Jesse Darko tried, but failed to reach the cross. Darko then set up a chance which Parkin had to take quickly and his snap shot flew wide seconds before the ref brought the half to an end.
Ralls was withdrawn at the interval after a pretty impressive forty five minutes in which he barely gave the ball away and was replaced by Theo Wharton. Now, it would be wrong to say that Wharton was solely responsible for what followed, but the young midfielder did create a good impression with his energy and skill as City carried the improvement they had been showing into the second half. Within a couple of minutes of the restart, City had scored twice as local boys Jon Meades (who was playing left midfield instead of his normal left back role )and Ibby Farah took charge of proceedings – firstly, Meades' fine cross from Swindon's right was headed home by skipper Farah (normal captain Aaron Wildig having joined Shrewsbury on a month's loan today) and then when Ibby got to the bye line and put over a low cross from the same side, Meades was there to score from close range.
Parkin almost added another when City got in again down their left and chances were coming thick and fast now with the third goal not too long in arriving as Meades moved onto a lovely defence splitting pass by Taiwo to score with ease. Meades really could have had a hat trick after that – he missed from close range when Parkin's clever pass found him unmarked and then he fired in a tremendous angled shot from wide out on the right which Swindon's substitute keeper did well to keep out. The one way traffic towards the visitor's goal was interrupted as their left winger cut in and hit a great shot which Elliot Parish tipped over the bar in Swindon's only real scoring opportunity of the game, but after the keeper had defied the luckless Parkin in another one on one, an unmarked Keinan headed home a Taiwo corner for a simple fourth goal.
Shortly after this, City withdrew Naylor, Taiwo and Parkin and replaced them with Yannis Drais, Mamadou Diallo and I think it was Luke Jones (apologies to all concerned if I've got this wrong). Hardly surprisingly, City weren't as dominant after that and the closing stages were passing pretty quietly until they were awarded a free kick on the edge of the penalty area. It was no great surprise to see Meades grab the ball as he chased that elusive third goal, but it was to see him then roll a clever pass into the path of Jones who became the latest player to get free on Swindon's right to put in a low cross which was turned in from close range, My excuse for not knowing who it was that got the final touch is that it was now very dark despite it not even being three o clock yet – it might have been one of the subs who scored it, but, to be honest, I didn't have a clue who it was (I see the official site is saying that Jordan Carter, who I didn't even think was on the pitch, was the scorer – if it was, then double apologies to him because that's two recent goals of his that I didn't credit to him on here because I didn't recognise him!)
Not long after that the final whistle went as the rain got heavier and City had won the match in a manner as conclusive as the final scoreline suggests. Of the more experienced players, Quinn and Keinan impressed with their attitude in a game which must have taken some getting up for when you consider who and where they were playing six months ago, Taiwo put in a tidy performance and, although he has his critics when he plays for the first team, Lee Naylor made it look very easy for him at this level for a second successive week. However, as this is the development team, I think it is the youngsters who should really be the focus of attention and I thought Alex Evans compared favourably with the first team defenders around him. I've already mentioned the others to impress – Wharton and Meades did well, as did Farah who, judging from what I've seen, turns in good performances for the second team on a consistent basis (the latter two could well benefit from emulating Wildig in getting a loan move over the coming months).