Cardiff City have announced that Vincent Tan has reduced the clubs debt by a further £66m. The conversion of this debt to equity is a huge boost to the financial stabilty and future of the club.
It takes the total converted in the year end May 2018 to almost £80m. The club were also compliant with FFP rules. It makes the financial future very bright and shows the ongoing support for the club from Vincent Tan.
The full report from Cardiff City is here with Executive Director & CEO, Ken Choo in a statement on behalf of Cardiff City saying: "We would once again like to thank Tan Sri Vincent Tan for his generosity.

"Following our recent successes on the pitch, we are extremely pleased that these continue to be mirrored by financial stability off it.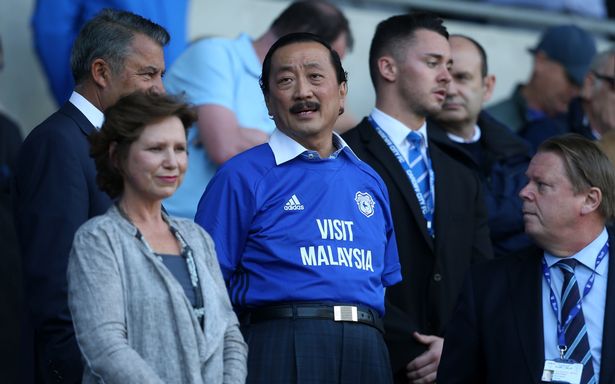 "As fans, staff and players alike eagerly await the upcoming 2018/19 Premier League campaign, we also look forward to the continuation of this ongoing process in the future."
Here is the reaction of the Cardiff City Supporters' Trust
http://www.ccfctrust.org/?p=5333
Cardiff City Supporters' Trust chair Keith Morgan today highlighted two excellent pieces of financial news following a meeting yesterday with Cardiff City Chief Executive, Ken Choo.

Keith Morgan said: "Firstly, there has been a further massive conversion of debt due to the owner Vincent Tan into equity (shares). The amount involved is a huge £66.4m and is in addition to conversions of £8m in an earlier year and £12.7m in June 2017.

"The latest conversion took place at the end of May 2018 This is a major boost to the club's balance sheet position and is a further great example of Vincent Tan's continued commitment to the club.

"The second piece of good news is that the club has received formal confirmation that it was compliant with the Profitability and Sustainability (formerly Financial Fair Play) Rules for the 2017-18 season just ended."

"In view of recent well publicised difficulties other football clubs have experienced with P&S (FFP) compliance, the fact that Cardiff City Football Club (CCFC) is running its financial affairs in a compliant manner is very encouraging."

As someone who deals with football financial matters as part of his professional work as a director of Mazars a global accountancy firm , the issue of conversion of debt to equity is often a subject discussed with Ken Choo at regular meetings Keith Morgan has with him on behalf of the Trust. Meetings also discuss other key issues on a regular basis.