Slideshow of pictures from Jon Candy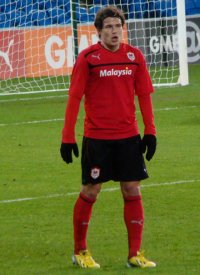 "that's all well and good, but I want to be entertained as well" and I suppose that it is right to say that you would expect a team that is ten points clear at the top of any league approaching the last third of the season to have turned on the style in more matches than we have so far.
I wonder how many of the critics were at Cardiff City Stadium last night to watch the Under 21 Development side rack up their eighth win in nine home games when beating Bristol City 4-0? If they were, then they watched a Cardiff team play with skill, heart, confidence and no little flair (if I may be so bold as to use that word) – it was never a great game (it was to one sided to be that), but I fail to see how any City supporter could not have been entertained by what their side produced.
Looking at the messageboards after the game, I saw that there were some who pointed to how poor the wurzels were, but it's worth noting that they had won seven and lost only two in their nine league matches up until last night and in Dean Gerkin, Lewin Nayatanga and Scotland international Mark Wilson, they had three players who could probably boast as many senior first team appearances as the City side put together (the wurzels also had two other players who had played Championship football and another who had played in League Two in their side).
No, I would prefer to concentrate on how good we were last night, rather than point to weak opponents as a reason for our fine display. Indeed the wurzels started pretty well as they passed the ball quickly and purposefully early on and their quick and powerful centre forward Kevin Krans gave Deji Oshilaja, who had been impeccable in recent Development matches I'd seen, one or two awkward moments before City began to take charge with Kadeem Harris prominent on the left.
If you are going to talk about individuals though, then you have to start with Etien Velikonja who notched his second hat trick for the Development side to take his tally at this level into double figures for the season. I'll get on to Velikonja's goals shortly, but when asked for my opinion of him by people who have barely seen him play yet, I have always replied that he scores goals, but does little else in terms of general play and teamwork. Last night was different though, his attitude was first class – he and co striker Jesse Darko were forever closing down defenders (Darko always does this mind) and Velikonja showed a lot more in terms of movement and awareness of others than I've seen from him before – he played some clever, one touch passes around the edge of the penalty area and was a lot more effective when he dropped deep to become involved in link up play.
Ironically, Velikonja has waited until the arrival of someone who is yet another bar to him reaching the first team in Fraizer Campbell before producing what was by far and away his best performance in a City shirt and it's still hard to see how he can slot into our first team squad, let alone the starting eleven. The Slovenian international looked like someone who was ready to play first team football at Championship level last night though and, if he isn't going to get it here, then I'd say there would be quite a few sides interested in getting him on loan in the upcoming weeks if he can keep the standards he showed last night up.
Velikonja's first goal arrived just after the quarter of an hour mark when a fluent City move looked to have ended when Joe Ralls was dispossessed close to the penalty spot, but the ball broke to the striker who placed a well struck left footed shot beyond Gerken and into the corner of the net. From this point onwards, City bossed the game completely and I can only recall our goal coming under threat when captain Ben Nugent diverted a cross into the side netting for what, at first, looked more like an own goal than a corner from where I was sitting. For me, City's ascendancy stemmed from three fine midfield performances from a trio of talented young players who, to varying degrees, look to be some way away from first team consideration at the moment.
Jordon Mutch is probably the one out of the three we'll see in the our Championship side first and, although his passing was a little off at times, he did enough to show why Malky Mackay rates him so highly. People tend to forget that Mutch has only just turned 21, but last night his power was too much for opponents of the same age as him at times. There were also little bursts of speed to take him past markers and some quick footwork which also left them beaten, as well as a calmly taken penalty where he appeared to let Gerken commit to going one way before steering the ball in the other direction – he may not have shown too many signs of this in his more recent first team appearances, but I think the ingredients are there for Mutch to be a good performer at Premiership level in the future.
Alongside Mutch, Joe Ralls seemed to be doing impersonations of other City midfield players at times – the free kick from virtually on the bye line that he hit the outside of the post just before half time was pure Peter Whittingham, but, for most of the time, his unhurried and accurate passing brought to mind the absent Steve McPhail (albeit a more mobile and quicker version of the player who has served City so well for coming up to a decade now!). Filip Kiss also offered a reminder of what he can offer – he made little impact in the first team chance he was given at Macclesfield and, up to last night, his performances at Development team level had been steady rather than spectacular, but, like Velikonja, he looked to have a real appetite for the game and showed an invention and cleverness in his passing that you don't always associate with him.
There was also an unexpected bonus from Kiss when he took a series of very good late corners, all of which caused the wurzels' defence problems – indeed, sub Theo Wharton had a goal mysteriously ruled out from one of them by a referee who, in general, was a big improvement in the decision making department on the one we saw at last week's Development team match, but offered nowhere near as many laughs. Mention of Wharton prompts me to give him credit for an effective half an hour after replacing Mutch in which he offered further proof that he has very good and quick feet in confined spaces.
Back to the goals then, Velikonja's second was a little similar to his first in a way because it came after a good passing movement had broken down – this time City patiently put together something like twenty passes before an opponent could get a touch of the ball and, when they did, they diverted it to Velikonja who took it forward and struck a left footed shot from twenty five yards which got a deflection that took the ball over the helpless Gerken. A few minutes later, City's fine passing again caused problems that looked to have been averted when the ball was cleared towards the corner flag, but good work by Mutch and Kiss helped set up Velikonja who turned expertly to beat two players and slide the ball in from six yards. For me this was the pick of his goals because there was a touch of class about it, but the first goal also revealed the awareness and ability of a natural finisher and, whether he can maintain his improvement in coming games or not, Velikonja will always be able to put chances away.
The striker turned to creator after that as his perceptive pass put Darko through for a shot which Gerken blocked and his little flick on the edge of the area panicked visiting defender King into handling the ball for the penalty which Mutch converted. There was still half an hour or so to play after this and there could have been further goals when Darko shot just wide (he also had a goal correctly disallowed for offside), Kiss headed over from a good chance and the overworked Gerken was forced into saves by full backs Declan John and Luke Coulson, but there was to be no more scoring.
I've mentioned some individuals, but in truth, all of the outfield players were worth a seven out of ten marking at least (and goalkeeper Elliot Parrish only didn't merit one because he had so little to to do) as City gave their best display I've seen from them at this level so far. What was so impressive for me was that hardly any of them have much chance of seeing any first team football for the foreseeable future and yet they all gave committed, hard working and skillful performances that must have given their coaches and manager a lot of pleasure.
Unfortunately, there is only one more home match (in late March) in the regular season for the Development team as they finish their campaign with six away matches in seven. Amazingly, nearly six months after their season started, the Under 21′s are still waiting for their first away point, but if they can maintain the form they showed last night, they have to have a good chance of extending their season by finishing in the top two of their league to qualify for the Play Offs.