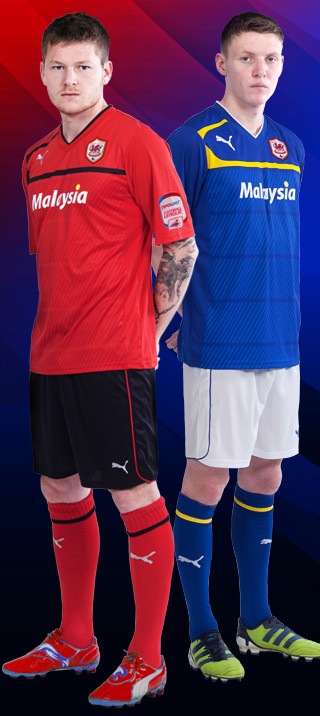 Official announcements this morning has revealed the changes including the new badge and the new kits for the 2012/13 season.
The club said, via the official website,
On behalf of the board of directors and after constructive and positive discussions with our principal investors, Cardiff City Football Club are delighted to announce thatTan Sri Vincent Tan and Dato Chan Tien Ghee ("our Investors") have pledged their continuing commitment to enable the club to plan for the future.
Following a comprehensive review of wider supporter feedback via email, letters, media coverage and polls run via the official Supporters Club and Media Wales and as a consequence of the above commitment, Cardiff City Football Club will also reactivate rebranding proposals with a view to exploiting and maximising its brand and commercial revenues in international markets, which it is hoped in turn will bring success to the club locally, whilst also attracting new partners and investors.
As part of this commitment, funds have been earmarked to finally resolve the historical Langston debt issue which for so long has cast a dark cloud over the club and its future. Negotiations have been continuing and a final offer has been made to those representing Langston and Sam Hammam which we believe is both fair and reasonable.
Whilst not yet concluded, we hope that both Langston and Sam will react positively and favourably to allow this long running and distracting saga to be finally closed which will be to everyone's benefit. We know that Sam has always expressed his passion for this club and has said that he will always be a lifelong friend of Cardiff City. We hope that this sentiment will shine through accordingly and look forward to welcoming him at our ground as a guest of honour in the near future.
Subject to resolution of the Langston issue, work will also continue in earnest to improve the balance sheet by driving new revenue streams, attracting new investment and converting existing debt to equity. At the same time, plans will proceed in respect of the proposed new training ground and facilities, whilst feasibility studies will continue in respect of the expansion of the stadium at the appropriate juncture. Our Investors have also fully reaffirmed their support to enable Malky Mackay to strengthen his squad for the season ahead in line with the viable and prudent budgets agreed with him.
As a club, we feel that this is a historic moment in our history and whilst some of the plans are radical, this course of action will give us the security and long term backing to enable us to look forward to the future with confidence and excitement. We will all work together to implement this strategy to deliver the ultimate goal of seeing our team compete as a long term fixture in the Premier League.
The prospect of Cardiff City Football Club eventually operating on a debt free basis and with further investment to improve all aspects of our club is a turning point in its history and a moment we have all been waiting for. As a result of the investment to be made, all associated with Cardiff City Football Club can look to the future with renewed vigour and be proud to represent the capital city of Wales.