Cardiff City have been relegated to the Championship after just one season in the Premier League.
A 3 - 0 defeat at St James Park today coupled with Sunderland winning at Manchester Utd means Cardiff are down and Fulham join them after a 4 - 1 defeat at Stoke.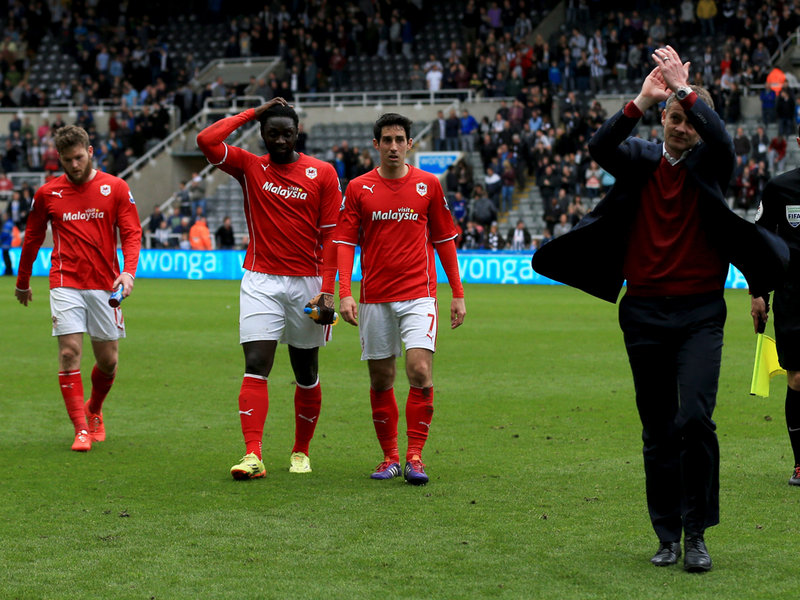 So another heavy defeat, this time to a side that had lost their last six games in a row. This after a 4 - 0 defeat at Sunderland last week, a team that in ther last four games have drawn at Man City and won at Chelsea and Manchester Utd as well as beating Cardiff.
Sunderland have shown Cardiff just how to battle together and fight for each other and for their fans.
Shola Ameobi headed Newcastle into a first half lead before late goals from Loic Remy and Steven Taylor completed a home win for Newcastle. The result looks more comfortable than it was for Newcastle. Cardiff had chances but once again failed to take them.
So it's back to the Championship after a disaster of a season. Yes there were some highs. Beating Manchester City and Swansea, taking a point off Manchester Utd and managing a couple of away wins but overall the club has been a laughing stock off the field and on it the team has not been good enough.
Under Malky Mackay the side were not pretty but they were not in the bottom three. Since Ole Gunnar Solskjaer took over the team has been all over the place. Just once Solskjaer kept an unchanged side, he brought players in and out of the squad at random and appeared to make his squad selections by pulling names out of a hat.
The season was derailed by Vincent Tan and his handling of the sacking of Malky Mackay. Tan was ridiculed worldwide and rightly so. Mackay's treatment was appalling and Tan showed just how out of his depth as a football club owner he really is. The way he has made unpopular and ultimately very poor decisions proves he knew little about the business he is running.
A season that should have been the best in Cardiff's history has turned out to be the most disappointing. Relegation happens but for the majority of the support at Cardiff it's the first time they will have experienced it. The last time the club dropped a division was in 2000 from League 1 to League 2. Since then Cardiff City have built from a small time club with crowds of a few thousand to a Premier League side with attendances over 28,000. The stadium is being expanded at the moment to a 33,000 capacity but this will now be far too big as season ticket sales will be hit by the relegation.
Once Mackay had left in December and Solskjaer came in the signings made by the Norweigian have been a total let down. Players that have left have flourished. None more that Peter Oedemwingie. A disaster at Cardiff, a hero at his new club Stoke.
Solskjaer brought in Fabio and Wilfried Zaha, they showed some nice touches but ultimately disappointed.
Three Norweigians signed in January and they have barely featured and apart from Mats Daehli appear to have been a waste of money.
The biggest let down has been Kenwyne Jones. A goal on his debut and then nothing. He's proved a better defender that attacker as he is pretty good at heading away corners. At the other end he has been dreadful.
Since January Solskjaer led his sides to the following shambolic results.
West Ham 0 - 2
Hull 0 - 4
Swansea 0 - 3
Crystal Palace 0 - 3
Sunderland 0 - 4
Newcastle 0 - 3
That's a record of 19 goals against and no goals for in 6 key games that should have shaped Cardiff's survival.
West Ham came to Cardiff City Stadium in total disarray but strolled away with three points. The South Wales derby at The Liberty was conceded by Cardiff in a lacklustre effort. Losing heavily to the other promoted sides showed just how poor Cardiff had become. And in the last seven days, when two wins would have possibly kept Cardiff up they lost both matches conceding seven goals in the process.
There is no way Malky Mackay's team would have crumbled in that way.
It's going to be a very interesting summer.
Will Tan try to sell up and leave? - Hopefully
Will he finally realise that he is working against the fan base rather than with it - I doubt it.
Relegation should hurt. For me this time it doesn't. It upsets me that I am not hurting. Vincent Tan has taken the passion out of me for this football club. The wins don't feel so good. The defeats don't feel so bad. That's wrong.
Please can we have our club back.