I suppose the best thing I can say about Cardiff City's 2-1 defeat to Fulham at a less than 20 per cent full Cardiff City Stadium yesterday in the Third Round of the FA Cup was that it was not quite as pathetic a game as the last two matches we played in the competition when Reading and Shrewsbury came here and won while hardly breaking into a sweat against a team and support that could best be described by adding a letter "a" at the start of a word I used three lines ago!
In saying that, the reason why yesterday was slightly better than those two earlier matches was entirely down to our opponents who provided all of what quality was seen – Fulham moved the ball around neatly and purposefully in a way which asked serious questions as to the ability of the very highly paid players in our team, some of whom have cost us millions in transfer fees.
The difference between the sides was embarrassing at times. Every outfield Fulham player was comfortable with the ball at their feet, whereas our attempts to string any sort of passing football together soon petered out after a few seconds, due to us being unable to perform what should be basics, for players at this level at least, such as controlling the ball with one touch and getting the right weight on what should have been a simple pass.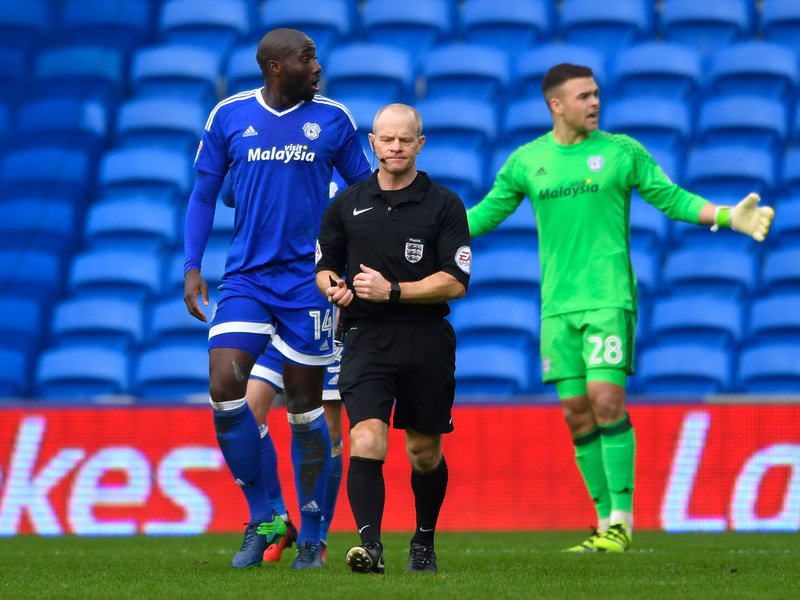 The only visiting player who struggled when using their feet was goalkeeper Marcus Bettinelli, who is one of several players that have been linked to us in recent weeks. This is a deal that I would place in the "highly unlikely" category, but, if it did come off and Bettinelli's kicking is really as erratic as it looked at times yesterday, he can rest assured that he won't feel as self concious about his lack of ability in that aspect of the game as he must do at times at Fulham, because there will be plenty of his new team mates who will be able to show him that he will be far from alone when it comes to displaying the various ways a football can be mistreated!
I think I've speculated on here before as to whether the somewhat basic, long ball approach that has been the preferred method of playing the game for two of our last three managers could be put down to it being the "trademark" style of Messrs Slade and Warnock or whether they look at our squad and think it is not capable of playing in a more "cultured" way?
My honest answer is that I think both managers would still want their team to play a set piece orientated, physical game where shorter passing out from the back is frowned upon even if they had a group of players with better footballing ability than the ones they work/worked with. However, our wholly unsuccessful attempts to play in a manner favoured by sides like Fulham under Paul Trollope does rather point to Messrs Slade and Warnock being hamstrung if the possibility of getting their side to play in a more expansive, possession based way ever entered their minds.
I don't like the passing for the sake of passing approach of some clubs (I thought that one of the reasons why Fulham didn't win by a margin that their superiority merited yesterday was that they were a little Arsenal like at times as the desire to score a "perfect" goal took over, when a more simple approach would probably have paid dividends) and I've made it clear that Warnock's approach to playing the game has led to some far more entertaining home matches lately than we had become used to, so I'm not going to be too critical of the way he gets the side to play here.
After all, it was only six days ago that I was declaring that Warnock was maybe in the process of giving us our old Cardiff City back after a 1-0 win over Villa that was one of the best games I've watched and atmospheres I've experienced at a home game in ages, so it would be hypocritical of me if I was to slaughter the way he is getting us to play now.
However, while Monday was all about "up and at em", yesterday was much more stand back and let them play. Just as it was under Russell Slade, the game plan favoured by Neil Warnock has no saving graces whatsoever when it is carried out as poorly as it was yesterday, there are no passages of play in defeat which allow you to think "we may have lost, but at least we kept on trying to play football and there were parts of our play that I enjoyed" – when a Slade/Warnock Cardiff team played/plays badly, there are no such consolations to grasp, it is just artless thud and blunder as we hope to force free kicks, corners and throw ins from which we may be able to find a chance to have the goal attempt that we are never going to create from open play.
It got so bad yesterday that, with Aron Gunnarsson rested and new signing Greg Halford substituted, we were reduced to Sean Morrison taking the long throws presumably in the hope that, if he made them slow and loopy enough, he could get into the middle and get his head on the ball as it dropped!
I accept that there are sides out there who do perfectly well thank you when only having possession of the ball for about forty per cent of the time when they play and there has been at least one example of a team winning with as low as twenty per cent possession (Burnley v Liverpool in August) this season. However, we have consistently been down in the early thirties under Warnock when it comes to possession and against Sheffield Wednesday, Huddersfield and again yesterday it was as low as twenty nine per cent - I find it hard to believe that any side can enjoy concerted success when they see as little of the ball as that.
The BBC's stats say that we had eight goal attempts yesterday with four of them on target, but, apart from our goal, which owed everything to a deflection off the wall that left Bettinelli completely wrong footed and a Joe Ralls shot a few minutes later that the keeper did well to turn aside, we never looked like scoring. So, we reverted to what has been our norm at home far too often this season whereby those in the Canton Stand spend forty five minutes watching us attacking their end of the ground without seeing anything happening to get them thinking that a City goal might be coming – it's incredible how many times we have had offered absolutely nothing as an attacking force in the second half of home matches this season.
Judging by his post game comments, Neil Warnock found it hard to get too excited about yesterday's match. Our manager used the line that he "struggled to get out of bed for the game" and, while that was partly a dig aimed at the early kick off time which no doubt contributed to an attendance figure of just over 5,000, it also said much about the way the club, on the footballing side at least, treated the game.
This was the first game we have played under Warnock where there were not league points at stake and so, although there were not as many changes made as there were by other teams over the weekend, we still went into the game with nearly half of the team which started against Villa missing.
With Warnock admitting that most, if not all, of the missing five would have been out there playing if it had been a Championship game, there is little doubt that this veteran is treating cup games in exactly the same manner as most of his juniors do.
Yes, Warnock said it was sad to see the oldest cup competition in the world reduced to what it is now, but the truth is that he was just behaving like a modern day manager does in a game where you start to think that trying to make sure you don't lose your television money has become more important than the game itself.
Why should the FA Cup be treated like that and when did it become the norm at Cardiff City for any cup game to be treated as an irritant? When was it that the FA and League Cups turned into tournaments where you get the strong impression that those on the playing side of things at the club would prefer to make as early an exit from as possible?
It was so ironic to read a thread on a City messageboard on Friday celebrating the fifteenth anniversary of the epic win over Leeds United when Scott Young's late goal saw us beat the team that was at the top of the Premier League at the time. Many of the contributors to the thread rated that game as the best they'd ever seen while supporting the club and I can understand why they would do so, because it was a brilliant occasion which not even the post match controversy which centred on what was a festering sore at the club at the time, crowd misbehaviour, could diminish.
The fact is though that three quarters, at the very least, of those who were there against Leeds didn't make it to yesterday's game. Now, there are all sorts of reasons why some of that fifteen thousand or so couldn't make it to the Fulham match (being dead being the best of them!), but somewhere along the line, it's got to the stage where those who went to yesterday's game are almost viewed by other supporters as being a bit eccentric for going along to watch their team play on a Sunday morning.
It's probably true to say that the FA Cup began it's long, lingering demise on the day that the first Premier League television deal was signed, but, at Cardiff, although Dave Jones was often prone to making a few alterations, I think I'd trace it back to 7 January 2012.
This was when Malky Mackay, having already picked "experimental" City sides for the early rounds of our march to Wembley for the Final of the League Cup that season, made ten changes from the team that had played so well in beating Reading in that match I referred to in my piece about the Villa game, only five days earlier for a Third Round FA Cup tie at West Brom.
Mackay did have the excuse of a First Leg Semi Final a few days later coming up to justify the weak side he sent out at the Hawthorns, but his cup selections always bore little resemblance to the one that had played in the previous league games once we had played Liverpool in the League Cup Final. So it was that the precedent whereby the cups were little more than nuisances or distractions as far as Cardiff City were concerned was set.
There are still people around who say that the Third Round of the FA Cup represents their favourite weekend of any season, but, surely, if they are being honest with themselves, what they really mean is that it used to? That's how it was for me, but that all changed some time before that great day against Leeds restored my faith, for a short while anyway.
Yesterday, I watched three matches, one in the flesh and then Liverpool v Plymouth and Spurs v Villa on the telly. The only "magic of the FA Cup" I saw in them came from the supporters of the Devon team who were, understandably, ecstatic to see their side draw at Anfield after having been forced to start their journey north in the early hours of the morning because of another kick off time for television that paid no heed whatsoever to the thoughts of travelling fans.
Even then, Plymouth owed their "cup glory" to a very negative "park the bus" philosophy which blunted a second string Liverpool attack – it was hard to blame them for this approach even though it made for very boring viewing.
So, three Cup ties to watch, with, maybe five minutes of genuine quality on offer between them and the stat which says the most about the nature of these games was the one which showed that there was not a single yellow card in the trio of matches - how can there be when there was hardly a tackle made in any of them?
If one of the game's true motivators admits that he had been unable to motivate himself for an FA Cup game, how could Neil Warnock be expected to motivate his players? To be honest, I was never expecting to see the sort of burning commitment which did for Villa, but what I was hopeful of, especially after a fairly bright first fifteen minutes during which both sides scored, was a decent game of football where the lack of points at stake might have encouraged the "stars" on view to be a bit more expressive.
Instead, what I saw, from the ones in blue at least, was a shortage of basic techniques and a lack of desire from some of those given a rare first team chance – only Brian Murphy and Sol Bamba out of the City side had any cause to be reasonably happy with their performances in my opinion.
In saying that, Mark Harris will remember the day forever as he became the first locally produced youngster in far too long to make a senior debut for the team. Harris played the last twenty five minutes or so and found it hard to make an impact in a team where so many were playing so poorly, but there was one nice little run followed by one of the few perceptive passes played by a City man in the game that offered a clue as to what he could offer.
Harris came on for Greg Halford who showed the versatility which Neil Warnock said was the main reason for his signing from Rotherham for a "nominal" fee late last week by starting as the middle member of a back three, before soon shifting to a holding midfield role. I suspect that Halford was also brought here to perform the sort of eyes and ears in the dressing role that the likes of Paddy Kenny, Sean Derry and Clint Hill have done in the past for our manager, but there was little in his play yesterday which suggested he is an improvement on what we have already.
When the Halford signing was announced, I was reminded of an interview I'd read at the time of Neil Warnock's appointment here where a QPR fan said we should expect "underwhelming" signings that have a habit of working, Based on yesterday, it looks like the first bit was right and the second part wrong as far as Halford is concerned, but any incoming player deserves more than one game in which to be judged by the supporters of his new team and so I will give him more time and trust that the QPR supporter was right on both counts.
There was another new arrival announced in the week as Ibrahim Meite, who had been on trial at the club, signed for us on a contract until July 2018. The striker cum winger was cup tied having been part of the Harrow Borough side that faced Northampton in the First Round of the competition in November, but it is understand that, for now, he will be a member of the Development team squad (who play at Charlton later today) rather than a candidate for the first team.
Finally, there was yet another of those "contract cancelled by mutual consent" departures, for which City are becoming notorious lately, on Friday when it was announced that Lex Immers had left us with it being reported that he has already signed for Club Brugge in Belgium.
In this instance though, I find it hard to be too critical of the club because, following his successful loan spell over the final three months of last season when Immers established himself as possibly the stand out player in a team doing far better in the Championship than the current one is, there were hardly any dissenting voices (I definitely wasn't one of them) when he was signed on a permanent deal in May. However, we never got to see the same player this season and it was hard to avoid the feeling that he had played his last game in a City shirt after his wholly ineffective forty five minute showing after being given a start against Wolves. Even so, although I have no real evidence to back this up, my suspicion is that off field matters were at the heart of his return to mainland Europe.