A three-year broadcasting deal in place from the start of the season saw each Premier League club's revenue increase.
United earned £89.1m in 2013-14, but the £60.8m they picked up as champions 12 months prior was beaten by Cardiff, who received £62.1m.
Champions Manchester City earned £96.6m behind top-earners Liverpool (£97.5m).
Liverpool picked up 1.57 times more than bottom earners Cardiff but the ratio is the smallest in any of Europe's top leagues - Premier League television revenue is distributed in a more competitive manner than in other major leagues on the continent.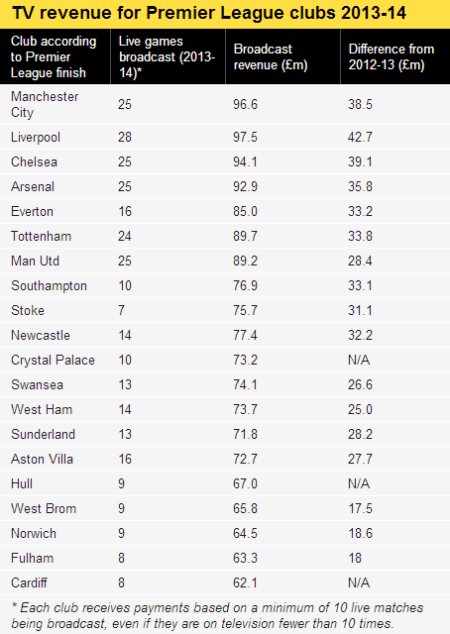 The Reds were televised 28 times in 2013-14 - prompting a £42.7m rise in year-on-year television revenue.
In all, Premier League clubs were paid £1.6bn from broadcasting revenue for the season, an increase from £972m in the 2012-13 campaign.
Half of all domestic broadcast revenue is split evenly among the league's clubs, with a quarter of the money paid according to a team's league position, and the final 25% depending on how often a team is televised.
Overseas income amounted to a payment of £26.3m to each club.
Cardiff were the league's lowest earners, but their earnings emphasise the scale of the Premier League's current £3.018bn deal over three seasons.
The Welsh club earned £22.4m more than Queens Park Rangers did when they occupied bottom spot 12 months earlier.
Chelsea witnessed a £39.1m rise in year-on-year TV revenue to £94.1m, while Arsenal received £92.9m.