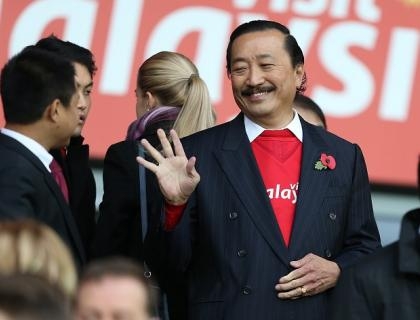 Steven Caulker grabbed the only goal of the game at Cardiff City Stadium to provide some good news for Bluebirds fans after recent events which have seen manager Malky Mackay''s head of recruitment Iain Moody replaced by 23-year-old Kazakh Alisher Apsalyamov, putting the Scot's position under scrutiny.
Tan's decision to change the club's colours from their traditional blue to red also remains unpopular with some supporters, and that issue was the central point of the protest, held in the Canton Stand following the final whistle, with one banner reading "Blue then - Blue now - Blue forever", while another read "Tan out".
Before the game, a message on Facebook from Bluebirds Unite, a fans' group opposed to the rebrand, read: "After the final whistle, like-minded fans are encouraged to walk to the Canton Stand and stay there to chant pro-blue/anti-Tan chants.
"We need to make ourselves known to Vincent Tan."
Source: PA
Source: PA