Photo slideshow from Jon Candy
http://www.flickr.com/photos/joncandy/sets/72157632833861700/show/
Once or twice a season the Academy Under 18 side gets the chance to lord it on the big stage which is Cardiff City Stadium instead of slumming it on what can often resemble windy wastelands at Leckwith Stadium or Treforest.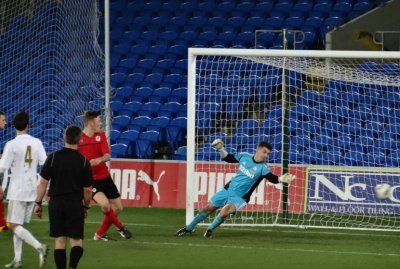 Often in the past, our kids have not coped well with this step up, but they certainly did last night as they almost managed to raise the body temperatures of the watching spectators (the nearly full car park outside the main entrance suggested it might have reached four figures) to about 50 degrees Fahrenheit by coming up with was was probably the most noteworthy result for our youth team since they beat Manchester United 5-1 in 2007. I suppose there's been a score of Cardiff 6 Swansea 1 at some level in the long history of matches between the two South Wales rivals before, but it's certainly never happened at senior level and last night's win came as a complete shock because the Under 18′s have hardly been racking up the wins lately (there had been only one of them since the end of October).
Yet, the final score didn't flatter them at all – in fact, you got the impression that they eased off somewhat after racing into a 5-0 lead after 47 minutes. The game started with a bitterly cold wind blowing through the stadium (unusual for the new ground which is designed in a way which normally reduces the impact of the strongest of gales), but it never became too much of a factor because both sides tried, by and large, to keep the ball on the deck. In the first few minutes Swansea did a pretty passable impression of their first team as they dominated possession, but that spell was broken, and never returned, once visiting goalkeeper Oliver Davies' weak kick out landed at the feet of Theo Wharton some thirty five yards out and he struck an immediate shot which forced Davies into a diving save. City almost scored from the resultant corner, but they weren't to be denied for long and took the lead after ten minutes when my Man of the Match Tommy O'Sullivan cleverly worked himself some space and placed a fine left foot shot from the edge of the penalty area high up into the net beyond Davies.
Three minutes later the lead was doubled – new signing Rhys Healey had already shown that he possessed a decent long throw and his second one saw Josh Yorwerth, I think it was, glance a header home as Davies rued his decision to come off his line to deal with things. It wasn't all one way traffic, a fluent move down their left by Swansea ended with a close range shot which beat David Richards in the Cardiff goal, but flew inches wide and about ten minutes later, captain Kane Owen was grateful to centreback Curtis Watkins for a great block of a goalbound shot after he had lost possession by the corner flag.
Four goals behind at the interval, Swansea might have entertained hopes of "winning" the second half, but even that consolation looked beyond them when Anthony Bell made it 5-0 with a crisp left foot shot from twenty yards after Healey had been dispossessed in the act of shooting. As mentioned earlier, the match tended to meander along after this – Healey probably should have scored when Bell put him through, but Davies made his best save of the night to foil him and Swansea cashed in on what appeared to be some confusion in the City ranks as to who was supposed to be playing where after Yorwerth and Wharton were replaced by Ben Watkins and Thomas James around the hour mark, when centre forward Alex Samuel scored from point blank range following a corner.
Cramp became a factor for some City players as the effects of playing on such a big pitch for, perhaps, the first time in their lives were seen – Bell was replaced by Jay Bowen and right winger Dane Griffiths was switched to centre forward as he found the going tough. However, Healey, who had moved to the right to accommodate this change, then broke forward as the game went into it's last ten minutes and put over a fine low cross which Griffiths swept home to complete the scoring. I thought City's dominance stemmed from their central midfield trio – Bradley Williams was strong, hard working and technically good, but it was Wharton and O'Sullivan, with their ability to beat their opponent in confined spaces and pass the ball effectively and accurately, who really took the eye. Both of these players are now used as much by the Under 21 side as they are by the Under 18′s and, at times, O'Sullivan in particular has found it hard to cope against bigger and stronger opponents, but they have shown before that they were both good players at this level and the benefits of performing regularly at the next step up were clear here – they were a class apart.
Finally, a word on our signing from Connahs Quay, Rhys Healey – based on this one showing, I think his former manager was being optimistic when he said he would be challenging for a first team place within a year of signing for us, but his clever movement, surprising strength for his size, neat control and lay off's and appreciation of what was happening around him say he's got a chance of making that step up one day.