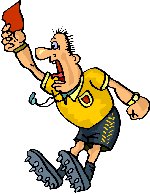 The Premier League referee has not sent a single player off this season after taking charge of 28 games.
In contrast Leeds Utd have had four players sent off in their last five games.
Will Leeds clean up their act or will Halsey have to dismiss a player for the first time since Liverpool player Lucas was sent off in November 2010.
Halsey has issued 64 yellow cards so far this season. His only Cardiff game was the 2 - 1 defeat at Leicester.
He goes back a long way. Records show he took charge of Cardiff 0 - 2 Millwall in a Football League Trophy match in 1997 watched by 1291 fans, soon after in 1998 he was the referee when City beat Doncaster 7 - 1 in the League in front of 2931 supporters.
His assistants tomorrow are Andy Newbold and Bobby Pollock with the Fourth Official Keith Stroud.