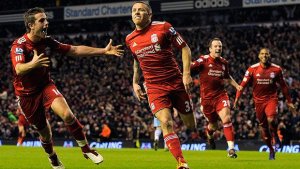 The crucial goal that earned Liverpool the draw was scored by Craig Bellamy (right).
Now the man who's name is adorned on the back of thousands of Cardiff shirts (inc mine, I won't wear it at 5 aside now) will line up against the Bluebirds at Wembley.
Man City twice led in the second leg but were pegged back by a Steven Gerrad penalty and then Bellamy's strike in the second half.
Gerrad himself could face his cousin Anthony who played for Cardiff in the other semi final against Palace.
It's also a meeting of two Scottish managers with Malky Mackay the young buck against the legend that is Kenny Dalglish.
The Carling Cup final takes place on Sunday February 26th, ko 4:00pm.
It's live on the BBC and on Sky with the added bonus of being in 3D.