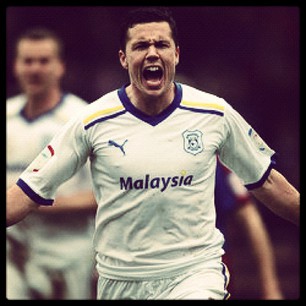 "We are 10 games unbeaten going into the play-offs so there is real momentum there," says Malky Mackay.
"I have been in the semi-final situation as a player with West Ham, Norwich and Watford. It is about staying calm and having a game plan.
"We need a timeline of how organised you are going into the semi-final and what you do in that time leading up to it.
"This group of players have already been through this sort of thing this season, with the Carling Cup semi-final and final, where there was preparation and planning needed. That will benefit us."
*Picture shows Don Cowie celebrating the winning goal
Palace ended the season with a nine-game winless run but manager Dougie Freedman said: "I had a plan at the beginning of the season and the plan was to take the club up to the next level in terms of not fighting relegation battles.
"We did that 10 games ago and that gave me the opportunity to blood one or two young players and got more experience for them.
"In the middle of that we went on a fantastic cup run which gave a lot of exposure to the club for the right reasons."