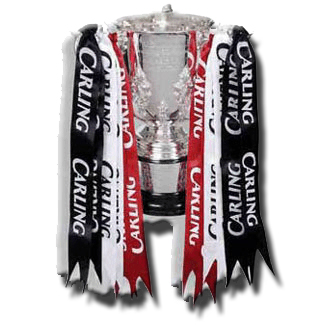 Craig Bellamy (after scoring the goal that took Liverpool to Wembley)
"The omens were looking good after I saw Cardiff go through," Bellamy said. "I was delighted for them and this couldn't be a better final for me. Cardiff means so much to me. And to score the winning goal against my old side (Man City) to set up this final makes it a perfect night.
"I have never played at Wembley either, so it will mean so much for me to go there and try to win a trophy. But now we're playing a Welsh side at Wembley. It's funny how football turns out."
Steven Gerrard
"Arsenal slipped up against Birmingham last year when they were massive favourites.
"I'm sure we'll be massive favourites but we've got to show Cardiff respect and put in the kind of performance we put in [on Wednesday].
"It's going to be the game of their lives. They're going to be right up for it. They are going to play at a level they've not played at before so it's important that we don't drop our standards.
"We've got to raise our game and if we do, I'm sure we can lift the cup."
Mark Hudson
"This is going to be an amazing cup final for the club and a fantastic day for the players, staff and fans," he told the club's official website.

"It's a big achievement and we're all over the moon. I'm absolutely buzzing that we've got there.

"We would have been happy playing Liverpool or Manchester City, they're both big clubs. As it happens we've got Liverpool and we're going to give it our all. It's going to be a great game."
Chan Tien Ghee (TG)
"During the penalties, I nearly had a heart-attack. It was that nerve-wrecking. But I am ecstatic for the players and fans. That performance showed what the club represents, we fought all through the game to the very end.
"It's a final, and in football anything can happen. We're at the door, the door is open and we have to do our best.

"We'll savour the run to the final for a moment. We take each match as it comes and we will go to Wembley humbly and fight to the final whistle.

"Who knows, we might just surprise Kenny Dalglish."