http://mauveandyellowarmy.net/
Well, that was all very breathless! Cardiff City put out a side which only included two of the team that started Sunday's South Wales derby, but looked strong enough to overcome League Two strugglers Carlisle United in their Fa Cup Third Round replay at Brunton Park tonight with the hope being I'm sure that they could do a good, professional job and come through with few alarms.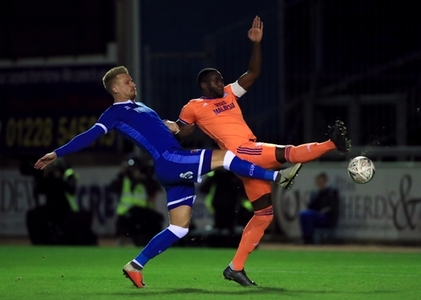 That's how the script tends to work in games like these – the Cup "minnows", having had a big chance in the first game, have to give best to their more classy opponents. Carlisle had not read the script however, as, every time the game threatened to go that way, they would come back at City to keep what sounded like an absorbing encounter in the melting pot.
Listening to the commentary from Radio Cumbria in the first half, they selected wingers Nathan Thomas and Harry McKirdy as players good enough to operatea higher level than League Two as the Carlisle men most likely to trouble City and this is exactly how things worked out with Thomas to the fore before the interval and McKirdy the main danger after it.
In the end, City edged to an away Fourth Round tie at Reading in ten days time by a 4-3 scoreline. It's tough to form firm conclusions based on a radio commentary, but it did sound to me as if Carlisle could consider themselves a little unlucky in the end.
If one man's performance encapsulated how City had played, I would say it it had to be Aden Flint who scored twice, once from a Will Vaulks long throw and once from a Joe Ralls corner. Carlisle found it very difficult to contain Flint at set pieces and he came close to notching a hat trick goal on two or three occasions.
Unfortunately, the giant centreback was not so impressive when it came to defending – Radio Wales pundit Andy Legg was of the view that Flint, like many of his team mates, struggled with his defensive heading, possibly due to the strong and cold blustery wind that City had to face in the first half
Whatever the reason, City found themselves in early trouble as former Sheffield United winger Thomas drove a shot in from around twenty yards after just seven minutes. Having given Carlisle a couple of goals start at Cardiff City Stadium, City seemed determined to continue such generosity and Alex Smithies was forced into urgent action to keep the deficit down to one.
Flint's headed equaliser from Vaulks' throw nipped that in the bud though and the second quarter of the match saw City looking the more dangerous side with their physical dominance at set pieces leading to opportunities to take the lead for the first time.
As it was, a fine right footed volleyed strike from the edge of the penalty area which, having got his hand to the ball, Adam Collin in the home goal may feel he should kept out by Josh Murphy sent City into half time in front for the first time in the tie. However, they did so having had a strong warning that Carlisle had a player in their ranks who had the talent to transform the game.
Former Aston Villa and Newport winger Harry McKirdy had scored the Cumbrian's second goal in the first match between the sides and he came close to doing it again when his shot hit the junction of post and crossbar.
McKirdy scored a second, rather scuffed, goal to keep his side alive after Flint had put City 3-1 up with the half second half only a couple of minutes over and, despite Danny Ward creating a chance for himself on fifty seven minutes that he never looked like missing, nailing down the win refused to be a straightforward matter for them..
Still McKirdy and Carlisle wouldn't accept defeat and a quickly taken free kick after some City players stopped wanting to argue with the referee about his decision to penalize their team created a situation whereby the winger was able to fire in a superb goal from the corner of the penalty area.
There was still a little over twenty five minutes left when McKirdy scored the game's seventh goal, but there were to be no more despite the fact that both sides were now really "going for it" as play swung from end to end.
City bought Joe Bennett and Marlon Pack on to help them through a fraught last few minutes and, finally, they had seen off dogged opponents who played as if they were glad of a chance to forget about their struggle to stay in the Football League for a while.
City hardly made it into Round Four with a swagger, but, given our Cup record in recent times, the phrase "beggars can't be choosers" springs to mind – will what happened tonight be enough to see any of tonight's starting eleven being given a place at Birmingham on Saturday? Smithies should be in there and I think Joe Ralls, returning from his broken hand injury, might well be.
Finally, City's Under 18 team bowed out of the FA Youth Cup last night, beaten 1-0 on a foul night at AFC Bournemouth. The home side played the last ten minutes with ten men and City had an awful lot of possession, but, truthfully, did not fashion many chances – Isaac Davies was unable to capitalise on an opportunity to lob the home keeper late on and then, with the whistle just about to blow for full time, a clearance by the Bournemouth goalkeeper hit sub James Crole and seemed to be rolling over the line, but his blushes were saved as he sprinted back to fall on the ball at the last moment – that was as close as City came to an equalizer on a night when they were hamstrung by a combination of the conditions, a dogged home rearguard and their own lack of creativity and nous..