https://mauveandyellowarmy.net
I realise that the tone of these post game pieces have been almost exclusively negative this season, writes Paul Evans, and, believe me, I would far prefer to be able to adopt a more positive tone, but I'm afraid, I've seen so little to get upbeat about. The difference in results in our first five league games compared to what we did the last time we were in the Championship is marked, but more concerning for me is the difference in level of performance.
To be fair, those first five matches in 17/18 did represent the high water mark for that season when it came to performance levels and, by the turn of the year, our points were tending to be ground out rather than won with the swagger seen in August. Nevertheless, there was a belief, cussedness and unity in the squad which still marked out most of our wins as warranted ones.
There has been a lot of discussion this season about our style of play with what has been called Warnockball by some coming in for a lot of criticism. I have not been backward in coming forward in adding my name to the list of critics, but my concern and frustration at the start we've made is not solely down to style, or lack of to be more accurate, there has also been a feeling that a Neil Warnock side will never get anywhere if it doesn't have those mental qualities I mentioned in the paragraph above.
Well, I thought in many ways tonight's 1-1 draw with Fulham at Cardiff City Stadium was our most encouraging performance of the season, but I should emphasise that this is only qualified praise – City's performance was still below the level of most of what we saw in 17/18.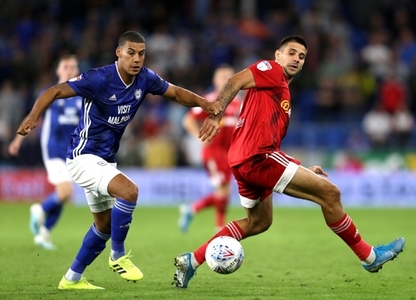 However, in terms of defensive discipline and organisation and those mental qualities, I feel we saw an improvement on previous games.
I'll do my impression of a stuck record again and say that I don't like the way we play, but I realise that our 70 year old manager is not going to stop following the script that has won him so many promotions at this stage of his career. We are going to keep on playing Warnockball while he's still at the club and the fact has to be accepted that any drastic change of approach would probably be more likely to fail than succeed given the rather one dimensional nature of our squad.
So, within the sort of parameters that I'll come to later, I'll admit that we played well in some regards tonight.
First of all, it's easy to look at our possession stats for every match and conclude that our two central midfielders are being outplayed week after week, but I feel tonight's match revealed why that belief is not entirely fair.
Whoever plays in those deeper midfield roles at Cardiff shoulder a lot of defensive responsibilities which, inevitably, restrict their capacity to get involved in the more constructive and creative aspects of any match and I thought both Leandro Bacuna and Joe Ralls did well in those facets of the game. In fact, I would say that was Bacuna's best match so far for City and that Ralls' displays so far make him the early leader, by some distance, in any player of the season speculation.
Behind them, I would say that while none of the back four were outstanding (Joe Bennett is still some way short of his best in my opinion), they looked more of a unit and as a result they seemed that much more solid with the one disappointment being how easily they were opened up for Fulham's equaliser.
In goal, Alex Smithies looks to be benefiting from his run of matches and he did well on a few occasions in the first half especially, – the one down side being that I didn't feel his kicking was as reliable as it usually is.
Even with the four attackers in the side, there was a willingness to put in a defensive shift with the sight of Lee Tomlin busting a gut to get back to help out defensively shortly before he was taken off perfectly illustrating the team's unity of purpose – Robert Galtzel also was not averse to dropping back to help.
In saying all of that, I think Neil Warnock went over the top somewhat when he said in his post match press conference that it was an exciting game. Given the total contrast in approach between the two teams, I could perhaps see some justification for interesting, but I reckon a phrase I heard quite often in my youth but nowhere near as much now might be most appropriate.
"Game for the connoisseur" usually was used when the reporter wanted to convey some sort of tactical battle, but, to my young eyes and ears, it was, to all intents and purposes, a fancy way of describing a dull encounter – I'd be happy to go with that interpretation of game for the connoisseur if it were applied to tonight's game.
From a Fulham perspective, they were far more solid than they were in their 4-2 loss here last season – this time the midfield was more defensively aware and they were more prepared to press City in the area just in front of our back four.
However, although they dominated possession for large periods of the game, they weren't equal to the sum of their parts on the attacking side with both of their wingers and Tom Cairney pretty quiet and Aleksander Mitrovic often cutting something of an isolated figure.Of course, City's improved defensive showing should be given some credit for this, but, apart from their 4-0 win over Millwall, Fulham have hardly been banging in the goals so far and on this showing, you could see why.
A decent Fulham fan who posts on the messageboard deserves credit because he predicted a 1-1 draw with his team getting something like 79% per cent for his team (they got 69% according to the BBC, but that figure would have included City's late fightback in the possession stakes which was instigated by the issuing of a red card). However, he also said that much of that possession would be deep in their own half with their defenders passing the ball back and forth to each other.
Fulham visited Cardiff City Stadium three times in 2017 and in each of them played a possession based game which ensured they had more of the ball than us, but they also passed the ball with an attacking purpose that often wasn't there last night – it was more passing for passing's sake and, on this evidence, all three relegated sides are having their problems adjusting to life back in the Championship.
Nevertheless, it seemed to me that for the first three quarters of the game, there was only one side who were actively trying to win it.
As it so often is these days, City had the mentality and approach of a League Two side taking on Manchester City (that's being hard on Newport County mind who had more of a go at Pep's superstars than we did at Fulham tonight )with possession, territory and the onus to attack normally associated with a home team all conceded. Probably due to Fulham's record 84.5% possession in that Millwall match I mentioned earlier, tonight was a more extreme example of this than you normally get from Neil Warnock's team, but it is there to some degree against every side we play.
"Cowardice" is probably putting it too strongly, but we are set up to capitalise on our opponents over committing to attack and so the obvious question arises, what would happen if every team we played took the field with the same attitude as we do?
In saying that, Neil Warnock would I'm sure point to the goal we scored three minutes before half time as all the justification he needs for the methods he uses. It was a classic counter attacking goal with the assist being provided by the unlikely figure of Aden Flint who intercepted a loose pass about ten yards inside his own half, drove forward for a short while and then played an inch perfect through pass which left Josh Murphy with a clear run in on goal.
My first reaction when Murphy received the ball was to say "poor first touch" (actually, I should have said poor second touch) because it had taken him away from the goal with the angle he was faced with getting smaller. With an unmarked Glatzel looking at a tap in for his first City goal, Murphy instead opted to shoot, but, although his left footed effort was well struck, it seemed to me that it would not have gone in without what commentators would describe these days as a weak right hand from Marcus Bettinelli in the Fulham goal.
City undoubtedly took great heart from scoring first. I say this because they had created next to nothing to concern the visitors until the goal, but within seconds, Lee Tomlin influenced the match in the way most City fans hope him to for the only time in the match when he slipped Glatzel in with a lovely pass but the German striker, who again looked a tidy footballer when the ball is played into his feet, was denied by much better goalkeeping from Bettinelli.
A minute later and Fulham were level when Mitrovic tapped in a Cavaleiro cross from no more than three yards out – people talk about good movement off the ball to find space by strikers and there was a degree of that in the way Mitrovic got clear of Sean Morrison who appeared to be distracted by what looked quite a heavy fall a few seconds before the goal was scored, but it also has to be poor defending surely when someone like Mitrovic is left in such glorious isolation within the six yard box.
For the opening stages of the second half, the game continued on its expected path with Fulham still enjoying something like 75% possession. Indeed, at the end of the third quarter of the match, the visitors were so dominating the football, without doing a great deal of note with it mind, that a second goal for them was beginning to seem inevitable.
City were able to lift the siege though and Joe Ralls was in the process of launching a counter attack when he was taken down by a Harry Arter foul. The former City loan man picked up the sort of booking that became commonplace for him at Cardiff and everyone assumed that would be the end of the matter, but when Morrison showed some nifty foot work to work himself some space out by the corner flag right in front of where I sit, he then made contact with Arter, but, in truth, barely touched him and the midfielder went down like he been shot a second or two later.
Fulham manager Scott Parker talked of a foul on Arter before his dive and he may well have a point, but the dive was so ridiculous and wrong that it had to be deemed worthy of a second yellow and, after consulting with his linesman, referee Robinson pulled out the red card as well.
We now come to the parameters which I mentioned what must seem hours ago to anyone still reading this. Although I'm sure they was an intention to try to win the game there with City, I think it's fair to say that their primary function was to stop Fulham scoring , but now with a one man advantage, they were the team that had to force the issue, they were the team who now looked the more likely winners.
With hindsight, it can be seen that our failure to capitalise on having a man advantage for a long period in two of our first three matches last season played a big part in our relegation. We didn't have the quality to put Newcastle under any great pressure in the first of them, but succeeded in doing so to Huddersfield only for poor finishing to let us down.
This time, it was the first of those two that foiled us, allied to a lack of composure. Too many times our football was too desperate, with a string of free kicks awarded against them denying City any sense of momentum.
Only when Ralls fired narrowly high and wide from twenty yards and Bennett's best moment of the match saw him deliver a lovely far post cross which Morrison took great care in heading back past Bettinelli (I changed my mind about three times as to whether it was going in or not!), but also narrowly wide of the far post did City threaten a goal in what had become the sort of game that the 17/18 side probably would have found a way of winning – for me, this was a step forward by City, but only a small one.