A short piece than normal this week as, apart from pre season matches continuing at various levels, there has been nothing of any real significance happening in the Cardiff City world over the past seven days.
https://mauveandyellowarmy.net/
Overnight, the first of the three matches of Cardiff's tour of North America was played as what was probably as strong a starting side as could be fielded by City at the moment took on San Antonio FC, who play in the USL Championship which is the second tier of the American domestic game.
City's two outfield new signings Will Vaulks and Curtis Nelson started alongside each other in midfield, while the front and back fours were the ones that played in the win at Old Trafford in the final match of last season and, as then, they had a win, albeit a much lower key one, to celebrate.
The only goal of a match played in searing heat came on fifty six minutes when Josh Murphy was fouled by the home keeper and he got up to score from the resultant penalty – Nathaniel Mendez-Laing who had converted the penalty we were given against Manchester United had already gone off by then.
One of those night time visits to the toilet for a pee which become more a part of your life the older you get meant that I was awake at around a quarter to three this morning, so took the opportunity to watch the last half an hour of the game.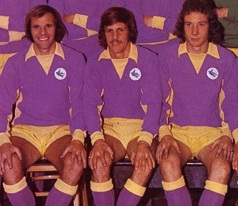 To be honest, there was very little worth reporting happening while I was watching. The match was into that stage so often seen in friendly matches of all types where a constant stream of substitutions means that there is no continuity to the game at all.
What I will say is that I saw virtually no worthwhile passing of the ball in the middle of the park by Cityl, but that can be excused to some extent by a couple of things. First, with Joe Ralls, presumably, not considered quite ready to be involved yet and Leandro Bacuna being given time off following international commitments (the same applies to Junior Hoilett), the presence of centreback Nelson in our midfield showed how light we were in that area of the pitch. Indeed, by the time I started watching, Loic Damour had come on to replace Vaulks and Nelson was soon brought off in favour of Aaron Bolger who was one of four youngsters, along with Cameron Coxe, Ciaron Brown and James Waite, who saw some game time.
Secondly, the pitch had a strip about twenty five yards wide running it's full length which looked pretty awful and would, surely, have made passing more difficult than normal.
Anyway, the first real action I saw was when some poor, unfortunate kid, christened Abraham Lincon fired a shot not too far over our bar (by this time Joe Day had replaced Neil Etheridge in goal for us). It turned out that Lincon was one of four players born in 2004 who were on the pitch for San Antonio, so, hardly surprisingly given the match was being played right in the middle of their season, the home team was probably some way short of the strongest one they could put out.
The closing minutes saw Danny Ward and Greg Cunningham foiled by decent saves, but the fact that all three players involved were yet more substitutes tends to illustrate the nature of the period of the match I watched.
Still, a win is a win after a couple of games which finished as 1-1 draws in recent days – or maybe one of them was a 2-1 win? The first of these was played last Monday against Forest Green Rovers , but, in saying that, I've not seen anything from Cardiff City sources yet to confirm the game had even taken place!
All of the info on the match I could find came from Forest Green's website. Apparently, it was a behind closed doors game played in Devon and City's starting line up included Etheridge, Bobby Decordova-Reid and Sean Morrison. Forest Green went in front from a penalty early in the second half and the scoring was completed by Gary Madine (who, along with Lee Tomlin, has not been granted a visa to enter the USA by that country's Government because of their criminal convictions for drink related offences) nodding in an equaliser with about twenty minutes left – in saying that mind, there's someone on the messageboard I use who swears blind that Madine scored again to secure a win for us!
There is unanimous agreement though that the match three days later between Larkhall Athletic, a Bath based side managed by former City man Phil Bater who play in the Southern League Division One (South), and our Under 23s did end up 1-1. Madine was again in the starting line up as were Tomlin and Alex Smithies, who it would appear has no future at Cardiff after being left out of the party for the American visit, as City's Development team began its pre season programme.
Tomlin broke the deadlock with a second half penalty awarded for a foul on Ntazana Mayembe, but the home side were behind for no more than a few minutes and they were able to come out of the game with what seems a very creditable draw after sub Keenan Patten's last minute effort was cleared off the line.
Although there is no week in Devon and Cornwall for the first team squad this year, the Under 23s are going to be following the programme of the past two seasons with three matches in those two counties arranged for the coming few days.
For the first team, they move on to play New Mexico United in Albuquerque on Wednesday, followed by a match against Real Valladolid in Edmonton, Canada on Saturday.
Last week also saw City's second kit for the new season revealed – it's certainly a bit different and I quite like it, although I would have preferred white shorts to the orange ones we'll be wearing.
Of course, the transfer speculation continues – Glenn Murray, Bristol City's Famara Diédhiou, Middlesbrough's Britt Assombalonga and Enzo Crivelli of Caen are the strikers who've been linked with us in the last week with our alleged interest having since been denied in the case of the first two named. As for the area where I feel our need is greatest, Younousse Sankharé is a Bordeaux midfielder who we are supposed to be competing with Sheffield United and the jacks for.
Finally, anyone who read my plea for opposition team details for the four matches my friend Richard Holt needs to complete his quest for a statistical break down of ever first team match City have played since they entered the Football League in 1920/21 might be interested to know that it resulted in someone coming forward with the Bangor team which played us in the Welsh Cup in 1951, so now four has become three!