The main Cardiff City related story this week has probably been the one referred to in this link. For a day or so, it was almost taken as read that City's Chairman, Mehmet Dalman, would be leaving the club, but then this article in the local press appeared to quash any thoughts of this happening.
https://mauveandyellowarmy.net/
The categorical denial in the second story from City Chief Executive Ken Choo that Mr Dalman will be leaving would, seemingly, put an end to whole affair, but I'm going to indulge in some of the sort of speculation that our Chairman does not want to see here – not so much as to if he is leaving, more the story of the Charlton link itself.
Although the Wales Online story tries to convey a feeling that all is well and there is a united crew at the helm of the good ship Cardiff City, there are one or two elements to the whole thing that are worthy of comment.
First of all, the Evening Standard story revealing Mr Dalman as the "mystery buyer" of Charlton has an air of authenticity to it that is not always apparent in similar stories relating to possible club buy outs and the Wales Online piece accepts that there have been talks between the City Chairman and Charlton owner Roland Duchatelet (in fact they say there have been "advanced talks").
Therefore, it's hard to see how Mr Dalman can claim that the talk of the Charlton link is "speculation" – to be fair to our Chairman, that word is used by the journalist involved, Paul Abbandonato, on his behalf rather than the man himself.
For me, the part of what Mr Dalman actually did say (it appears in quotation marks) which took my eye the most was this;-

"Provided Vincent, Ken, Neil and myself are united, which we are, then I'm there with Cardiff. I'm not going to get distracted by this talk or anything else. "
In particular, the first word of that quote is interesting. While the inference of the sentence is clear in that the people at the top of Cardiff City are all currently singing from the same hymn sheet, that word "provided" does open the possibility that this wasn't the case at one time and, given that the Evening Standard first published a Charlton mystery buyer story in March, maybe it hadn't been for some time?
Last month there was an informative piece published by Wales Online from Mr Abbandonato about the workings of Cardiff City's four man transfer committee in which it was said Mr Dalman had been outvoted by 3-1 in the Emiliano Sala transfer. Neil Warnock advocated going for Sala, while our Chairman favoured Wesley Moraes of Brugge (who, as it turns out, signed for Aston Villa only this week for £22 million), but Ken Choo and owner Vincent Tan backed the manager.
Now, I think it's a bit of a stretch to believe that this would have been the catalyst behind Mr Dalman's interest in Charlton, but it does, in a way, reemphasise that the Sala tragedy cast a very long shadow over Cardiff City Football Club and all four men on that transfer committee must surely have indulged in a great deal of heart searching and self evaluation since January.
In that respect, this quote from Mr Dalman might be relevant;-
"I've been through ups and downs with Cardiff, handled some dreadful incidents for the club, and almost for the first time we are talking about the football again."
I can certainly empathise with our Chairman about that talking about football bit – I'm sure we don't know the half, or even the quarter, of what he and others at City have gone through in the months since that plane travelling from Nantes on a Monday night crashed.
As I said earlier, I've indulged in a fair amount of speculation there and I accept a lot of it could be rubbish, but I do believe that the Dalman to Charlton story is one that may well pop up again in the future and, if it did and our our Chairman left, how big a loss would that be for Cardiff City?
On the one hand, it would be easy to remember that by Mr Dalman's own admission, the City hierarchy were ill prepared for our promotion in 17/18 and the fact that Ole Gunnar Solksjaer was very much perceived as a Dalman choice when he was appointed by Cardiff in January 2014 and answer "not much at all".
However, I feel that would be unfair. Granted, I'm only talking about things like having a feeling and my opinion here, but when that Cardiff transfer committee piece talks about how all four members have their own contacts and opinions when it comes to providing players to be considered by them, I would suggest that, as the one with the most experience of working in the game, Mehmet Dalman is the one among the three non footballing members of the committee who could be relied on most to come up with suggestions which would be well suited to the club.
Also, our Chairman cannot have failed to have learned valuable lessons from his involvement with Manchester United, while, from a distance at least, he appears to be something of a calming influence on Vincent Tan. Although I'm one of many who have often pointed to the lack of "football men" involved in the major decision making processes at Cardiff City, I still believe that non football man Mehmet Dalman would be very much missed if he did move on to another club.
After a period where most of the transfer gossip surrounding the club concerned players we might be losing, the emphasis turned to possible new signings in the week just ended – Mehmet Dalman's comment about
two or three coming in soon in the Wales Online piece on his Charlton link confirmed something that had been simmering away on social media for a few days.
As to the identity of these players, well there are two names that are cropping up pretty frequently – Will Vaulks and Joe Day. I've mentioned Vaulks before and concluded that his was the most likely of the names linked with us in the days after the season finished to end up at Cardiff City Stadium purely because he appears to tick many of the boxes Neil Warnock tends to consider when looking at midfield players. Indeed, while I think it's safe to say that, with a subject where the identity of the party involved usually comes as a shock when a signing is announced, the surprise will be if Vaulks ends up somewhere else when he leaves Rotherham.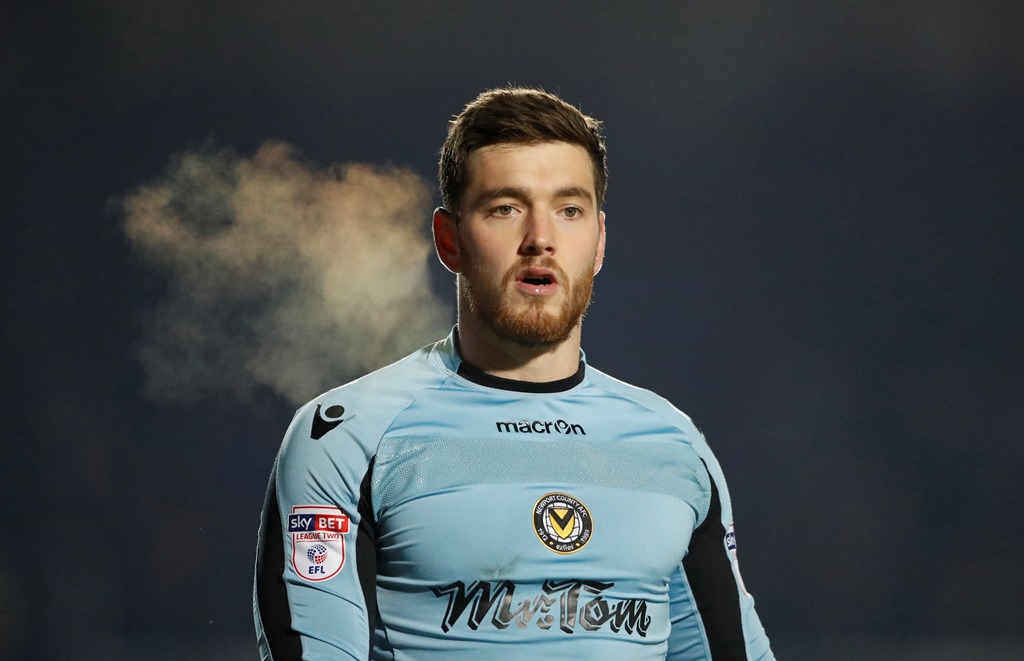 Joe Day was often described as the best goalkeeper in League Two last season and, with Newport County having already signed a new keeper from Millwall, it's been an open secret that he would be leaving them this summer. That his destination may well be Cardiff is a little surprising given the keepers we already have at the club, however, if one of Neil Etheridge or Alex Smithies was to leave, then Day would look like a sensible signing.
Newport goalkeeper Day was not a name I'd seen linked with us until about three days ago when I suddenly started hearing from a few different sources that he would be signing for City and people who usually know about these things are refusing to deny Day is coming here when asked now.
Finally, news of a couple more pre season matches. Firstly, there was confirmation yesterday of the usual season opener against Taffs Well. For the third year in a row, there will be a match against the side from just outside Cardiff on a Friday in early July – this time time it's on the fifth (three weeks yesterday) with a seven o clock kick off. Also, Ligue 1 side OGS Nice will be the opponents in our final warm up match on 27 July – Patrick Vierra's side finished seventh in the French top flight last season and will, in all probability, be the only team we will be facing at Cardiff City Stadium before the big kick off.