hanks to Paul Evans for his weekely reviews. As in previous years they update us of events going on around the club over the summer.
https://mauveandyellowarmy.net
I had always planned to start the weekly reviews that I do throughout the off season months on here this weekend, but, as the time got closer, I found myself wondering what the point would be because there had been nothing of any substance to report – there were the usual, mostly, far fetched transfer rumours, but, with the club, once again, taking a lot longer than others to issue their retained list, there still hasn't even been any confirmation as to who's staying, let alone who's coming in.
Wikipedia lists Brian Murphy, Kadeem Harris, Mark Harris, Loic Damour and Stewart O'Keefe as those whose contracts are up on 30 June and I wouldn't be surprised to see all five of them leave during the close season with Kadeem Harris, perhaps, being offered a new deal. However, will he decide that, at twenty six a week today, his days of being a youthful "project" who drops into and out of the senior team are behind him and he really should be looking to join a club where he would be a first team starter week in ,week out? He may still be a Young Player of the Year candidate at Cardiff, but that says more about the strange set up at the club whereby promising teenagers turn into Development team veterans over a period of five years or more than anything else – Harris is at an age where he should be an established senior player somewhere, not the young prospect that could break into the first team with the right handling that he has been in his more than seven years at Cardiff.
There are two others with first team experience whose deals run out in a few weeks time, but Neil Warnock has already said that, hardly surprisingly, City are going to exercise their option to extend Bruno Manga's contract by another year, while they have also offered a further contract to twenty year old Cameron Coxe who has, reportedly, been attracting the attention of Manchester City in recent weeks!
So, until Thursday, the decision I was contemplating was did the above and a bit of transfer chat justify a first weekly review of the summer? My instinct was that it didn't, but then in the last two days there have been a couple of developments that qualify as newsworthy events at Cardiff City.
The first was the announcement of council approval for a new training centre for the club on a site nearby the facility they have been using for the last few years at the Vale.
This is something that was first mooted in the "sweetener" that Vincent Tan came out with in 2012 when announcing the controversial switch to red shirts and more details as to what it entails can be found here .
For what it is worth, my own view in 2012 was that we already had a perfectly adequate facility at the Vale and, if there was to be an outlay of the sort of order we're talking about with this training centre, it would have been much better spent on ensuring the club's Academy had Category One status, rather than the present Category Two.
However, I suppose I must accept that the club's hierarchy , both on the playing and administration sides, are better placed to come to the correct decision than me and the development should be seen as a step in the right direction towards us becoming a club that appears more at home in the Premier League than the one which has been seen as, both inside and outside of Cardiff City, something of a guest during it's two all too short stays there during this decade.
This story was followed up yesterday by the surprising news that City's pre season preparations will include a trip to North America. Thirteen years ago, City played a series of matches on that continent as they took part in a tournament hosted by the Vancouver Whitecaps and crossed the border to take on the Seattle Sounders. – the format seems similar this time with a match in San Antonio, then a move north to play in Albuquerque before travelling into Canada to play at Edmonton.
Further details and Neil Warnock's thoughts on the trip appear here and, as mentioned in the article, it certainly appears to be a big change in approach to the ones seen in his first two pre seasons in charge, whereby a week was spent in Cornwall taking on a series of minor league teams from that county and neighbouring Devon.
While this low key approach, which our manager has always favoured in the latter half of his managerial career, could be termed a success in our promotion season, there was criticism in some quarters last year that it was no way to prepare for the Premier League. While I don't think anyone would suggest that our relegation happened because we spent too much time playing the likes of AFC St Austell, Bodmin and Truro City, a start which saw us take just two points from our first eight matches in 18/19 hardly sends out a message that it did us any good either.
My own thoughts on the matter are that it seems an improvement on our last two seasons, but, after flying 4,867 miles from Cardiff to San Antonio, it's then a further 714 miles to Albuquerque and 1,700 more to Edmonton. Now, while the actual number of miles traveled to America is less than some sides will fly during their pre season build ups, those that venture far from home do tend to base themselves in one location. With the sort of distances City will travelling on the North American continent, I presume this won't be the case with us, so it just seems to me that the party will be spending an awful lot of of their week in their air travelling from one location to another.
Finally, a few thoughts on other City related matters. First, Aston Villa finally made all of that transfer and wages spending pay as they edged past Derby in the Play Off Final on Monday to claim the last promotion place from the Championship. So, us, Fulham and Huddersfield will be replacing Norwich, Sheffield United and Villa, while Luton, Barnsley and Charlton come up from League One to replace Rotherham, Ipswich and Bolton.
I always struggle with the argument about whether a league is a "stronger" one than the previous season etc, so I'm not going to say that the Championship will be stronger or weaker in 19/20 than it was in 18/19, but I wouldn't be surprised to read that it is weaker in media previews produced for the new season in a couple of months time.
I say that because it seems to me that the six clubs leaving the league would be regarded as "bigger" as a collective than the ones coming into it. Even so, although any relegation has to be viewed as a failure and a disappointment, the blow is softened to some degree for me this time by the awareness that we will playing in a great league which means more games, four of which will be against the two sides generally regarded as our greatest rivals, far less of the sense of boring inevitability which goes with too many of the matches played in the Premier League and also not as many weird and not so wonderful kick off times!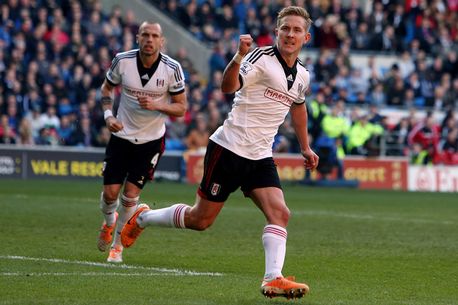 Lewis Holtby celebrates his goal for Fulham in their 3-1 defeat at Cardiff City Stadium in March 2014 – could he be making a return to the ground on a permanent basis for the coming season?
Also, this column wouldn't be this column without at least some transfer speculation! The most interesting rumour for me is the one linking us with Lewis Holtby who is running down his contract with fallen giants S.V Hamburg. The three times capped German international midfield player asked to be left out of the Hamburg squad for an away game in March after learning that he would not be in the starting line up and, although he soon realised his mistake and apologised for his actions, his club decided not to pick him again (Hamburg's form deteriorated after Holtby's outburst and, after looking assured of a quick return to the Bundesliga after their relegation last year, fell away so badly that they didn't even make the promotion/relegation play off).
Holtby, who has also played Premier League football for Tottenham and Fulham was regarded as an outstanding prospect at the start of this decade and although his subsequent career has definitely not seen him reach the heights predicted for him, there will, surely, be plenty of clubs interested in signing such a player on a free. However, it is the type of wages that Holtby would probably demand which makes me see this one as something of a non starter.
Alleged City target Will Vaulks comes with his own, highly individual, goal celebration!
Much more likely for me is that we will try to sign Will Vaulks, Rotherham's Welsh international midfielder who is almost certain to be sold by his club this summer. Initially I thought this one was almost a certainty, but I have changed my thinking a little because, firstly, my initial belief that Vaulks had played previously under Neil Warnock's management at Rotherham was wrong and, secondly, it has been reported that both of the teams promoted automatically to the Premier League a few weeks ago are after him. Nevertheless, it does have the feel of a move that would appeal to our manager (not least because Vaulks has an effective long throw!) and I would not be surprised to see him in our squad come August as part of a rebuilt central midfield.