Not for the first time, the final few days of June has provided the first incoming transfer dealings of a summer for Cardiff City, with three new arrivals being confirmed by the club on Thursday.
While I think it's true to say that Will Vaulks, Curtis Nelson and Joe Day do not fall into the category of newcomers that would create a huge splash which significantly upped the anticipation levels of supporters like one or two have done in the past, it's probably fair to say that the low key reaction to their signings has much to do with the fact that there was no surprise element whatsoever involved in them.
The names of all three players have all been touted as very likely transfer targets of ours on here over the past few weeks. I claim no real credit for that mind, because I was only repeating what was being widely reported on social media and in the national press at the time.
Of the three players, Vaulks looks like the one most likely to go straight into our starting line up after a season where he impressed in a Rotherham side that narrowly lost its battle to stay in the Championship and broke through into the Wales side.
As soon as his name was mentioned in connection with us, Vaulks seemed like a natural fit for Cardiff because he appears to epitomise a Neil Warnock type midfielder – hard working, physical, good tackling stats and an eye for a goal (especially from long range), all coming with a long throw in for good measure!
Vaulks even arrives with the almost obligatory, comparatively, poor passing completion stats for a Warnock central midfielder – let me qualify that statement though. Firstly, I think there can be a tendency to read too much into the pronouncements of websites like the one I'm going to be using, but, to be fair to them, their deductions are, almost certainly, arrived at via a comparison with the stats of similar type players, so I'd view them as a useful tool in assessing a player you weren't familiar with.
I'm using this site for Vaulks' figures, because it's the best of its type I've come across that is easily accessible to the average football fan. The site's figure for Vaulks last season show his pass completion figure at 64.3% (by way of comparison, Harry Arter's was 80.7% in a higher division) which makes him the two hundred and ninety sixth best passer of the ball out of the three hundred and fifty seven Championship players for which figures are available.
Little wonder then that Vaulks' passing is rated as "poor" by whoscored.com, but this leads me on to my second point – the type of passing required by a midfield player in a Neil Warnock team.
The first indication you get that Vaulks' "poor" passing rating might not quite be all that it first seems is when you notice that his key pass per game figure is 1.5 (Arter's was 0.4) and that figure is good enough for the website to rate key passing as a strength of his game. Dig a bit deeper and you find that Vaulks was rated joint thirty first best out of the same three hundred and fifty seven in the Championship in the number of key passes he played per game.
Vaulks' team, Rotherham, were rated twenty second out of twenty four in the Championship for possession percentage, bottom for passing completion percentage, second for aerial challenges won, fourth for number of long balls played per game and comfortably bottom for number of short balls played per game – any of that sound familiar?
Cardiff City's figures in the twenty team Premier League for the same categories were bottom, by a distance, in possession percentage, bottom, by a distance, in passing completion percentage, second for aerial challenges won, sixth for the number of long balls per game and bottom, by a mile, for short passes played per game.
So, even with that rider of not taking the data provided by these kind of sites as gospel, I would very strongly argue that Rotherham's style of play was pretty similar to ours last season. I'd also say that, given the apparent discrepancy in the ratings for Vaulks' key passing and overall passing figures, the orders he was given by Paul Warne in terms of what he should do when in possession were broadly similar to those given to our central midfielders by Neil Warnock – look to get it forward quickly and don't pass just for the sake of it.
Critics of the quality of our passing (and I certainly put myself in that category!) do need to remember that some of our poor figures in that facet of the game at least are down to a way of playing that is not designed to produce great stats which compare well to any one else – I'm not saying that our players would be able to ping the ball about like a Guardiola side if their "chains" were unlocked, more that they aren't as bad as their figures suggest they are.
I believe the same can probably be said about Will Vaulks and, as such, barring a totally unexpected and very unlikely complete change in our playing style, he looks to be a good signing for the type of team we are.
In fact, add in that Vaulks' overall whoscored.com rating has him as the fifteenth most effective player in last season's Championship, despite playing for a team that went down, and his signing, for a fee reckoned to be three million pounds with the possibility of rising by another half a million, on a three year contract at the age of twenty five begins to look like a very shrewd piece of business indeed by Neil Warnock.
Both Nelson and Day are Bosman free transfer signings on two year deals. Nelson, who celebrated his twenty sixth birthday last month, is a centreback that Neil Warnock said he has been a long time admirer of dating back to the time he broke into the Plymouth first team as a seventeen year old.
Appointed Argyle captain at nineteen, a bright future for Nelson looked assured, but since then, his career has rather plateaued for the past five or six seasons. Certainly, given his reputation and achievements as a teenager, a climb of just one division, to Oxford United in League One, after letting his Plymouth contract run down in 2016 sends out a signal of under achievement to an observer like me who has not followed his career too closely.
As I do with all of our new signings, I've looked on messageboards of the clubs they have left for comments on them and I must say they have been almost entirely complimentary for all three of them with a common theme being that they have earned their chance to shine in a higher division. In Nelson's case, the consensus would appear to be that Oxford fans think he is good enough to play in the Championship, but there are doubts as to whether he can break into our team because we're reckoned to be strong by Championship standards in central defence.
Most likely, the supporters of his old club have got things right. If all of Morrison, Manga and Bamba are fit and available, then Nelson will have to really excel if he is to play much first team football this autumn. However, with Bamba recovering from a very serious injury picked up at an age when many players would be contemplating retirement (if they hadn't done so already!) and reported transfer interest in both Morrison and Manga, the situation has a fluidity to it which may see Nelson's prospects change pretty quickly.
Brighton born Joe Day is twenty eight and, after being released by Crystal Palace as a sixteen year old, joined up with Rushden and Diamonds where his form earned him a move to Peterborough four years later. He spent much of his time with Posh being loaned out and had only played four times for the first team when he moved to Newport on a temporary basis. Day did well enough at County to earn a permanent move in 2015 for what is reported as a club record fee and, in recent years has established a reputation as one of League Two's better keepers culminating in selection in that division's team of the season this year by his peers.
Given what I say about our centreback situation above and the fact that a lot of our senior defenders are the wrong side of, or fast approaching, thirty, the signing of Nelson explains itself really, as does the arrival of Vaulks with, probably, the top three central midfielders from last season having moved on. However, with no confirmation either way as to whether Brian Murphy has signed a new contract with us yet, the situation at goalkeeper is more confused and, on the face of it, Day has come here to be our third choice at best.
After all, we have a first choice goalkeeper who, by general reckoning, was our best player in the Premier League last season, backed up by someone who was a highly rated, well established, Championship level keeper when he signed for us this time last year.
Rightly or wrongly, the signing of Joe Day would put me on an alert that Cardiff were looking to cash in on one of Neil Etheridge or Alex Smithies this summer if I were employed by another Championship or Premier League club. The first named has already been linked in the media with Liverpool and Villa, among others, this summer and there has been speculation that the Midlands club could switch their attention to Etheridge in light of their attempt to bring in Jack Butland from Stoke floundering this week.
Despite reports of Villa having offered £8 million for our first choice keeper a few weeks ago, City confirmed this week that they had received no bids for any of their players yet this summer – Neil Warnock has said in the past he would drive Etheridge to the airport if the right bid was made for him mind and that would seem to be the club's position at the moment.
However, I wonder if the fact that Smithies was not on the bench for us for a lot of the second half of the season might indicate that, for whatever reason, all is not well with him at Cardiff – there was a story about a possible loan to Birmingham for him, but I believe it was rubbished by the club.
Now that we have Day, my preference would be to see Murphy leave the club along with one of Etheridge or Smithies so that our new keeper is our undisputed second choice. Ideally, one of Matt Hall, Warren Burwood (both of whom did okay for the Under 23s when I saw them play last season) or Academy Player of the Year George Ratcliffe would then become number three, to show that it is possible to make the jump from age group squad into the seniors, but, with the last named off to Barry on loan, I'll not hold my breath on that one. The ages of the three newcomers again show our manager's preference for dealing with the completed product, rather than a developing one, when it comes to the first team and I fear it'll be a youngster free squad again next season.
Nevertheless, I have to admit that I feel the signings this week have been good ones at the end of the market Neil Warnock has proved he excels at in the past. His masterstrokes in bringing Etheridge and Mendez-Laing here for nothing two years ago have put him well in credit as far as cheap recruitment from the lower divisions is concerned and there are plenty hoping that one or both of Nelson or Day can follow the example of our unheralded signings from Walsall and Rochdale, but the good thing is that, if they do not come off, they will have done us no great harm financially.
Vaulks, who probably hasn't cost us a great deal in wages either, is a bit different, but, all of the signs are that he's coming here with a hungry attitude and the impression he gives off is of someone who is still a footballer who can improve.
With Kadeem Harris having a medical at Sheffield Wednesday in the last few days and reports of interest from Schalke of Germany in Josh Murphy, speculation about Neil Warnock wanting a new winger may have some substance to it and you would have thought that another midfielder is still a priority, while the absence of a striker who can score regularly over a prolonged period from our team for something like eight years surely has to be tackled now.
Realistically, bringing in three players in these positions with the quality required to make an impact in the first team is going to cost the club a great deal more than they've spent this week, even if they only arrive via loans, and it is at this level of the market where Neil Warnock's reputation in transfer recruitment at Cardiff begins to wane somewhat I'm afraid.
Thursday also saw the launch of the new home kit for next season. I'm at an age where cynicism reigns about this sort of thing now I'm afraid – £50 for a football shirt of no great quality just strikes me as a rip off. However, I must say that the 19/20 kit gets a thumbs up from me, not because of yet another nondescript shirt, but because, for the first time in seven years, we will be wearing white shorts!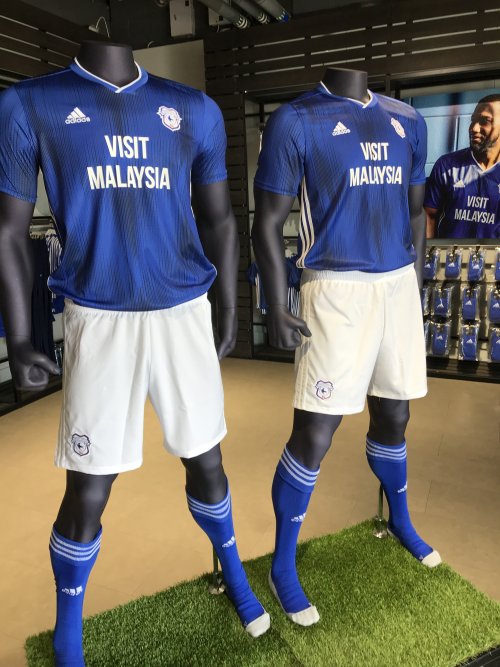 Finally, there was a further development in the Emiliano Sala tragedy this week when Willie McKay (whose son Jack left City to sign for Chesterfield on a permanent basis this week) was issued with a harassment warning by the Met Police following alleged threats to City executives in February. It was not a good week for the man who arranged the flight on which our striker was killed because the following day saw him charged with fraudregarding a matter that appears to be unrelated to Cardiff City.
As a PS, I came across this excellent article about Will Vaulks just as I finished this piece – more evidence that he is very much a Neil Warnock type player.