http://mauveandyellowarmy.net/
It's great to see City playing again and now the new season does not seem to be too far away at all. As with the previous two seasons, Cardiff kicked off their pre season programme with a Friday evening game at Taff's Well with all proceeds going to Ty Hafan, a local paediatric palliative care charity.
To go off at a tangent for a short while, I last saw Taffs Well play in a Welsh League Division One game in March at Ton Pentre where they were victorious by 2-0, but this wasn't enough to stop them finishing in a relegation spot, along with their hosts, at the end of the season.
However, a restructuring by the FAW means that the Wellmen will keep their place in what is the second tier of the game in Wales as they compete in the newly formed FAW Championship South & Mid – there is also a FAW Championship North and Mid, so presumably there will be some sort of Play Off system to determine who gets to play in the Welsh Premier League ? As for Ton Pentre, they stay in the Welsh League Division 1 , but it is, effectively, the relegation that it can be said they deserve after finishing bottom of that league for two consecutive seasons.
Anyway, the result last night went the same way as it had in the previous two years with an away win – this time by 5-1 following on from a 3-0 win last year and a single goal victory in 2017.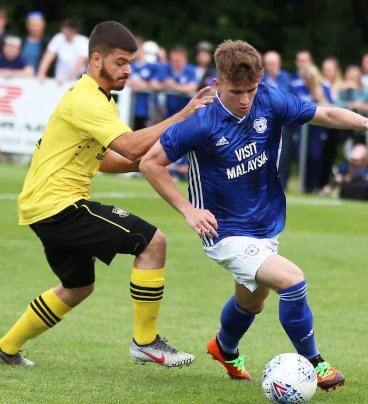 Last season Neil Warnock fielded a team of youngsters because the pitch at Rhiw'r Ddar was suffering the effects of what was an exceptionally hot, dry summer. This time around though, our manager was happy to include two of his recent new signings from the start in a side which was otherwise a mixture of Under 23 and Under 18 players with, unusually, just the one trialist thrown in.
Joe Day and Curtis Nelson both played for the first hour for a City side which took the lead on sixteen minutes with a Jacob Evans penalty after James Waite had been fouled and then added a second within a few minutes from Laurence Wooton.
Within three minutes however, the home team had a goal back from Richard French and it stayed at 2-1 until a half time break which saw City make a raft of substitutions. One of the replacements, Dan Griffiths, nodded in a third midway through the second period and, within three minutes, Ntazana Mayembe had raced clear to score a fourth. It was Mayembe again who then took the eye in the last minute as he went on a run which ended with him laying a goal for Connor Davies on a plate to finish off the scoring.
With Neil Warnock saying it would be very unlikely that the next fortnight or so would see much activity in the transfer market in terms of incoming players, it's been a quiet week, but there was someone else making his debut for the club as a contracted player in Aaron Bolger who has completed a permanent move to City following a loan spell cum trial period with us for the final three months of last season.
If I'm being honest, Aaron didn't make that big an impression on me on the two or three occasions I saw him play last season, but, according to a messageboard post (which may or may not be true of course!), he's been training with the first team squad and has been included in the party which leaves for the first team's tour of North America begining on Tuesday.
One final thing on last night's match, our third goal by Dan Griffiths came from a cross by trialist Tom Sang a midfield player who can also turn out as a full back who was released by Manchester United at the end of last season. Liverpool born Sang started off with Bolton but teamed up with United after a period out with injuries. He trained with the senior squad prior to a Champions League match with Juventus during Jose Mourinho's time in charge at Old Trafford, but never played any first team football for them before joining AFC Fylde on loan last January – although I cannot state this for certain because I could not find anything online giving team details for every match they played, I found no trace of him being involved with Fylde's first team while he was there.
Finally, if this story is correct about the details of the mental health issues Lee Tomlin suffered with last season and he really is as physically fit as he looks in those pictures, then, in many ways, he could be like a new signing for us. We don't have another player capable of giving us what a Lee Tomlin showing his form of about five years ago could.
Anyone using this site on a regular basis during the two seasons Tomlin has been at the club will probably have gathered that I've hardly been his biggest fan during that time and it is true that these issues, which he says only affected him during the 18/19 season do not explain his form, general lack of fitness and under achievement during the years preceding that.
However, it strikes me as significant that he says that as you get older you start thinking about worst case scenarios – the doubt and general anxieties that tend to be absent in your youth begins to surface as when you become an adult and I can well imagine thirty (Tomlin reached that age in January) being a very unsettling birthday for many a footballer because it is a real wake up call that there is not much time left to try to put right matters which stop you from fulfilling your potential as a player.
I've been harsh on Tomlin and called for him to be shipped out of the club if possible on quite a few occasions, but I must admit I warmed to him somewhat after he turned in a superb display in this game early last season
While it needs to be recognised that Neil Warnock had expressed his surprise that both Tomlin and Anthony Pilkington had turned down loan moves to Championship clubs which would have offered them first team football during last summer's transfer window, I still must say I was very impressed by both his attitude and performance that afternoon.
While it would have made little difference to his first team prospects at Cardiff because our twenty five man squad for the first half of the Premier League season had already been named, Tomlin was as impressive as any senior player I've ever seen demoted to the "dog house" that is second team football – it was the best individual display I've seen from any City player since we started playing Development team football.
Is it significant that the motor accident and sending off Tomlin describes occurred in the days following that Leeds game? No one can say for sure, but I would have been pretty pissed off if there had been no recognition from the managing and coaching staff at the club if I had played like Tomlin did against Leeds' Under 23s and received no recognition of some kind for it – albeit, I repeat that it would have been impossible for him to be promoted into the first team squad.
It might be that I'm being unfair to Neil Warnock and co there, but from being someone who was expecting nothing from Lee Tomlin this season, there is just a spark of hope there now that he may give us a little bit extra as an attacking force – it could be a very big pre season for him.