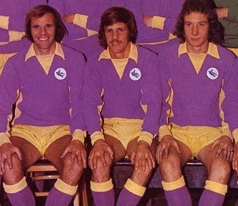 My take on what was a very good week to be a Cardiff City fan writes Paul Evans
I suppose it's the same every summer, but this year it feels like you get the occasional week where something worthwhile happens at City interspersed with far more where the only things up for discussion are transfer rumours which, nine times out of ten, turn out to be crap anyway!
Before the week just ended, I can remember two others where it was a question of what to leave out when doing one of these reviews, as against casting around fairly desperately for something to include. We've signed four players this summer and the fact that Josh Murphy and Greg Cunningham both arrived in the same week and then it was the same with Alex Smithies and Bobby Reid only tends to emphasise this.
Well, there were no new signings this week, but, in a way, it could be argued that this was the most significant one of the close season so far.
Before going on to the reasons why I say that, I should also record that on Wednesday the large majority of the squad returned after their summer break for preliminary tests and screening, followed by the start of pre season training the following day.
Also, on the transfer front, it was reported that Derby had accepted an offer of one and a half million pounds from City for Craig Bryson, but this was subsequently denied by the club. Other names mentioned have been Russia striker Artem Dzyuba, midfielder Oscar Lewicki (who despite his fifteen caps for them, was not in the Swedish World Cup squad) and there's been a little more about Josh Windass, but, for now at least, the only transfer rumour I'm believing is the one which says City have been in contact with Liverpool about another loan move for Marko Grujic.
The first of what I'm sure will be many announcements to come regarding changes of kick off times and/or dates for the upcoming season arrived on Friday with this announcementthat, because of television coverage, three of our first four home games will not be the originally announced 3pm Saturday afternoon kick offs.
However this was almost buried under the torrent of good news which emerged that day. First thing in the morning, there was this announcement from the club regarding finances, but that wasn't all – Cardiff City Supporters' Trust were able to inform members through e-mail and report the information on their website at the same time as it was being announced by the club and they also reported that, notwithstanding, six million pound transfers for strikers, "the club has received formal confirmation that it was compliant with the Profitability and Sustainability (formerly Financial Fair Play) Rules for the 2017-18 season just ended.".
Regarding the debt to equity conversion, having been part of a meeting with club officials at the time of the infamous rebrand (May 2012) in which it was said that the conversion was "imminent", I think it is fairly understandable why I was something of a cynic when it came to this subject. To be more accurate, I was a complete cynic for about four years, but my attitude began to change when it became clear debt was being converted into shares at the rate of about 8 million pounds a year.
However, the major portion of the conversion, involving a sum of sixty odd million pounds as announced by Vincent Tan in February 2016, (we were told it would be included in the accounts for 15/16) stubbornly failed to materialise. At various times, the club's response to questioning about the delay in this conversion ranged from they were waiting for Malaysian Government approval for the procedure to commence, to the Football League's financial fair play regulations would not allow it.
Now, regular readers will know that I'm no expert when it comes to football finances, but, from what I can gather, the Football League rules did prevent the largest of the conversions taking place in the manner described by Mr Tan nearly two and a half years ago.
There has been speculation that the conversion only became possible as a result of our promotion and, again, speaking as that non expert, this has a ring of truth to it, but I've also seen it said on a messageboard by someone with close contacts to the club, that the Malaysian Government had been reassured by our promotion and their earlier doubts regarding our precarious finances while we were a Championship club had now dissipated.
So, it might well be that both of the reasons given by the club for the delay were genuine, but that's just something to speculate on, the important thing now is that Vincent Tan has come through on his promise.
When you think back to 2012 and the "sweeteners" offered as compensation for the change to red, it's fair to say that, leaving aside arguments about how wisely it was spent, we did get investment in the team sufficient to get us promoted and then a level of further spending which really should have been enough to ensure we stayed up in that first season in the Premier League.
We also got the Ninian Stand extension. Now, I've been a frequent critic of the timing of and the necessity for the construction of this part of the ground, but, four years later, I have to admit that the bigger gates as a result of going up could well mean that "Tan's folly" will be transformed into a welcome and required addition to the stadium (I'm sure the new stand will be full for five or six games, but the question remains, will we playing to capacity crowds when we are facing, say, Bournemouth, Huddersfield and Watford?).
When you factor in things like waiving interest payments, earlier, smaller, debt to equity conversions and now these latest figures, then, even without transfer and wages spending and the new stand, the 100 million pounds that was talked about six years ago has, almost certainly, been met and exceeded.
The only item still outstanding from the 2012 checklist is the new training ground, but whenever I go along to watch a game at the training complex at Hensol, I ask myself why do we need a new one, this is, surely, good enough, even for a Premier League club?
Therefore, although I'm sure there will be those who will still be unable to forgive and forget the rebrand, this long time Vincent Tan critic is now saying that the slate has been wiped clean as far as he is concerned and I now regard our owner as I did from 2010 to 2012 – a man who, when I look at many of the alternatives at other clubs, gets me thinking "thank God we've got him".
Yes, Vincent Tan has got my thanks and appreciation, not only for what he did this week, but also for the huge majority of what he has done at the club during what is now almost a nine year association with Cardiff City if you include the period dating back to 2009 when his name first started being mentioned as a possible investor. Hopefully, he will be able to attend many more games during the coming season.
Having provided confirmation earlier that Joe Bennett and Neil Etheridge had signed contract extensions, the club revealed a few hours after the debt to equity news that a further seven players had done the same – rather than list them myself, this link gives all of the relevant details.
You will also see that Neil Warnock confirms that Aron Gunnarsson has verbally committed to a further year at the club and, reading between the lines a little, it seems that both parties wanted to see how Gunnar coped in the World Cup following what was the worst season for injuries he's had in his seven years at Cardiff before formally confirming things officially.
What needs to be said here is the sort of outlay involved in all of these renegotiated contracts (don't forget Junior Hoilett has recently signed a new three year deal as well) will tend to get forgotten about in the months to come, but it has to be a substantial figure and so, once again, the contribution of Vincent Tan here should not be forgotten.
However, it's not just our owner who needs to be acknowledged here, Ken Choo, Mehmet Dalman and, no doubt, many others at the club are all doing their part to ensure that, this time, City appear to be a lot better equipped for the Premier League challenge to come than they were five years ago.
Of course, it still may not be enough and the very real possibility that it will be Championship football we'll be preparing for again this time next year cannot be discounted, but, even if that were the case, City appear to be far better placed to cope with a relegation than they were at the first time of asking.
Oh, I almost forgot, the new kits for next season were also revealed. Now, I hardly class myself in the "target audience" when it comes to matters like this and this can be proved by the fact that I had to ask how the 18/19 home kit differs from the 17/18 one – it does in five or six ways apparently! With this in mind, I'm sure the club will be devastated to learn that I rate the new blue kit as no more than a five out of ten, but, equally, they'll be absolutely over the moon to hear that I like the eight out of ten rated away shirt – will it be blue, grey, white, black or even mauve and yellow shorts with it though?
N.B. You can now catch up with Mauve and Yellow Army on Twitter at https://twitter.com/MauveAnd – it would be much appreciated if you followed me on there, I'll do the same for anyone with a Twitter account.