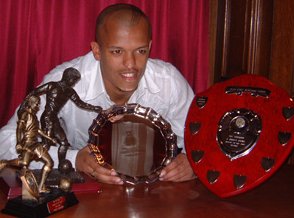 The dinner was missed last season with all the drama of being in the play offs and going to Wembley so the club promised whatever happens this years event will go ahead.
Robert Earnshaw (right) won plenty of awards in his time at City.
It takes place at the Cardiff City Stadium this Friday, April 29th. Awards on the night will be prestented by the Supporters Club for Player of the Year and Young Player of the Year. www.cardiffcity-mad.co.uk will be awarding their 'Magic Moment' award and the 1927 Club will present 'Goal of the Season'.
Candidates for Player of the Year must surely include Kevin McNaughton, Jay Bothroyd, Craig Bellamy and Seyi Olofinjana. There have been several Magic Moments and the award from this website will hopefully represent an amazing moment during the past season. The 1927 club have so many great goals to chose from.
Tickets are still available. For details visit www.ccsc.co.uk or ring organiser Vince Alm on 07814 779441. Tickets cost £45.