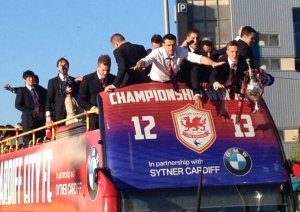 Thousands of Cardiff fans flooded the streets of the capital on Sunday to celebrate Cardiff City's promotion to the Premier League.
Starting at Cardiff Castle the players carried the trophy throught the streets of the city centre before boarding an open top bus for a ticker tape journey to Cardiff Bay.
On arrival at the Wales Millennium Centre thousands and thousands more fans welcomed the players and management to the party. Fans had been converging on Roald Dahl Plass all afternoon and were entertained by bands on stage and refreshed by the many pubs / shops / bars and refreshment vans.

Fair play a superb effort by the club and Cardiff Council to arrange such a good day out. Brilliant sunshine and blue skies helped as well.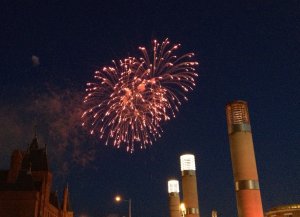 The players were introduced to the crowd before the evening climaxed with an impressive firework display.
Days like this don't come around that often.
Click below for a picture show from Jon Candy
http://www.flickr.com/photos/joncandy/sets/72157633412308403/show/