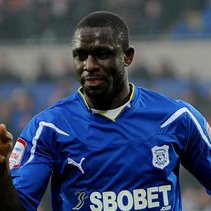 Stephen Bywater (who has had two clean sheets in the last two games) and Seyi Olofinjana (who was excellent and weighed in with a goal on Saturday) are the two Cardiff players in question.
The full team is:
Bywater (Cardiff), Edwards (Ipswich), Mirfin (Scunthorpe), Whitbread (Norwich), Williams (Scunthorpe), Kebe (Reading), Olofinjana (Cardiff), Surman (Norwich), Treacy (Preston), King (Coventry), Fryatt (Hull).
Good to see the Scunthorpe and Preston players recognised as both teams won on Saturday.