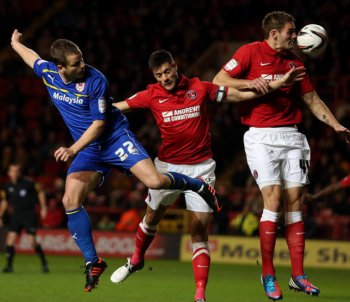 City's awayday deficiencies has made the club a laughing stock this evening after conceding FIVE goals to struggling Charlton in less than 30 mins.
Things were looking good with Cardiff two up after 24 mins. Heidar Helguson with a header (right) and Joe Mason giving the league leaders a healthy start.
But by half time it was 2 - 2 and 15 mins into the second half City were 5 - 2 down.
It's not the first time the club have capitulated this season when leading away from home. Two nil up at Palace and we were battered in the second half to lose. At Bolton last Satutrday we were cruising a goal up at half time to collapse under 10 mins of Bolton pressure and worst of all to concede five goals tonight to a team barely above the relegation places and on the back of three home defeats in a row.
From eight away games we've W2 D 1 L5 and in the five lost matches conceded 17 goals. Just incredible.
Goals from Charlton were flying in with 'comedy' defending a common theme amongst the media commentators.
Late on City scored two goals. Both in injury time, Noone and Gunnarsson made the scoreline look closer than it should have done. In fact City had another chance to level but ultimately it's a victory for Charlton and a free meal for the re-branding critics to dine out on for a while.
City drop to third after Palace stormed the top of the table with a 5 - 0 home win over Ipswich. Middlesbrough and Leicester drew and Hull moved level with City after a 2 - 1 win over Wolves.
Just to prove I'm not just being a drama queen City skipper Mark Hudson tweeted this evening
"I can only apologise to the travelling fans. That was not good enough. We feel embarrassed. Can only try and put it right Saturday."
While Andrew Taylor said
"Sorry for tonight's performance, not good enough!!! 2 massive games at home. Stay positive, it's a long season!"