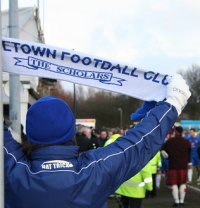 Fans from the Staffordshire club are guests of the Cardiff City Supporters' Trust and the Cardiff City Supporters Club.
The two clubs have had an amazing relationship since the FA Cup 3rd round tie in 2008. Cardiff fans went to Chasetown earlier this season and were treated like royalty and now the Chasetown fans are coming to us.
Tracey Marsh from the Trust says 'I'd like to remind everyone that Chasetown are bringing about 60 fans down for the match on Monday.

'We will be meeting at The Duke of Clarence before the match from around 1:30pm and all are welcome.'
I hope you all have a great day.