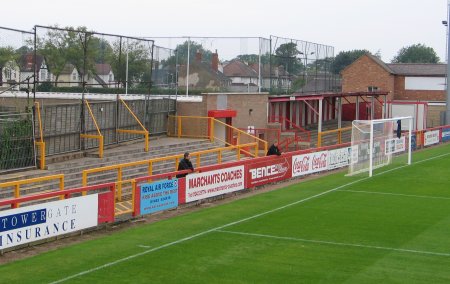 Thankfully the worst away end in the football
league was not open for City fans.
Paul Parry scored an equaliser for City in a relatively timid affair at Cheltenham. The Robins keeper appeared to have booked an evening of rest and relaxation as City struggled to create in front of goal.
Early on City looked lively but after a couple of early half chances the first half meandered towards a goalless finish. Cheltenham looked to provide service for their big striker but the defences were generally on top.
The game moved up a notch or two in the second half. Incredibly after all the fuss made about poor defending and being dodgy at set pieces City allowed Cheltenham a free header from a corner and we were 1 down.
In fairness to Cheltenham through a combination of dodgy backpasses and sloppy finishing they could have easily scored 2 or 3 more. On 3 occasions Warner was the last line of attack as the strikers hit high and wide with only the keeper to beat.
City never had that luxury. Lee Bullock saw a header scrape the right hand post, Earnie lobbed into the keepers arms and Alan Lee got his head to the only decent cross of the night but it was easy for the keeper. Apart from the goal the best effort came from Willie Boland who volleyed just wide. That would have been a cracker had it gone in. City's goal came from Paul Parry, Cheltenham failed to clear proprly from a cross and it ran to the unmarked Parry who fired home from 16 yards.
That was about it. Lennie only made one substitution. Willie Boland replaced Graham Kavanagh at half time.
City lined up
Warner, Weston, Vidmar, Gabbidon, Barker, Robinson, Bullock, Kavanagh (Boland 45), Parry, Earnshaw and Lee. Subs not used. Margetson, Croft, Campbell, Page, Collins, Langley, Thorne.
My man of the match was John Robinson. Plenty of running, plenty of passion and he was the one player who looked as if he make something happen. Main critisisms were the sloppy play at times from the full backs Barker and Weston. Also despite his goal, Paul Parry needs to attack at pace down the wing. To often did he stop and check back before playing the ball sideways.
Lennie has now seen all 19 senior players over 4 games. He must have his starting line up sorted. It's a concern that we only have 19 players. The first XI will be good enough for Division 1 but we have very little strength in depth. Only 23 senior players have squad numbers. 19 are mentioned above. The other 4 include outcasts Neil Alexander and Gareth Whalley and two youth / reserve players, Aaran Lee Barrett and Stuart Fleetwood.
There are two senior friendlies left, both at home. Racing Santander on Saturday and Lazio on Monday. A win or two would boost confidence, a new player or two would be appreciated to strengthen the squad.
Crewe away is just over 1 week away.