As I left the ground following yesterday's 1-0 home win for Cardiff City over Middlesbrough, I remarked on how few goalmouth incidents there had been in the game. In the past, I've seen City fans criticise Sky's short highlights packages of each of the league matches we play because they do not represent a true reflection of how a match really panned out, but, for any one who wasn't present yesterday, I'd say that Sky got it right this time – these highlights are a fair representation of the important goalmouth action in what always promised to be a tight encounter.
So, given the lack of moments of excitement to get you out off your seat, why is that I, and I reckon a great deal of those present in a crowd of 18,720, which I suppose represents a pretty good turn out by the disappointing standards of this season, feel as optimistic about our chances of securing a top six, or even top two, finish this season as we have done since before Christmas?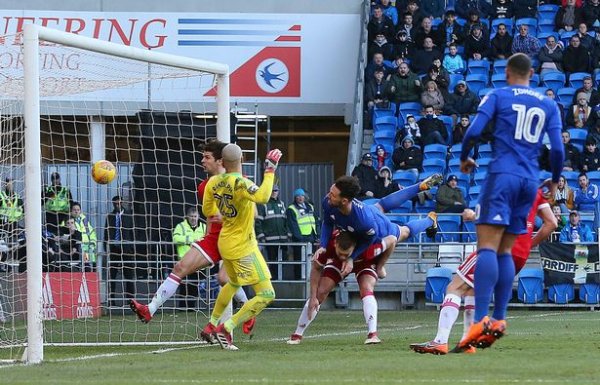 The answer is simple for me. Neil Etheridge does not feature at all in those highlights – in fact he is never seen in them. That is the best way of capturing what a frustrating afternoon it must have been for Middlesbrough and their supporters as they saw the attacking life being strangled out of their team – I can remember a daisycutter from Adoma Traore in the first half which Etheridge dealt with comfortably and a break out which presented Stewart Downing with an opportunity that he pulled harmlessly across the face of goal in the second and that was it.
I think Middlesbrough were many peoples choice for League Champions back in August after a summer when their then manager was allowed to spend a huge amount by Championship standards – at that time, their squad looked a formidable one on paper, but I think it's fair to say that at no time this season have they lived up to that billing.
That is not to say that, although the top two looks beyond them now, they cannot still get into the top six come May – they are currently four points behind sixth placed Bristol City and, with forty two points still to play for, it would be foolish to write them off yet. However, the truth as I see it is that at no time so far this season have they suggested that they have the sort of run of results they need to turn their campaign around in them.
From what I've seen of Boro in their two matches against us and the, relatively few, televised matches they've had, they seem something of a paradox in that they have probably the quickest player in the Championship in Traore, yet the tempo they tend to play at always strikes me as being among the slowest in the division.
Now, with Tony Pulis having replaced Gary Monk, they are in a transition from a somewhat plodding, passing side into a more physical and direct outfit in the image of their manager.
While I think the labeling of Neil Warnock and Tony Pulis as long ball dinosaurs in a game that has moved on since the days of Wimbledon's "crazy gang" favoured by some in the media and in the game is simplistic and, in some ways, disrespectful towards a pair of managers whose records over a long period stand comparison with most, it's also true to say that any contest between sides managed by the two of them is unlikely to have the football purist purring.
Pulis has a tried and tested method and I'm sure Middlesbrough must have known what they were letting themselves in for when they appointed him. It would mean there would be a transition period where the way the team played would change quite markedly, but, probably rightly, they figured that the new man would get the club on an upward path again eventually.
So, in some ways. Middlesbrough came here as an outfit that was trying to make themselves into a kind of replica of a Warnock team.
A combination of pessimism and our record of almost total failure over a period of years when it comes to winning both of a pair of Tuesday/Saturday or Saturday/Tuesday home matches, had me in a frame of mind whereby I was trying to convince myself that a draw wouldn't be a bad result (good enough to overtake Derby after all). However, that was to disregard a couple of things – first, Middlesbrough's appalling record against Neil Warnock managed teams (apparently, no Boro team has ever won an away game against a Warnock side) and, secondly, in their current transitory period, they were, in many ways, a team absolutely made for us.
Middlesbrough were coming to Cardiff to take us on in a physical battle and thus going to play in a way which suited us down to the ground.
I think I've mentioned before on here that I have always found it hard to appreciate what Cardiff City sides over the past fifty years or more are good at – I think I'm not alone among football fans in being much better at working out what our opponents are good at compared to what my own team excels at.
However, we've had a year and more under this manager now where the team have consistently proved that we have a habit of coming out on top against sides that want to take us on in an arm wrestle. In fact, if runaway leaders Wolves want to make it a physical battle when they come here in April, then I'd say the chances of us beating them would improve considerably – we may not be, or claim to be, the Championship's best in many facets of the game, but there is evidence around to say that when it comes to matches played in a certain way we are, or are very close to being. the best around.
So it was yesterday. If, as I've often seen it said, the outcome of a football match is decided by which team wins more of the individual battles which are taking place all over the pitch, then the early signs were good for City yesterday.
Although, there was little to record in terms of goal attempts apart from a few wayward shots from distance in the game's first quarter, it was possible to detect that it was Cardiff that had what momentum there was around at that stage. It wasn't by the sort of margins that some City players won their individual battles against Bolton on Tuesday, but it was the players in blue who were just edging their one v one tussles in many cases early on.
Whenever a match finishes with a single goal winning margin, the last few minutes are always going to be tense, but I must admit to being surprised by the use of the term "nervy win" in their match report by the BBC's website.
Yes, the margins between the individuals involved were never that great, but City's early very slight superiority when it came to those battles I mentioned earlier, developed to the extent that the winning margins in many cases had got that bit larger, so that a late Middlesbrough equaliser would have come as a complete shock to me.
It may have taken longer for some to edge their individual battles than it took for others, but, by the end, I think it could said that, for example, Joe Ralls and Marko Grujic had just shaded theirs, Joe Bennett and Armand Traore on our left had marginally come out ahead in theirs, Junior Hoilett had, as he usually does, got the better of his direct opponent and the rejuvenated Kenneth Zohore had given the pair of experienced and capable centrebacks he came up against a testing time of things.
However, the most marked superiority for Cardiff came where their defenders took on Boro attackers. Traore had his moments, as he occasionally burst clear of his markers and Etheridge's most impressive piece of work came when he plucked out a testing cross from the right by the winger in the closing stages. However, the returning Rudy Gestede (kudos to him for doing the Ayatollah when requested to after he had been substituted) had a very thin time of it, as did Downing.
With Sol Bamba back and performing to a much better standard than he did at Millwall and Bruno Manga's awkward moments tending to come in our attacking, rather than defensive, third, City generally looked solid at the back, but, once again, it was captain Sean Morrison who shone most in defence.
Morrison notched another goal with a header from very close range which owed much to the quality of Hoilett's free kick from the edge of the box, but admitted after the match that it was a fourteenth league clean sheet of the season (two short of the pre season target which it was figured would be enough to secure a top sic finish) which meant more to him.
Morrison's critics (who seem to be a bit thinner on the ground these days) have said that while he has always been very good in the air in attacking areas, he was less impressive with his head when defending. Well, having remarked upon how I didn't see him lose a defensive header against Bolton until added time at the end of the game, I cannot remember him losing out once in the air in defensive situations yesterday, which is some achievement when you consider he was jumping against Gestede most of the time.
More than that though, there was a confidence and authority about his work on the ground as well and he was also good at covering for fellow defenders on the rare occasions they were beaten in one of those individual battles.
Apologies for not replying to the regular correspondents who responded to some of the stories that appeared on here last week, but I just didn't have the time to give the replies the attention that they deserved. However, to show that I did read them all, I'm going to quote something Richard Holt said about Sean Morrison;-
"a third of all the league goals we have conceded this season were during the 5 games that Morrison missed"
Just think about that, we've conceded only eighteen goals in the twenty seven matches Morrison has started. That's 0.66 goals per game, compared to the 1.8 a game we let in when he was wasn't playing. In fact, Morrison's figures are even better than that in truth, because one of the two goals we conceded at Reading came after he had gone off injured, so the reality is we've conceded 10 in something like five and two thirds game without him and seventeen in twenty six and a third matches with him. Richard concluded that figures like those make Morrison his player of the year so far, and, although, my vote would go to Hoilett currently, those stats are very hard to argue with.
So bearing all of the above about our captain and so many of his team mates in mind, I repeat that I find "nervy" to be a strange way of describing yesterday's match from a City perspective. I've watched plenty of "nervy" wins in my time and they come when City somehow survive wave after wave of late pressure as you watch the game through the fingers that you are holding up to your face while enduring seconds that seem like minutes!
Yesterday was not like that at all – if Boro had scored in those final minutes, it would have come as a bolt from the blue. If any win can be described as comfortable in a match that was as close, hard fought and competitive as this one was, then this was it – Boro fans would no doubt have a completely contrasting view of proceedings this morning after their five hundred and seventy mile round trip, but I found it a gripping match which set me thinking "I still feel we're more likely to make the top six than the top two", but we do have something about us and we might, just might, be able to be celebrating in May without the need for a journey to Wembley for what, most definitely, would be a nervy game!
Just a quick note on what I'm pretty sure is a personal record over the past five days that I'm fairly sure I've not equalled or bettered in all of my years supporting City. On Tuesday, I watched our Under 18s beat Millwall 1-0 and followed that with our 2-0 win over Bolton. Two days later I saw the Under 23s triumph 2-0 against Coventry and now, best of all, a 1-0 win over, despite what I've written here, a good Middlesbrough team yesterday. Four games, four wins and no goals conceded in five days – I know it's part of every supporter's DNA to moan about their team and praising them can feel a bit unnatural, but that is an impressive record in anyone's language and it emphasises that, despite my occasional whinging about our style of play, transfer policy, lack of opportunity for young players etc, etc. City are getting a lot of things right these days.