Pics from Jon Candy
http://www.flickr.com/photos/joncandy/sets/72157632525123032/show/
Click here for highlights on Cardiff City Player
Report from Paul Evans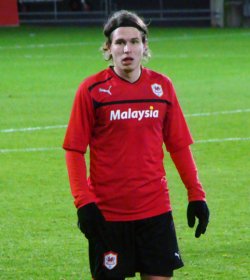 I'd like to think that the fact that I get to about 90 to 95 per cent of home matches played by Cardiff City at first team, Under 21 Development side and Under 18 Academy proves that I really enjoy watching them play. However, there are times when I find myself questioning my sanity when it comes to watching my local football team. One such occasion occurred last Saturday when the referee finally ended the dour goalless affair with Ipswich and another came last night as, freezing and bored, I implored the man in charge to end my misery by blowing for time about twenty minutes early during the non event which was the second half of last night's Under 21 Development team match with Barnet.
"Low key" summed up the football that was offered up last night as City did just enough, and no more, to beat the bottom side in the (takes deep breath) Under 21 Pro Development League 2 (South) by 2-0. Looking through the informative four page "programme" produced for the match, I saw that Barnet had a very young team out with only three of their side having fleeting first team experience and plenty of first year scholars included. By contrast, with the exception of Jesse Darko, all of the City side had played competitive football and were bolstered by the presence of over age players in Joe Lewis, Filip Kiss, Don Cowie and Etien Velikonja.
The difference in age and experience was also reflected by the physical advantages City enjoyed as they looked taller and more powerful than their opponents in virtually every position. With so much going in their favour, there was an expectation that they would win comfortably, but their performance was riddled with basic errors and lacked the intensity required for that to happen. Indeed, for the first quarter of the match, Barnet gave as good as they got as neither side really put together a convincing attack. Gradually though, City began to get on top and it needed two clearances off the line by the visitors in the space of a minute to keep the scoresheet blank – the first came after City's best piece of football so far, when a fluent move down the left ended with Declan John's effort being hooked out by a defender just as Kadeem Harris looked set to apply the final touch. That was good defending, but the block by the full back which kept out Ben Nugent's header from the resultant corner was more down to luck than judgement.
The last quarter of an hour of the first half saw City enjoy their best spell and, after Velikonja missed a good chance by firing over after visiting keeper Cowler palmed out Harris' shot, they got the goals which decided the game. In both instances, Barnet disputed the legitimacy of the goal and, having now seen them on Cardiff City World, I can see why they did so. For the first on thirty eight minutes, Filip Kiss rose to glance in a well delivered free kick from Joe Ralls and, at the time, I must admit to wondering what the complaints were all about because it looked to me like the ball had been headed in – the pictures show though that Kiss' hand was raised and it certainly looks like he used it to guide the ball in. The second goal arrived on forty five minutes when Ralls, Cowie and Luke Coulson combined to put Velikonja (pictured) in on goal for a chance he put away with the minimum of fuss – this time it was obvious that the Barnet appeals were for offside and, having seen it again, they certainly had a case. However, it looked to me as if this was an instance where the benefit of the doubt was rightly given to the attacking player.
Lewis' save was a rare piece of high class play in a poor second half and the match petered out with Barnet trying various pot shots from outside the penalty area, which tended to fly high, wide and not very handsome, while City, now playing something like a 4-2-4 formation after the introduction of subs Nat Jarvis and Gethyn Hill for Cowie and Harris, appeared to be happy to run the clock down.
Speaking of Kadeem Harris, he was able to show some pace, trickery and control which showed signs of why we were attracted to him a year ago – he wasn't great, but there was a clue as to what he could offer us. That said, there were only two young players who turned in above average performances for me – the first was Joe Ralls who I thought outshone his more senior colleagues Kiss and Cowie in the middle of the park (you can see why there is, apparently, a long list of clubs interested in taking him on loan) and the other was Adedeji Oshilaja who was faultless at the back until the last few minutes when he showed one or two signs of catching the lethargy which had effected most of his team mates at various times.
Finally, some words about this new competition for Under 21 teams. City are in a league of eleven sides in which the objective is to achieve a top two finish to qualify for the end of season play off's with the best sides in the other division(s). Before this weekend, City stood in sixth position, but they were only six points off Charlton in first place and five behind QPR in second. By making it eighteen points from a possible twenty one at home so far, the Under 21′s kept up their challenge for one of those two places, but they'll have to improve an awful lot away from home (it's four defeats in four games on their travels so far) to make it.