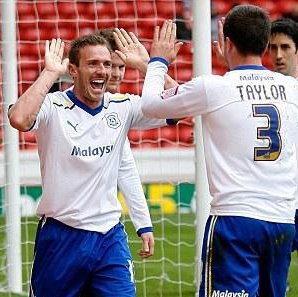 The only score that didn't go City's way was Middlesbrough's 1 - 0 win at Derby. That means that 'Boro stay 2 points behind Cardiff in 7th while Cardiff are 6th.
City are level on points with Blackpool in 5th and it looks like these three sides could be challenging for the bottom two play off places.
There were three big results that went Cardiff's way on Saturday. Firstly of course was the 1 - 0 win by City at Barnsley. Liam Lawrence (right) scoring the crucial goal. West Ham 6 - 0 Brighton saw City open up a five point gap on Brighton who must be feeling their chance of a play off place is slipping away fast. And Millwall 2 - 1 Leicester halted the charge from the Foxes who were threatening to gatecrash the play off places. They are now six points behind with just three games to play.
Blackpool and Birmingham drawing means that City are still in touching distance of 4th and 5th place.
Mathematically teams as far down as Watford could still make the play offs but realistically Watford, Derby, Leeds and Burnley would need miracles. Hull and Leicester are holding faint hope. Brighton need Cardiff to lose at least two of their remaining games while they win all of theirs.
The latest table is:
Home
Away
Overall
#
Team
Pl
W
D
L
F
A
W
D
L
F
A
W
D
L
F
A
Pts
GD

1

Reading

43

13

4

4

33

16

13

3

6

33

21

26

7

10

66

37

85

+29

2

Southampton

43

15

4

3

45

18

9

6

6

32

25

24

10

9

77

43

82

+34

3

West Ham United

43

10

8

4

39

25

12

5

4

37

20

22

13

8

76

45

79

+31

4

Birmingham City

43

12

9

1

35

14

7

5

9

38

35

19

14

10

73

49

71

+24

5

Blackpool

43

11

7

3

37

21

7

7

8

35

36

18

14

11

72

57

68

+15

6

Cardiff City

43

10

6

5

34

28

7

11

4

27

23

17

17

9

61

51

68

+10

7

Middlesbrough

43

7

9

5

20

20

10

6

6

29

28

17

15

11

49

48

66

+1

8

Brighton & Hove Albion

43

11

6

4

33

18

6

6

10

16

31

17

12

14

49

49

63

0

9

Leicester City

43

11

5

5

35

20

6

6

10

28

32

17

11

15

63

52

62

+11

10

Hull City

43

10

4

7

23

20

7

7

8

18

20

17

11

15

41

40

62

+1

11

Burnley

43

7

8

7

32

26

10

1

10

28

27

17

9

17

60

53

60

+7

12

Leeds United

43

9

3

10

33

39

8

6

7

30

25

17

9

17

63

64

60

-1

13

Derby County

43

11

3

8

27

22

6

6

9

20

32

17

9

17

47

54

60

-7

14

Watford

43

9

6

7

30

32

6

8

7

20

27

15

14

14

50

59

59

-9